ISZIL is the artist name of a young composer and multi-instrumentalist from Chile. Besides studying he spends his time creating music, and in 2011 he chose to gom all the way and release an album. This production is called Back to the Seed, and was made available on the bandcamp website in the spring of 2011.
####################################################################################
When and by whom was your project born ? What is your musical background and have you played in other bands before ? Which bands were you influenced by?
Well, itís hard to define when it was born since itís basically me making my own music. I started recording my stuff when I was about 16. Used some MIDI programs to make some writing and then plugged my guitar and microphone to the computer. Over time I started sharing my recordings in some internet-based musicians communities and tried to improve the production. But it has always been only me; Iszil is actully my artist pseudonim. I have a band with some friend with which we have some songs but we mainly play covers for fun and, sometimes, for money.
About my influences, I guess I owe to The Beatles the fact that Iím a musician. I became a fan at the age of 6 and by the time I was 11 I started learning to play the guitar in order to be able to play their songs. Over the years I was introduced to other bands like Rush, Yes, Genesis, Led Zeppelin, Deep Purple, Jethro Tull and many, many other classics, and started discovering bands like Dream Theater, IQ, The Flower Kings, Porcupine Tree, that have also influenced my work.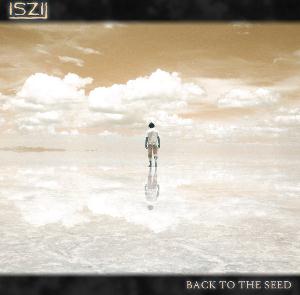 Over to your debut album Back to the Seed from earlier this year. Please tell us more about this album. How was the recording process ?
Well, I never started making songs for an album. Actually, the only song that was written specifically for ďBack to the SeedĒ was the one that carries the same name. All the other were pieces I wrote in different periods of my life. For instance, Mental Trap was created by the end of 2005, Velvet Feather was recorded in the middle of 2006, Lost Path and Memories were recorded in 2010. Only Back to the Seed was produced close to the album release, although it was a process of many months to get the inspiration (since Iím a university student, itís hard to focus on music enough time to produce something decent). What I did with the old songs was to take them and re-record the guitars, vocals and bass, plus remixing and mastering them again.
The album was the result of acumulating songs and filtering which would fit on a LP. Itís more like a compilation and my starting process as a musician.
For those of us unfamiliar with your music; how would you describe you music and which bands would you compare yourself with ?

Itís hard to classify oneís music. Usually when someone asks me to describe my style Iíd say progressive hard rock, because thatís what I think it is and because it sounds more generic, but I think it has elements from heavy prog, folk, symphonic, space and classic rock. Some people have the opinion itís neo-prog, or prog metal; others think itís crossover... I guess everyone itís right. In the end itís something related to progressive rock.
What is your plans for the rest of the year and next year ?
Itís hard to say. Iím currently studying Civil Engineering in a very pretigious university here in Chile which makes virtually impossible to spend much time writing and recording music. In spite of that, I have the plan of releasing an album within the next year, if time allows me. I have many ideas; I just need the time to focus on gathering them, putting them in order and making something good out of them.
I think lately my songwritingwriting has matured in a way Iíd say it will make my next release be a lot different and, I dare to same, highly improved from what Iíve made so far; more professional, more prolific and more authentic.
On the other hand, Iím also trying to put a band together so I can start working on a live show. Until now itís been only me so itís impossible to perform anywhere. For that reason Iím trying to gather people interested on being my backup band and then start rehearsing for any eventual presentation. Plus it would be great to hear how my music sounds played with and actual band and not just one guy.
To wrap up this interview, is there anything you want to add to this interview ?

Itís been really fun getting into the world of the prog on the internet being an artist. Itís great to know that thereís a whole world of musicians that keeps this wonderful music alive. Itís even better to know that there are still a lot of fans that will support upcoming artist, enjoying the music which I deeply love.
I also tell the ones who enjoy my music to look forward for what will be an interesting album in the future. I promise it.
Thank you to Ismael for this interview