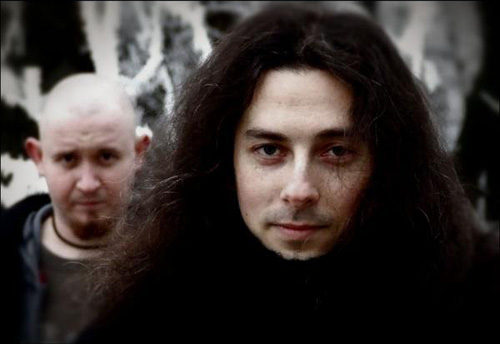 THY CATAFALQUE was formed in 1998 in a small town of Hungary consisting of the duo Tamás Kátai (keyboards, guitar, programming, vocals) and János Juhász (guitar). After their first and only demo "Cor Cordium" the band was signed to KaOtic Productions which also released their debut album "Sublunary Tragedies" in 1999 and "Microcosmos" in 2001.
Three more albums has followed and the band, now a one man project, is releasing their new album Rengeteg next week through one of the biggest metal labels in the world; Season Of Mist. I caught up with Tamás Katai for the Thy Catafalque story.
####################################################################################
Your biography has been covered in your ProgArchives profile so let's bypass the biography details. But which bands were you influenced by and why did you choose that name ?


When we started back in 1998 we were heavily influenced by the black metal genre in general. We were caught by the atmosphere of that music. It's not musicianship but that particular mystical, cold and painful, yet majestic sound, something out of this world, that was it. I was also pretty much into the Shakespearean universe at that time reading literature at the college and this is how this expression came up as the moniker of the band. For the first two albums we used English lyrics, hence the English name.

Is any of you involved in other bands ?
Thy Catafalque had been consisted of two people till the recent days – János Juhász and me. The latest album was written and recorded only by me and János left the band, so now it's only myself. We had had a band before Thy Catafalque, that was Gort. Other than that I was playing in Gire and had my solo project under my name and there wasTowards Rusted Soil. Right now it's only TC that's atctive.
Attila Csihar is probably the most famous metal musician from Hungary. How is the metal scene in Hungary these days ?
Well, I'm not quite well informed about the recent Hungarian metal scene as I've been staying in Edinburgh, Scotland for four years now, but we have some great bands, that's for sure, even if they are not known outside the country. It's just not easy to get known abroad for us, it might come because of the language barrier or whatever reason, but you can find more and more Hungarian bands now spreading across Europe in a lot of genres. Still small in numbers though.
This is an archive based interview also intended for the fans you get well after both you and I have passed away so let's go straight to your albums. Please give us your views/some words on your albums, starting with.......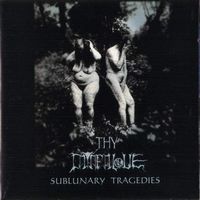 Sublunary Tragedies from 1999
Our first album. Very immature in execution with horrible production, yet lots of good harmonies and riffs all over the record. Some of the guitar riffs could be used even now. For example the second half of Ashesdance, or Come Latautumn Rains. I like it in spite of its more than obvious shortcomings.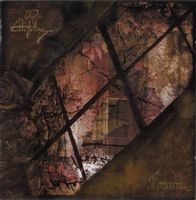 Microcosmos from 2001
Sounds a bit better and the songs are more diverse. The first time we used violin and it's still there (or a cello) on all of our following albums. Also the first time I had Hungarian words for a song. Great melodies again.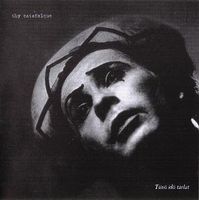 Tűnő Idő Tárlat from 2004
Our watershed album. One of the strongest in terms of creativity and most importantly we found our own distinctive voice. Also this is the first one to be sung in Hungarian. It's dark, heavy and atmospheric. This is also the record where we discovered this spacey, otherworldly mood. I don't think I could top this one, only reaching this level would do it. Still self-released, but re-issued by Epidemie Records six years later, in 2010.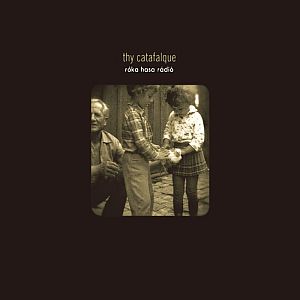 Róka Hasa Rádió from 2009
The logic follow-up of Tűnő Idő Tárlat with 9 guest musicians, with better production and music in similar fashion. The first record to feature Attila Bakos (Woodland Choir, Taranis) and Ágnes Tóth (The Moon And The Nightspirit) on vocals boosting the music big time. Also the first one to be released by a real label, a label not even Hungarian – it came out through Epidemie Records from the Czech Republic. It has proved to be a successful CD, going to be re-released on 30 November and also has had a Russian licence. This was the album that has made Thy Catafalque a more common name in metal underground.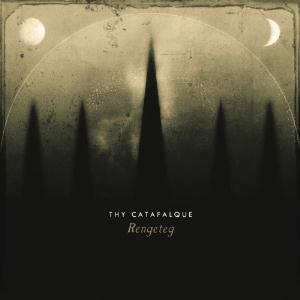 Rengeteg from 2011
Well, the new album released by Season Of Mist, which is a huge step. Also the first one counting only myself as a band member as János left the band, so I did all the writing and recording stuff. Attila and Ágnes are still here performing brilliantly. More guitars and less expermintal elements perhaps but the mood is still the same with really strong songs. This is the best sounding album of Thy Catafalque and hopefully will be the most known thanks to the label.
How is the availability of your albums ?
The original Róka Hasa Rádió digipak from 2009 is also sold out, you may find some copies from the e-shop of Season Of Mist though. Epidemie Records will re-release the CD on 30 November, so it's going to be available again. Digitally available the same way as the previous records.
And Rengeteg digipak can be pre-ordered from the e-shop of Season Of Mist or Amazon or iTunes. Release date is 11 November in Europe, 10 January 2012 in North-America.
How is the creative processes in your band from coming up with an idea to it's being recorded ?
Now that I'm by myself it's even more simple. I am playing on the guitar or the synth, put the emerging ideas together, build up a song, build up the album. I send over the clean vocal parts to Attila and Ági, they put themselves in, send back the lines. All the work is done at home, in my room throughout a year or two per album. I work on music besides my daytime job, if I have any time or energy left.
What is the lyrical topics on your albums ?
It has always been time and space and things related to them. I often write about my childhood memories, the autumn and the space itself. Rengeteg means a vast trackless forest in old Hungarian. The title defines the topic of the album on many levels.
For those of us unfamiliar with your music; how would you describe you music and which bands would you compare yourself with ?
It's usually called avant-garde metal. It has its roots in black metal and all metal extreme but also in electronica and folklore. For sure, we are not a progressive metal band like Dream Theater or something like that. Damn, I can't even play the guitar properly. I think we are close in attitude to bands like Negura Bunget or Sólstafir.
What is your current status and what is your plans for the rest of this year and next year ?
Currently I'm waiting the album to be released in a week or two, then start to compose for the new one. That's the plan. I'd like the new record to be a bit more experimental and less straight-forward.
To wrap up this interview, is there anything you want to add to this interview ?
Thank you very much for your interest in Thy Catafalque. Please lend an ear for the new album or the older ones, don't be afraid.
Thank you to Tamás Katai for this interviews