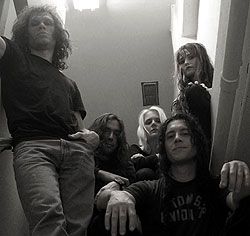 Originally formed as Unholy Cadaver, Hammers of Misfortune are the brainchild of ex-Lord Weird Slough Feg guitarist John Cobbett, who composes the material and provides both guitar and a portion of the vocals. Cobbett's ex-bandmate Mike Scalzi (frontman for The Lord Weird Slough Feg) and keyboardist Sigrid Sheie provide the remainder of the vocals, with Jamie Meyers (bass) and Chewy Marzolo (drums) filling out the group's lineup. Their style has constantly evolved over the course of their lifespan and proven nearly impossible to track down, but they generally shift around a doomy and elaborate style of heavy metal, with some occasional acoustic/folk influences presenting themselves.
The band has just released their new album 17th Street, their fifth album. I got in touch with John Cobbett for their story so far.
###################################################################################
Your biography has been covered in your ProgArchives profile so let's bypass the biography details. But why did you choose that name and which bands were you influenced by ?

The name come from a song we wrote while still known as Unholy Cadaver (the Unholy Cadaver record is now available on vinyl/CD through Shadow Kingdom). A friend of ours, Josh Smith (Weakling, The f**king Champs, Futur Skullz) suggested that we use the song title as a band name. Eventually we decided this was a good idea.

Back in those days (and still today), we were very into black metal and death metal, but I've been into the Beatles, Sweet, Thin Lizzy etc. since I was a child. I spent most of my early teenage years at punk and thrash metal shows. All of this comes into play.

Your band was most known for it's links to the pretty successful The Lord Weird Slough Feg. How much did this link help your band in the beginning...... or did this create confusion and became a disadvantage ?

I love Slough Feg. I was a member of Slough Feg for almost seven years. However, I think a lot of Slough Feg fans have mistaken us for a side project of theirs. I formed Hammers before I met those guys, and it's always been my priority. Back in those days, none of us ever expected any of this to get very much attention. Who knew?

I feel like the involvement with Slough Feg did create confusion, definitely. There's always that guy who has to point out that we'd be better if we still had Mike on vocals and sounded more like TLWSF. I understand this is inevitable when you change singers.

To all those who wish Mike would come back and sing for us, I'd like to officially announce that it'll never happen. I'd like to encourage you to stop listening to us and move on. You are in luck: Mike has another band. It's called Slough Feg! You can go listen to them any time you want!

And, for the record, Mike and I are still great friends and enjoy a goblet of ale in each other's company on a regular basis.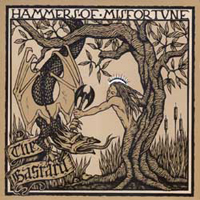 I think it is fair to say that each of your albums has got their own lives now in a manner few other bands has managed with their creative outputs. So let's go straight to the first album. Please tell us more about The b*****d from 2001.

It's got blast beats, harsh vocals, and a very linear storyline. It's the first and last album of ours to feature these devices. This was written before Ludicra started. I formed Ludicra to channel all that blackened energy. That left Hammers as a pure vehicle for exploring songwriting, without having to default to "extreme metal" conventions.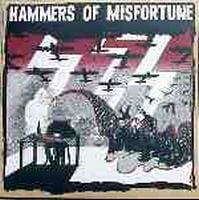 Please tell us more about your second album The August Engine from 2003

This one was mostly written and recorded with just Chewy (drums) and I. Mike and Janis Tanaka (bass, vocals) had both moved away, so the "band" had disintegrated. Chewy and I had made the Unholy Cadaver record as a two-piece, so we were't new to working this way. This is partly why there are so many long instrumental passages without vocals on this album. We were able to get Mike and Janis in to lay down some vocal tracks over a weekend, and Janis did the bass tracks.

When we finished this album, we had a lot of trouble getting it released. Finally we gave up and decided to focus on building the line-up and material for The Locust Years. Eventually Jeff Wagner, who was working at Century Media at the time, sent a copy to Cruz Del Sur in Italy, and Enrico at CDS signed us. Thus our involvement with CDS began.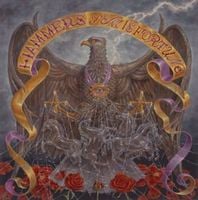 Please tell us more about your third album The Locust Years from 2006

This album was underway before The August Engine was even released. We had recruited Sigrid Sheie as a bass player originally (she can play almost anything…) and then we found Jamie Myers, who was willing to move here from Texas to join the band on bass and vocals. We decided to keep Jamie and Sigrid on board when we found out that Sigrid is a classically trained pianist and flautist. I'd always loved the sound of piano and Hammond B3 organ, so the idea was to add these elements to our sound. This was a big change, and allowed for even more musical possibilities.

Around this time Mike was back in town, and we had this new line-up in place, so he agreed to sing on an album and do a few tours with us. This is when we recorded The Locust Years.

This album is our most political so far, mostly as a reaction to what people call "post 9-11 America".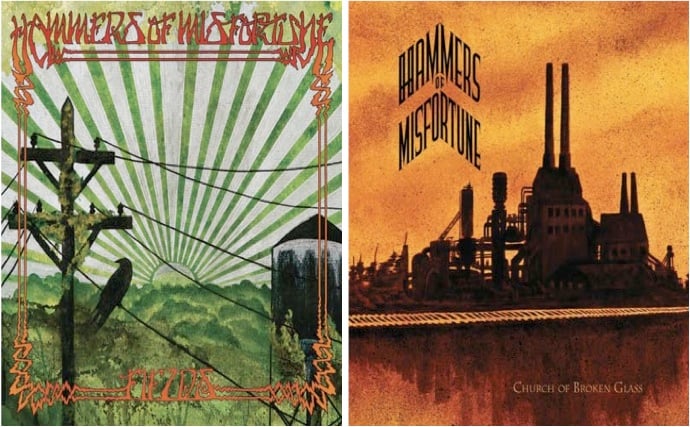 Please tell us more about your fourth output, the double album Fields /Church Of Broken Glass from 2008.

At this point the band had fallen apart again. Mike, Chewy, and Jamie had all left the ranks. We recruited Patrick Goodwin on guitar and vocals, Ron Nichols on bass and Jesse Quattro on vocals when Chewy agreed to come back. This album was where I decided to really explore these new instruments, the piano and organ, to the fullest. It's our most "progressive" album(s) in some ways. The keyboards really shine on this one, as well as Jesse Quattro's vocals.

I thought the concept of doing a "split with ourselves" was interesting. We packaged it as two separate albums, joined at the spine.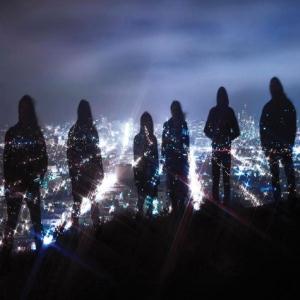 You have just released your new album 17th Street. Please tell us more about this album.

It's again personal and political, and it's interesting that I wrote it with many issues in mind that are being confronted directly now by the #ows movement. We got our line-up in great shape after Patrick and Jesse Left. Leila and Joe are the best we've had so far in my opinion, and the album reflects that. It's more of a "guitar album", and has male lead vocals throughout. A first for us.

I think it is fair to say that you are loved by the critics. Which is both a blessing and a curse. How much has this love translated into popularity and albums sales ?

We have gotten some good reviews, but we're far from a household name. As far as I know we have sold a few thousand albums over our career, and we still play the same small clubs as we always have. We never set out to be a "big" band, we have always focused on making the best albums and writing the best songs possible. I guess we're musically ambitious, but not as a brand or something to promote or sell. I mean, if we wanted to be popular and sell lots of records, we wouldn't be playing this stuff haha.

There was some radical line up changes after this double album and you were also signed by Metal Blade. What is the difference between the old and the new Hammers Of Misfortune ?

There isn't much of a difference, if you think about it: It's the same philosophy, some new members, and it sounds a little different than our other albums. Business as usual (haha)! Hopefully we can keep this current line-up together for a few more. That would be a welcome change!

How is it to work with Metal Blade; these legends of the metal scene ?

As far as recording, it didn't make a difference, except that Metal Blade provided us with a modest recording budget. Exactly the amount we're used to spending on a record. They didn't interfere in the creative process at all. They asked for rough mixes a few times, and that was it. The real big difference is all the press we're doing. I've never done so much press in my life! The people over there at Metal Blade are really hard workers and very good at what they do. And like you said, the label is legendary.

What inspires you to create new music and what is your creative processes ?

I don't know what inspires me to create music. It's this thing that's built in, I couldn't escape it if I tried. It's like a mental disorder. The creative process is chaotic. It doesn't follow a strict pattern. Ideas come at really odd times, seemingly out of nowhere. Sometimes you sit down and decide to write a song deliberately. Sometimes a song comes from experimenting and jamming. Sometimes weeks go by without writing a single thing.

Technically, I do a lot of demos at home. Using Logic Pro and a simple ADC, I record guitar parts and make sub arrangements, sketching in the keyboards and drums using software instruments. This helps me get an idea of what will work and what won't. Then we see what the song really sounds like at practice.

I guess it is almost impossible to trying to describe your music. But just to give the readers here some urges to check out your music; how would you describe your music and your musical philosophy?

We're focused on songs more than anything. We have a metal ensemble: 2 guitars, bass, drums, piano, organ, male and female vocals. We use these tools to express the songs the best we can. We aren't a shredding band. We're not virtuosic. If we're showing off, it's trying to show off the song. We tend to work with themes. So instead of throwing twenty riffs into a song, we'll take a few motifs and present them in different ways. Our lyrics are important. We place more emphasis on voice and vocal harmonies than a lot of bands.


How is your gigs situation at the moment. Do you find it difficult to get gigs these days ?

Getting gigs around town isn't a problem. We try to keep the local gigs few and far between. Usually we'll pick out the opening bands ourselves. We've done a few shows opening for bigger bands; Saint Vitus, Apocalyptica and Pentagram for example. I guess we're lucky that there are some venues left in the San Francisco Bay Area, and we've been around long enough to draw more than ten people around our hometown.

Besides of promoting your new album and solving USA's debt problems, what is your plans for the rest of this year and beyond ?

Ha! We have a bunch of corporate puppets masquerading as representatives trying to solve our debt crisis, which was caused by their very masters. It won't be solved until the whole electoral and monetary systems are dismantled and re-built. Anyway, we have four dates booked in the Pacific Northwest in December, and we're doing a show in Oakland with Giand Squid in January. Also, we'll be playing Roadburn 2012!!

To wrap up this interview, is there anything you want to add to this interview ?

Thanks for your patience! I'm sorry it took me so long to answer this interview! And thanks to our listeners!!
Thank you to John for this interview

Their PA profile is here and their homepage is here