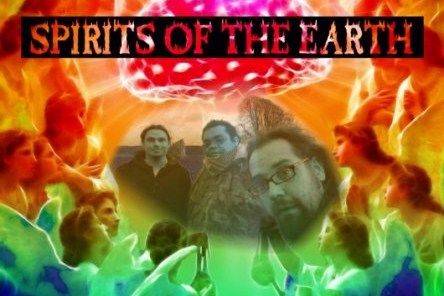 THE SPIRITS OF THE EARTH descended to earth as a fusion of an ethereal traveler Tim STOKES (bass) and a Metal/Goth/Psychedelic hybrid Kie de-COURCI (guitars) in late 2006. Their heavily spacey soundscape has been dignified and magnified with digesting essence of Space Rock with Stoner Rock / Doom Metal spice in their spirits. In 2007 they released the debut EP 'Spirits Of The Earth' and appeared on stage at Eastern Haze festival with Ozric Tentacles and Space Ritual. Both of their works could be appreciated by Space Rock fans. And their dream came true in the following year - THE SPIRITS OF THE EARTH were invited for Hawkfest 2008 with Hawkwind and larger crowds, and coincidentally they released the second EP 'Not Coming Back'. Now they get much busier and more active with gigging at Cosmic Puffin Festival 2009 / 2010 etc. and starting work on their first full album.
I got in touch with them and Kie de-Courci answered my questions.
####################################################################################
When and by whom was your band unearthed ? Did any of you, past and present members, play in any other bands before joining up in your band ? Why did you choose that name and which bands were you influenced by ?
The Band was born in April 2006, by me ( Kie ) and Tim, I came up with the backbone of the track "Spirits of the Earth" and didn't know what to do with it... I played it to Tim and he said what ever was happening with it he wanted to be involved so we started working on more material and thus the band was born, initially the idea came around when I was playing in Tim's old band "Tombstone Salad" and started writing it for them, but it never made it into that project, but I am glad as it gave birth to "Spirits of the Earth". To be honest the idea of the bands conception came in my old band The Voice when both Tim and I where involved in that project, but was too electronically laden, now we have the rock edge with plenty of ether added to the mix.
I "Kie", played in serveral bands over the years but the highlights were DFP, The Voice, Tombstone Salad and Until I Bleed.
Tim has played in Planet Rohn, The Tombstone Salad and The Voice
Ciaran played in The Voice, Until I Bleed and Molefay, As well as some earlier bands back in Dublin ( Probe, Shot at Birth And Aria).
Grerman this is his first band
We like a load of stuff, but the main ones are Hawkwind, Ozric Tentacles, Eat Static, System 7, Steve Hilliage, Gong, Motorhead and Slayer!
How is the local music scene in your area now ? Is it easy for you to get any gigs ?
Not very good compared to how it used to be, there are a few good bands though. It is however difficult to find anywhere to play. We usually travel to London or as far as needed. Thus saying that we did get Hawklords and Space Ritual play locally recently, that was amazing!!!
Is there any intelligent life on other planets in the solar system ?
Yes and we will find them!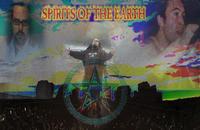 Over to your two albums. Please tell us more about your self titled album from 2007.
Well as you know that was the first realease we loved it and still do. It was made completly ouselves, the songs relect our love for the Ether and the spiritual path, as well as respect of the old ways. We also bear no bones about the essential release of lifeforce.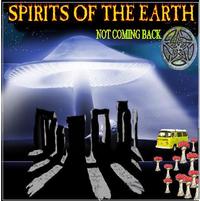 You returned in 2008 with the Not Coming Back album. Please tell us more about this album.
Not Coming Back was a more toilet trained version of the first ep. It saw the link between the Electronics and Rock growing stronger. With the Track Not Coming Back we looked into recording acoustic intruments and developed it in that song as well as binding our electronic ethos with it. It still remains a firm favorite of ours from the ep, we hope to get that into the live set soon. We entered the world of Dub with FHB, an area we definately will stay in with releases to come. The EP was really special for the band as it was released to coinside with Hawkfest 2008, which for us was an amazing gig, Grems first with the band and our second.
What is the Spirits Of The Earth ethos ?
Spirits of the Earth is what it's all about. Ether and Space Rock with a spiritual edge.
For those of us unfamiliar with your music; how would you describe you music and which bands would you compare yourself with ?
If you like Space Rock, Electronics and the love the festival vibe you'll enjoy it. Or just have an open mind when it comes to listening to things both Wyrd and wonderful.
What have you been up to since the release of the Not Coming Backalbum three years ago, what is your current status and what are your plans for this year and beyond ?
We've gigged steadily throughout 2009-2011 and have written quite a bit of new material so just consolidating that now and will be realeasing it shortly.
To wrap up this interview, is there anything you want to add to this interview ?
Thank you for giving us this opportunity and keep some peace in the world.
Thank you to Kie de-Courci for this interview

Their PA profile is here and their homepage is here