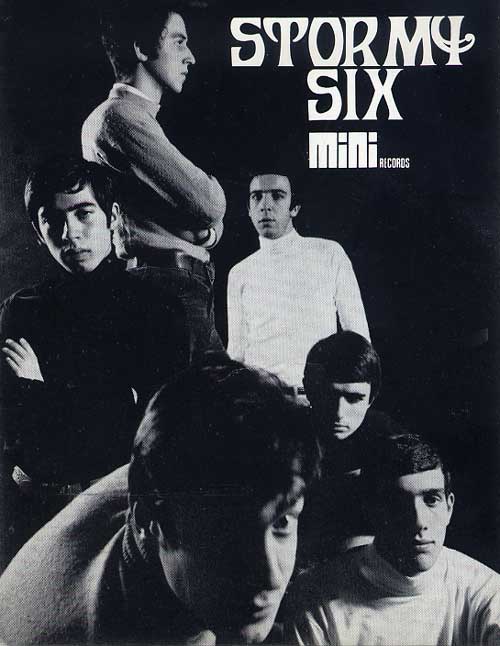 Stormy Six from Milan, Italy was one of the original bands in the RIO movement and appeared in the famous on March 12th 1978 in the New London Theatre in London. However, as opposed to the other bands appearing with them, they did not start out their musical career as a RIO sounding band. Stormy Six began its life in the mid 60's as a folk group with psych influences and left wing tendencies, composing protest songs. This has been the case in their first 3 albums, Le idee di oggi per la musica di domain(1969), L'unità (1972) and Guarda giù dalla pianura (1974). In their 4th album, Un biglietto del tram from 1975 the complexity and experimentalism start to show. It was to be only in their 6th album, L'apprendista from 1977 that the RIO sound would reach its climax. The following Macchina Maccheronica from 1980 is even a more complex and continues in the pathway of its predecessor. Both these albums are what won this band a place in the RIO genre. With the next final studio album, Al Volo from 1982 they introduced an electronic and poppish sound in their music. Their last output was when they reunited for a concert and released it as a live CD in 1993 called Un concert.
I got in touch with Franco Fabbri and here is the Stormy Six story.

#####################################################################################
Your biography has been covered in your ProgArchives profile so let's bypass the biography details.
Why did you choose that name and which bands were you influenced by ?

The name was inherited: none of the members involved in the recording of Stormy Six albums was in the group when it was formed and the name chosen. The band was born in 1965, and its repertoire included mostly songs by English r&b-influenced bands (Rolling Stones, Animals, Them, etc.). I (Franco Fabbri) entered in 1966 and wrote songs in that style for the group's first two singles. In 1967 Stormy Six were one of the supporting bands for the Rolling Stones' first Italian tour. In 1968 the story of that six-piece r&b combo ends, and four of the surviving members decided to continue with the same name.

This is an archive based interview also intended for the fans you get well after both you and I have passed away so let's go straight to your albums. Please give us your views/some words on your albums, starting with.......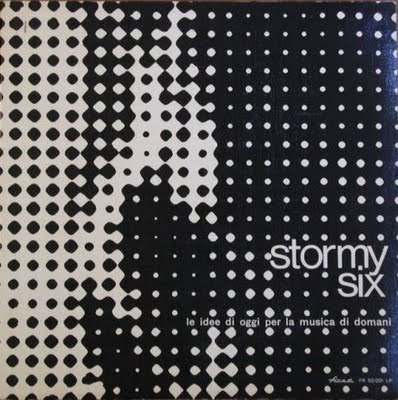 Le Idee Di Oggi Per La Musica Di Domani from 1969

The album was recorded between the end of 1968 and the beginning of 1969. It was influenced by such diverse sources (not actually *so* diverse) as the Rolling Stones' Their Satanic Majesties Request, the Moody Blues' In Search of the Lost Chord, Neil Young's first solo album. It was affected by the band's inexperience and by the fact that it was the first album to be recorded in a studio (and by an engineer) usually devoted to classical music. Some parts are just bad, others naive, a few things were, for 1969 Italy, ahead of their time.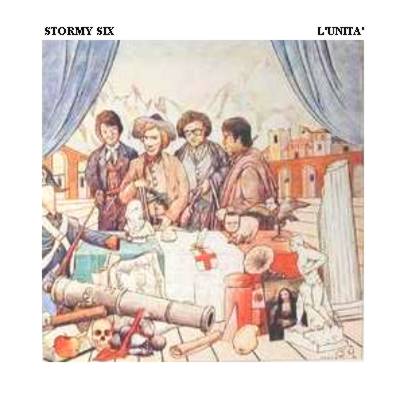 L'Unità from 1972

If the first album is only formally a concept album (all tracks being accurately segued, but no homogeneity content-wise), l'Unità's two sides are content-based: side one on historical matters (Italy in 1861-1864), side two on contemporary Italy and political protest. Musically it is more US-influenced than Le idee di oggi... (The Band, CSN&Y, and early Yes, which weren't so far from that sound, at least in our perception). It was critically acclaimed as one of the best albums in Italy that year. A few tracks still deserve attention, especially Pontelandolfo, a song that became a model for the historical-political rock ballads that were so important for the Stormy Six later on. You wouldn't find it very progressive stylistically, but some instrumental parts really are (check for the battling electric guitars in the finale of Pontelandolfo, or the soprano sax solo in La manifestazione).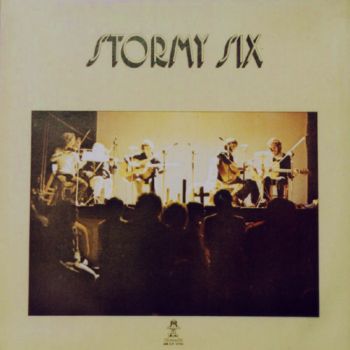 Guarda Giu Dalla Pianura from 1974

A collection of international topical songs, including Woody Guthrie's and Ewan MacColl's. The line-up had changed and the group was very much involved in political actions, often functioning as a kind of musical flying picket.
This that was never released on cd or other digital media. It was, however, the test bed for the group's new acoustic sound; some arrangements are very close to those of Un biglietto del tram, and made the next album sound less strange for Italian audiences.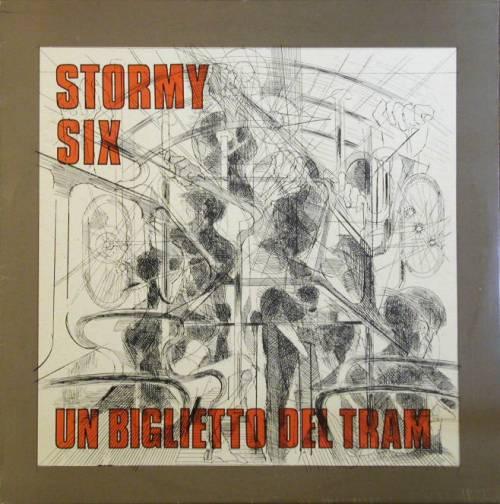 Un Biglietto Del Tram from 1975

Listening to Un biglietto del tram retrospectively, it could be defined as progressive rock unplugged. At that time (but actually between 1973 and 1975, when the album was conceived) we used to listen to Jethro Tull and Gentle Giant mostly, not to forget Procol Harum (Grand Hotel), and keeping in our minds all our preceding musical experiences. But the sound of Stormy Six was that of two violins, mandolins, two acoustic guitars, acoustic bass, drums. And two lead voices, with a lot of folk and political song in their throats. But Un biglietto del tram can't be fully appreciated if one doesn't understand the lyrics, all about episodes in Italian anti-fascist resistance in 1943-1945. It may not sound progressive to those who identify the genre with virtuosity and electronic keyboards, though it has most of the other elements (including 'strange' harmonies and odd rhythms). But it's been a classic of Italian political rock, and some of the songs are still sung during rallies, and were covered by many other bands. Un biglietto del tram was the first album released by the co-operative
l'Orchestra, which later released also albums by Henry Cow, Art Bears, Etron Fou Leloublan, Picchio Dal Pozzo. And, by the way, this is the album that members of Henry Cow liked, prompting them to invite Stormy Six to join Rock In Opposition.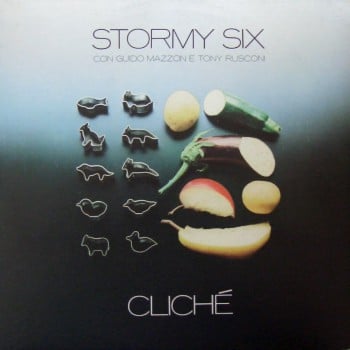 Cliché from 1976

Instrumental stage music, composed and improvised on commission, featuring Guido Mazzon and Tony Rusconi, two exponents of Italian creative jazz. It offered the group a way to experiment on materials that weren't actually songs. Marketing-wise it was a gross mistake: fans of Un biglietto del tram thought that the Stormy Six were betraying political rock.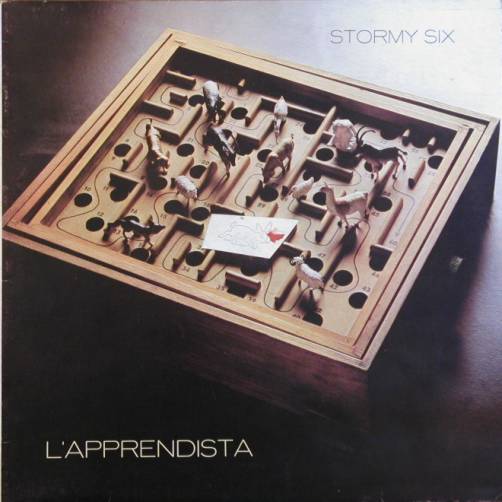 L'Apprendista from 1977

Ideally it was the sequel to Un biglietto del tram, musically and lyrically, with songs that comment the current state of affairs in Italian society.
Much more sophisticated than Un biglietto del tram, albeit quite similar in composing techniques. But electric instruments are back, so it sounds more different from Un biglietto than it actually is. The group was never satisfied with the recording and mastering: the sound is often too crisp, probably due to a wrong setup of the studio monitors, exaggerating the effect of arrangements that sometime try self-consciously to complicate matters. Definitely progressive!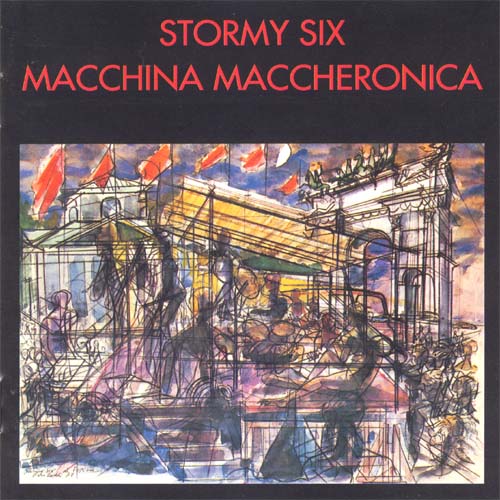 Macchina Maccheronica from 1980


We started writing songs for this album almost immediately after the release of l'Apprendista, and it was completed in September 1979. That period of time includes the group's participation in Rock In Opposition and its significant success in Germany since 1978 (the album was awarded the German
Music Critics' Prize for best rock album in 1980). Macchina Maccheronica was the name chosen by the group to substitute "Stormy Six", and actually many people in former West and East Germany remember this name rather than the older one. But the name change didn't work elsewhere. It is obvious that the album was conceived and recorded in a period of close contacts with Henry Cow (Georgie Born was involved in the recording and in some concerts), but for Stormy Six it was the natural development of the techniques and materials already present in l'Apprendista, and therefore in Un biglietto del tram. The composition was influenced by a change in the line-up, with soprano saxophone substituting for the lead violin. Unfortunately, just before the recording the sax player quit, and a clarinet player took his place: the parts were performed perfectly, but the original overall sound conceived by the song composers in the group disappeared. Lyrics are still mostly political, but more as reflections on the actual possibility to communicate.
We know that Macchina Maccheronica is now considered an almost paradigmatic example of Rock In Opposition as a genre. But for us RIO was a free organization of independent groups, with economical and political purposes and aims, not a genre.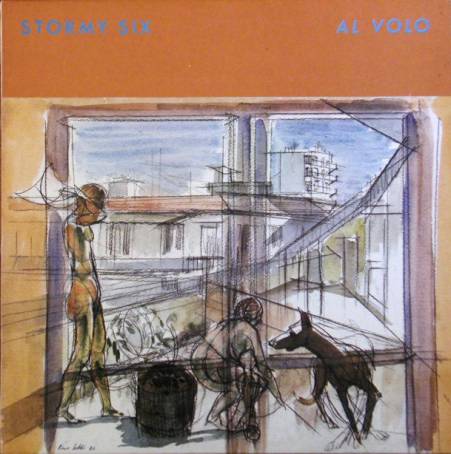 Al Volo from 1982

After a few changes in the line-up, we discovered that the role of the virtuoso soloist in the band (first a violinist, than soprano sax and flute, then clarinet) was critical. So the group decided to abolish the role, and solo parts were distributed to other members (on guitars and keyboards).
This is one of the reasons of the more conventional electro sound of Al volo, composed at a time when second-generation King Crimson, early Peter Gabriel solo albums and Talking Heads were around. I still like the album very much: due to the almost standard line-up it was easier to record, but the sound engineer did a really good job. And I like the lyrics, which are very close to the mature output of our singer-lyricist Umberto Fiori as a poet (he is now credited as one of Italy's best poets, which is something we are all proud of).

Why did Stormy Six break up ?

For the unsustainable economic and technical conditions of our work as musicians, in Reagan's and Thatcher's years.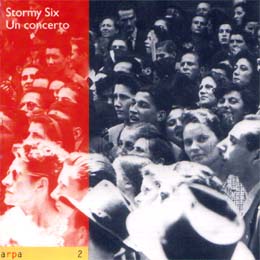 You reformed for one concert in 1993 and it was released in 1995 as the live album Un concerto. Please tell us more about this concert and the live album.

The concert was conceived initially to raise up funds for our co-operative.
It took place at a time when Italian politics were approaching what seemed then to be a turning point, so the fact that Stormy Six were 'coming back' was taken as a sign of that change. The concert was very successful, though the money wasn't enough... We rented a recording service, just in case, but we didn't have a serious intention to produce a record. And record companies said they weren't interested. Until two years later a local radio (Radio Popolare) asked if we had any unpublished material, as they were going to launch a record label. We didn't even know if the recordings were good, but we discovered most of them actually were. There is still some more material, that we didn't publish because either the start or the end of the recordings were cut.

After you went your separate ways; what have you and the other ex Stormy Six members been up to ?

I am now teaching Popular music at the University of Turin, and have been involved since 1981 in Iaspm, the International Association for the Study of Popular Music (of which I was the chairman twice). I write books and lecture in Italy and abroad. Two of my electronic music albums (Domestic Flights and Luci) are available on the web.
Umberto Fiori teaches Italian in high schools, and published several books of poetry and a novel. He worked as libretto writer for contemporary music composer Luca Francesconi, and won a
Prix Italia for one of those collaborations. He also released an album of songs with Luciano Margorani (Sotto gli occhi di tutti).
Tommaso Leddi writes music (the group Yugen recorded an album with his compositions, Uova fatali) and collaborates with Studio Azzurro, a well-known group working in multimedia and installations.
Carlo De Martini (violinist in the group until 1977 and from 1993 on) is a soloist and conductor with the Orchestra Litta (specialised in music of the pre-classic era, performed with original instruments), that he established.
Pino Martini released a number of albums with the Sardinian band Tancaruya, that he established, and works as a teacher in high schools.
Salvatore Garau (drummer since 1977) is a well-known visual artist.
Antonio Zanuso (drummer up to 1976) is an architect.

Is there any plans to re-release the Stormy Six albums and is there any old live tapes or demo recordings you are planning to release now or in the future ?

All the l'Orchestra albums are available on iTunes (on the Italian site, at least), and were also re-released twice, first by Fonit-Cetra, then by BTF.
The first album was re-released (and restored by me personally) by Vinyl Magic, and also l'Unità was re-released by the same label. Both are now unavailable, I think. All decent old live tapes were collected by Tommaso Leddi for a two-cd album, Megafono (Diva Records). There may be others, but we have no plan to release them.

To wrap up this interview, is there anything you want to add to this interview ?

The group is still active, though in a very precarious way. We perform once or twice a year, and we are composing songs for a show that should debut in 2012-2013, based on the uprising of the Warsaw ghetto in 1943. The line-up is the same as in the 1993 re-union concert.
Those who can read Italian can learn a little more - and see some pictures - from my book Album bianco (the third edition was released in October 2011), published by il Saggiatore.
A big thank you to Franco Fabbri for this interview