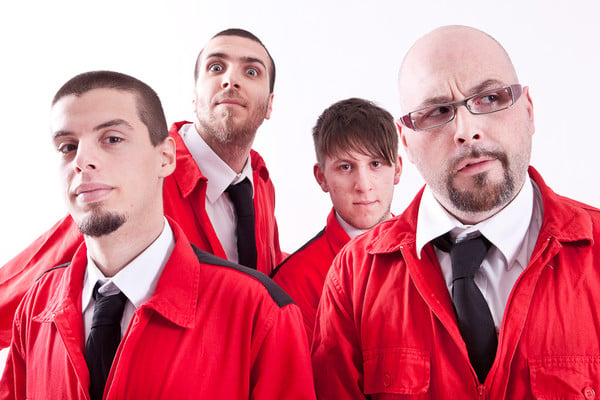 GRAN TURISMO VELOCE formed in 2008 in Grosseto, Tuscany. The band's name is a direct homage to the famous Italian sportscar whose popularity spread throughout Europe in the 1970s, and the fact that in those years Italian progressive rock was doing the same. The band takes their influence from those 1970s prog bands and blends it with modern electronic, jazzy rock, and even some metal mood. The released their first EP In un solo brivido and were playing their songs across Italy.
I got in touch with the band and here is their story.
#######################################################################################
First of all, let us thank you for the interview!
Your biography has been covered in your ProgArchives profile so let's bypass the biography details. But which bands were you influenced by and why did you choose that name ?
Well, our influences are to be found in music itself, I mean: our personal musical taste is so different that we draw off from everything from J.S.Bach to Meshuggah, with a focus on '70s prog, as those years represent a huge experimental period in which new sounds and new melodies came to light. That's the reason for our name: Gran Turismo is an appellative born in '70s here in Italy and used all over the world to define a comfortable and sporty car; we think that is something Italian to be proud of, as we hope for our music!
How is the local music scene in your area now ? Is it easy for you to get any gigs ?
Music scene in Italy is a big mess, in our area…it just doesn't exist We played here in Grosseto just twice in three years!! We usually have to drive 100/150 miles off play.. Unfortunately there's no much space for new bands as festivals and live clubs often prefer to have a tribute band or a big name, so figure it out how can be for a prog band! The sad thing is that having lots of great reviews of our album in Italy and abroad is not helping to increase our live activity.
Over to your two releases. Please tell us more about your In Un Solo Brivido EP from 2008. How is the availability of this EP ?
Well, as a matter of fact, we like to call "In un solo brivido" an EP, even if it was a self produced well-made demo. We intended to record it as good as we could, to promote us during our live acts, or sending it to live clubs, booking agencies or labels. It has not been distributed anywhere…maybe it'll become a memorabilia for those who bought it for 5 euros!!
Then you had a three years long record break. What happened during these three years ?
We had some problems with line up: drummers seem to be the our main internal issue! By the way, we played all over Italy trying to spread our music as much as we could, looking for a label who could help us. Then finally went Samuele Santanna and Loris Furlan from Lizard Records: we might define them as our personal Charons in the hell of modern prog!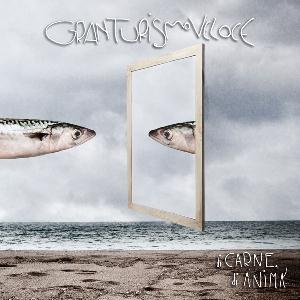 You returned earlier this year with the highly praised Di Carne, Di Anima album. Please tell us more about this album.
"Di carne, di anima" is the son of that EP, as 5 out of the 8 tracks are the same songs, even if we re-recorded many parts and re-mixed and re-mastered all the material. When we met Samuele in that lucky july, we had the 5 songs from our EP and some new songs that wouldn't fit in a complete CD. So we decided to write down 3 new songs, dismantling and re-assembling some old ideas. We're very proud of our carpenter-style work, as from that work "Quantocàmia" and "L'indice e l'occhio" came to light. "Misera Venere (reprise)" is a great intuition by Samuele, in fact the intro is a direct homage to his "Ravensad" project, through the initial bass line similar to "The Raven" by APP.
We would love to mention the artwork in which took part two friends of ours that are Francesco Serino which is a great painter and poet, and Francesco Rossi which is the great photographer who transformed Serino's painting in something realistic, something made "of flesh and soul".
What is the lyrical topics in your songs ?
We try to avoid absurd topics, like it was back in '70s. We can sing about love ( Misera Venere and Misera Venere (reprise) may be seen as the rise and fall of the perfect girlfriend) as well as we can sing about the natural human needing of fears (La Paura). "Quantocàmia" is the sicilian slang for "How many trucks!!". As you can see we don't take ourselves too seriously!
For those of us unfamiliar with your music; how would you describe you music and which bands would you compare yourself with ?
We don't think that "progressive" is the best way to define us. We were defined in a review as "complex rock" and we like this definition best. We try to maintain the way to arrange our music in a '70s way, keeping sounds like Minimoog and Taurus as well as the "standard song" template. We like the Alan Parsons way to create music: he walks with no fear from epic and symphonic to electronic music. That's mainly what we do: just what we like best without any particular reference. ,and we think that it's all hearable in the album…Someone said that we might be even radio-friendly!
What have you been up to since the release of the Di Carne, Di Anima album earlier this year, what is your current status and what are your plans for this year and beyond ?
We sent a couple of thousands of email a month to find a promoter or a booking agency to increase our live activity..but it seems that they never check their emails…meanwhile, we are writing songs for our second album, which will probably be a concept about popular fairy tales: you can listen to "The selfish giant" and "Alice in wonderland" on youtube. We wrote these two songs in Italian, but we're thinking about writing the album in English..What's your advice?
To wrap up this interview, is there anything you want to add to this interview?
There's lot of good, brand new music all around the world which is just awaiting to be discovered.
We dream of a cultural revolution, something that will bring back some soul to the music business…People should listen to big monsters like Pink Floyd or Genesis as well as to fresh bands, but it seems that a nice pair of tits sell much more than good ideas. Damn, we don't have tits!
Thank you to the band for this interview

Their PA profile is here and their homepage is here