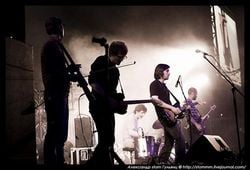 MOONCAKE is not a Chinese culinary folklore. This is a Moscow band that mixes two guitars, cello, bass and drums into rattling blend of sounds. The music of MOONCAKE resides in the state of permanent development and, moreover, it is a personal experiment of each of band's members. Formed two years ago, MOONCAKE took direction to guitar-driven Post-Rock (with influences ranging from GY!BE to 65DAYSOFSTATIC). Self-released single "More Oxygen, I said!" (2007) recieved numerous positive feedbacks among instrumental music lovers. Debut "Lagrange Points" album was released in May, 2008, with brighter musical palette (cellist added) and again by D.I.Y. paradigm. Live performances (with videoart attached) present immense power of the band and clearly show their maturity and professionality.
I got in touch with the band. Both Anton and Pavel answered my questions.
########################################################################################
When, where and by whom was your band born ? Did any of you, past and present members, play in any other bands before joining up in your band ? Why did you choose that name and which bands were you influenced by ?
Anton: The band was formed by me and Pavel in summer 2006. We all played in different bands before. Me and Pavel, for example, have been composing music together since 2002, so we we the ones who started Mooncake. The other members also played in other projects.
Now about he band's name. In the beginning of 2006 I used to have a list where I would put down some nice sounding phrases and words that would, as I thought, later become our band's name. By that time Me and Pavel had been playing together for 4 years and any band we would play in did not have a name. So I decided to put an end to it. Those days we used to play post-punk with female vocals and once we all got together to pick up the name for the project. Mooncake appealed to every member of the band. But later that year me and Pavel disbanded the project, because we understood that the project was not worth it.
Pavel: Yeah, everything started in 2002 when I met Anton at the university. He and his mates had a band and I joined them on guitar. It was all about playing rock and cheerful punk, just an amateurish stuff without even playing live shows...
Then as years passed our musical tastes changed thanks to Sonic Youth, we improved our skills as musicians and composers and finally started a new project. At that time we though of playing music with vocals but all the vocalists that we tried to play with disappointed us. So this led us to the understanding that we gonna play instrumental music. That's why we put an end to the project and started a new one that you all now know. Though we state that Mooncake started in summer 2006, the full line-up was formed only in autumn 2007 when Nikolay joined us on cello.
How is it to run a band in Moscow these days ?
Anton: On the one hand, we are 100% DIY-band and we are proud of it. On the other hand, it's a tough business, but we're doing our best. It's all about resources, especially money that sometimes is very hard to find. All these years we've been running the band on our own without any managers, each member of Mooncake also executes managing functions. But hope that soon we'll recruit someone to do all the routine and we'll be able to concentrate only on writing, recording and performing music.
Pavel: Well, it's not that simple. We understand that we have to give lots of our time to Mooncake so that to achieve success, to be a well playing and well-known band. But so far we don't earn our living by playing music - everyone has to work elsewhere to make ends meet and of course Mooncake would be much more successful if we weren't compelled to do that. But we are trying our best to promote the band with all the skills that we have and things are going better every year. The result - the upcoming Mooncake China Tour for which we have high hopes.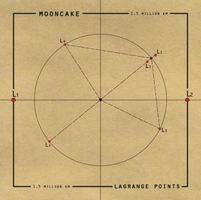 Over to your only album so far. Please tell us more about the Lagrange Points album from 2008.
Pavel: When recording Lagrange I thought about the possible name and some sort of the main idea which could unite all the songs in a one piece of art and describe what Mooncake was at that moment of his history.
I often came across the notion "lagrange point" in the books of A.C. Clarke, one of my favorite science fiction authors. Having read some materials about this I understood that "lagrange points" would be an ideal conception for the entire album.
The thing is that when we talk about "lagrange points" we mean a certain balance between some objects in space. Moreover, in an orbital configuration there can only be five lagrange points. As a result we have five L-tracks on the album and each musician has its own "L" from 1 to 5. So all this illustrated that we were five people in a band being in a creative and musical balance with each other.
Well, it was relevant for 2008, because from the beginning of 2009 Mooncake is a quartet. Since then our musical paradigm has changed considerably, cause we've been evolving as musicians and composers and so did our creative approach.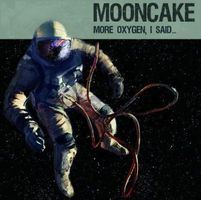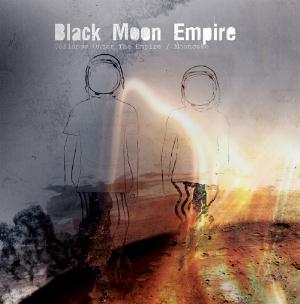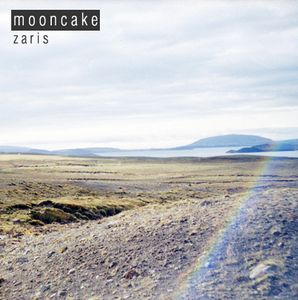 You have also released some Eps. Please tell us more about them.
Pavel: It's worth telling about the latest EP "Zaris / Cast The Route" released on Fluttery Records this spring. It's a 4 songs' EP that contains two records – Zaris (2010) and Cast The Route (2009) - and draws the musical contour of our upcoming second album. The record shows how our music has evolved in a good way -the arrangements are more well thought and worked out. As far as the new album is concerned, it will reflect all these changes far more considerably. New instruments will appear on the record, the songs will be more variable and the music more complex.
For those of us unknown with your music; how would you describe you music and which bands would you compare yourself with ?
Anton: If you wanna feel cosmos in each and everything - you're welcome, we are the ones who will open it for you. Guess there's no need for any comparison. If you like space and dreamy music, you'll enjoy Mooncake.
What is your latest status and your plans for the future ?
Pavel: Well, today we have two major activities. The first one and the most important - we are recording our new album. The drums and bass parts are already recorded. But most of the work is only coming up. And it takes lots of time and money that's why the new LP will be out only in 2012.
The second - the upcoming China Tour. Last month we've been hardly preparing for it and hope to give pleasure to our Chinese fans that like us so much. It's also very special about going to China because of the band's name - it happened so that when we chose the name "Mooncake" we didn't know that it had something to do with Chinese culture and traditions. Only months later we learnt that Mooncake is a traditional Chinese pastry and that they have annual mid-autumn festivities for lunar worship and moon watching when everyone eats different kinds of mooncakes. So it's a kind of magic for us - going to the Mortherland of Mooncake :)
And the last goal for the next year - we are doing our best to arrange a European tour in 2012 and to participate in different festivals.
To wrap up this interview, is there anything you want to add to this interview ?
Pavel & Anton: We would like to thank you for this interview and the ones that will read it for their attention. Hope we could play live for you pretty soon. Take care!
Thank you to Pavel & Anton for this interview

Their PA profile is here and their homepage is here