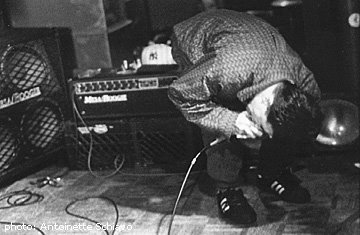 STARKWEATHER was formed in 1989 by Todd FORKIN on guitar, Harry ROSA on drums, and Rennie RESMINI on vocals. The band occupies a unique position in the Metal history, with a very eclectic style combining Progressive Metal's narrative song development and Hardcore aggression. After a demo cassette release, STARKWEATHER debuted in 1991 with their album Crossbearer, an instant crossover classic with a far-reaching influence into today's Metalcore scene. The album presents a fusion of many different styles, of which the dissonant VOIVOD-riffing, the hoarse 'angst' vocals from early SWANS, and the stark percussive rhythms and grit of PRONG are very prominent.
I got in touch with the band and Rennie Resmini answered my questions.
#####################################################################################
Your biography has been covered in your profile so let's bypass the biography details. But which bands were
you influenced by and why did you choose that name ?

The reason we chose the name is it has an ominous, dark tone that suited our sound.

The Rosa brothers (Harry/drums and Vince/bass) background is different than ours. Maybe more traditional metal ranging from Iron Maiden, Dream Theater, Fates Warning, Watchtower, Metallica, Atheist, Queensryche, Confessor, Anthrax, Overkill, Hades/Non-Fiction and so forth.

For myself I'd say Voivod, Celtic Frost, Die Kreuzen, Amebix, Articles of Faith, Void, Swans, Sabbath, CoC, Prong.
Todd has a similar background but he'd include Husker Du, Metallica, Morbid Angel, Mercyful Fate, Born Without A Face, Dr. Know, Embrace.

How is the local music scene in your area now ? Is it easy for you to get any gigs ?
Philly is odd. There are dry spells when there is nothing going on and then there are times when there is an overabundance of shows. We really don't have trouble getting shows around here. We choose not to play out a lot because we don't easily fit on bills. We're too metal for the hardcore crowd, we're too angular for the metal crowd.

Over to your four albums. Please tell us more about........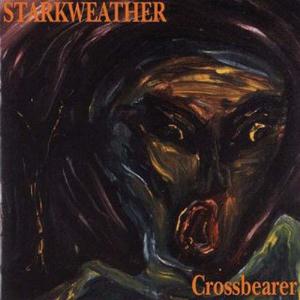 Crossbearer from 1992
The vinyl version is actually a compilation of our earliest demos. 4 songs with our original drummer and 4 songs with Harry. The cd version that came out two years later on Too Damn Hype has additional songs and a couple re-recorded tracks. Of the original demo recordings I feel "lazarus runs" is most memorable. The additional songs on the cd "the rift" and "above the rafters" are probably the stand-outs as a listener can hear a progression in terms of musicianship.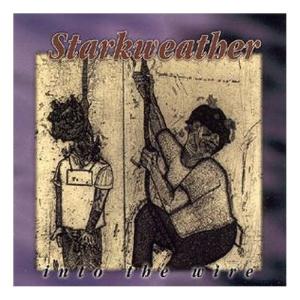 Into The Wire from 1995
This is a mcd. We re-recorded "Shards/Unto Me" with Harry behind the kit. There's a newer version of "Murder in Technicolor." I'd say the strongest material of the mcd are the songs "Shroud" and the title track. We ended the record with a teaser. It was our nod to Venom's "At War with Satan" closer on Black Metal. Unlike Venom, we took forever to release our next record.

Then you took a ten years long record break. What happened
?
Well, there are recordings - a split release with Season to Risk, a 4 way split on Too Damn Hype where we have 3 songs ("Mainline," "Divine Art," and "Desolate"), and other compilation appearances.

During the interim we had different problems arise involving personnel, labels, life in general. The loss of our original bass player put recording a full-length on the back-burner. 2 years after we finished Into the Wire we had 11 songs to record.
In any event, all of this archival material can be found as digital releases on Tanglade Candlelight. Into the Wire has a lot of the compilation material. The remaster on Into the Wire is an improvement from the original Edison release. I felt the original cd release on Edison was botched at the pressing plant. It's too shrill. The remaster we did at Westwestside improved the fidelity. It's warmer, much closer to the original vinyl release.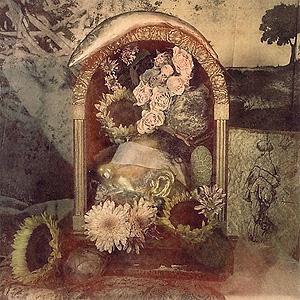 Croatoan from 2005
All of this material was written between 93-99 with the core line-up of Todd, Harry, Michelle and myself. Since Michelle's departure we recruited Liam Wilson to step in on bass for a couple years. Jim Winters is on this album, too. Liam is in Dillinger Escape Plan and Jim
Winters has a lot of projects under his belt: Believer - dimensions, Turmoil, etc.

We recorded Croatoan with Pierre Remillard. We are really into Gorguts - obscura and hunted Pierre down to work with him. It was a taxing project. It took far too long to complete. We even had our original bass player track "Wilding." With this album there are a lot of vocal textures. The voice is utilized like an instrument where there are layers and interweaving patterns. Overall I consider the songs on this album to be a bit more developed than the previous recordings.

The vinyl and cd have different mastering jobs. There was a rush on the vinyl and the mastering is an issue. What it stems from is the fact there are multiple tunings and since the mastering session was unattended it wasn't noticed. Some songs on the vinyl sound murky. The cd rectifies matters. It's one of the few instances I can say the cd sounds superior to the vinyl.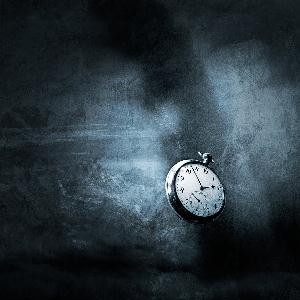 This Sheltering Night from 2010
This is another project that probably took too long. It is essentially 2 separate Starkweather sessions. Half of the material has drum tracks from sessions we did at Pierre's during the recording of Croatoan and the other half has everything tracked at Deadverse Studios.
Deadverse is run by members of the experimental hip-hop act Dalek.


For this release we have an everything and the kitchen sink approach to the recording. We have Forbes Graham applying his brass skills on a few songs. He was a member of Kayo Dot. There are additional guitar textures by Bill Molchanow - he recorded with us before on the original comp version of "Hushabye and Goodnight." The album also has soundscapes provided by Sophia Perennis and Oktopus. The Sophia Perennis tracks were composed on there own, Oktopus used fragments of our songs and mutated them.

I think this album is technically our best collection. There's a wide range of sound. The songs are more accomplished.

For those of us unfamiliar with your music; how would you describe you music and which bands would you compare yourself with ?

I'd describe the Starkweather sound as melding of dissonance and harmony with songwriting that has a winding narrative flow. I don't consider what we do as being overly technical in terms of playing - perhaps a bit more adventurous in the way things are composed and in they way we approach sound. Todd and I joke we're barbarians overachieving. We constantly strive to progress. I think you could compare what we do as
something being spawned from the discordance of Voivod and Die Kreuzen and the dark
noise of Celtic Frost and Amebix.

What have you been up to since the release of the This Sheltering Night album, what is your current status and what are your plans for this year and beyond ?

Since This Sheltering Night we've released a split 12" with Overmars. This is on Deathwish Inc. It has 2 songs, approximately 20 minutes of music from each band. Our tracks are "Nightmare Factory" and "Armed Memory."
We're currently working on a couple releases. One we'll be wrapping up at the end of the year. It is a two song, 45 minute affair. The other album we'll get to recording by mid 2012. We have 6 songs we're tightening down for it.

To wrap up this interview, is there anything you want to add to this interview ?

Thank you for your interest and support. We appreciate it. Our digital ghosts can be located at different sites:
www.facebook.com/pages/starkweather/124344332761


Thank you to Rennie for this interview
Their PA profile is here




Edited by toroddfuglesteg - November 14 2011 at 15:05