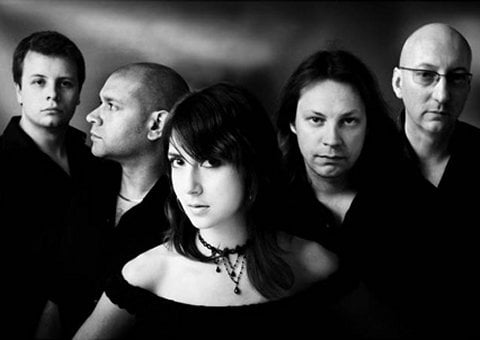 TOUCHSTONE are a five piece UK Progressive Rock band formed by Rob COTTINGHAM and Adam HODGSON. The band has developed in many ways since the early days, and morphed into the present line up with Andre P (Moo) MOORGHEN on Bass Guitar, Alasdair MELVILLE on drums and vocalist, Kim SEVIOUR. The debut album and follow up to their 'Mad Hatters' EP, 'Discordant Dreams' was recorded at Outhouse Studios in June 2007, and released on 10th September 2007.

Mixing the complexities of progressive rock, with soaring keyboards and power-chords of melodic rock TOUCHSTONE form part of the growing UK scene of female-fronted bands that follow on from bands such as MOSTLY AUTUMN, MAGENTA and KARNATAKA, but with a harder, rock edge to them.
I got in touch with them and Rob Cottingham kindly answered my questions.
#############################################################################
When and by whom was your band formed ? Did any of you, past and present members, play in any other bands before joining up in your band ? Why did you choose that name and which bands were you influenced by ?


The band was actually formed by me in 2001, after I produced a solo album and wanted to get the music 'out there'. The sound you hear today, however, really kicked off when I met Adam Hodgson in 2003, after the original guitarist, Michael Daly, left due to his wife having a baby.
The name Touchstone came from a lyric in my original solo album, Behind The Orchard Tree .I felt it would depict a mixture of soft and hard rock.

Looking at existing band members we had all had various experiences of playing in other bands. All referred to in individual band member blogs on our website.

Touchstone is a well known name for readers of British rock magazines. Your band is one of the new female fronted rock/prog bands coming out of Great Britain. Other bands are Mostly Autumn, Panic Room and Karnataka. The New Wave Of Female Fronted British Prog or simply The New British Invasion perhaps.How is this scene now, gigs and record sales wise, and what sets you apart from the other bands in this scene ?

Great question. In fact, Touchstone started out as a male-fronted four piece band in the early days, with me singing lead vox and playing keys, but Ad and I took the decision to explore adding a female vocalist to the piece, to broaden the vocal soundscape, and with the idea of that female fronting the band at live shows, but still with some male lead vocals in there. We know respect and admire Mostly Autumn and the Panics. Indeed the Panics shared a stage with us at a Xmas special gig last year.

In terms of the scene - all we can say is that we believe it is thriving - especially when you look at the success of Classic Rock Presents Prog in the UK - and gigs and record sales wise, things are going very well, indeed – so much so that we landed in the UK Official Rock Album Charts in the first week of release of our new album.

You will always get some prog rock fans who prefer a male vocalist, and there is no right or wrong, but we believe the female-fronted aspect has given prog a fresh face, if you like.

In terms of what sets us apart - always a difficult question, because our musical style is different to the other bands, but one thing fans have commented on is that they enjoy the dual vocals of me and Kim and it has been commented on as a USP. Maybe it's that? Best to ask the listeners, in my view, as there is also something about the way Adam plays,and something about the way Moo and Hen interact as a rhythm sections, too! Plus the awesome key's sounds of course! ;)

Over to your hatfull of releases. Please tell us more about.......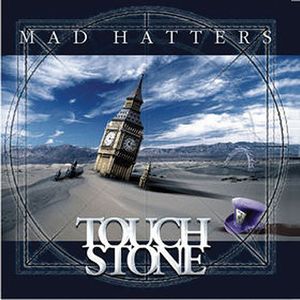 Mad Hatters from 2006


I visited Outhouse studios in late 2005 after I heard the Kino album, Picture. Still one of my favourites today. The music is along the same dynamic as Touchstone, and I wanted a studio that could handle that dynamic. Little did I know at the time that it was run by John Mitchell of Kino, Arena, and more recently It Bites fame. Ad was totally onboard with the idea and that kicked off a great relationship with Outhouse.

This EP was with Liz Clayden on female vox, and me leading. We produced this EP to dip our toe in the water and see what people thought to our material.
If we'd had a bad reaction, that may have been the end of the Touchstone tale, but actually - we had an awesome reaction from various parties, so it spurred us on, to our first album which happens to be...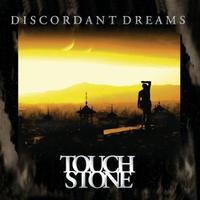 Discordant Dreams from 2008

Kim had only replaced Liz some six weeks prior to recording, so tough to pick up the material, but she did a brilliant job.

First album, so always some pressure to make an impact, and thankfully the album was warmly received by an ever-growing fan base and the critics.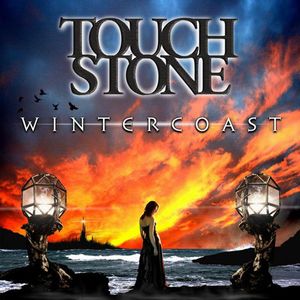 Wintercoast from 2009


In this album we appeared to up our game, as Kim grew more confident in her role and the writing became stronger between us all as a writing unit. The support of Jeremy Irons was fantastic - and that was because he loved our first album. This album, we feel, has spring-boarded us more into the public psyche, and we cannot tell you how much we appreciate the support of our fans, in helping us achieve some form of recognition for this piece of work.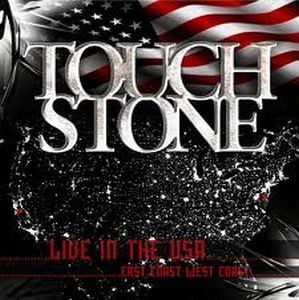 Live in the USA (East Coast West Coast) from 2010

We had two fantastic trips to the US in 2009 - RoSFest in Philly in the May (East Coast) and CalProg (West Coast) in October.

The reaction from the gigs was frankly amazing. We sold out of our merhandise completely, and I will never forget the queue for signatures at RoSFest – we were signing for about an hour and a half after our Sunday morning slot. Amazing.

After such an awesome reaction from across the pond, we felt the time was right to release our first double live album, so this comprises our favourite tracks from our two US trips. We cannot wait to get back over the pond again, so watch this space...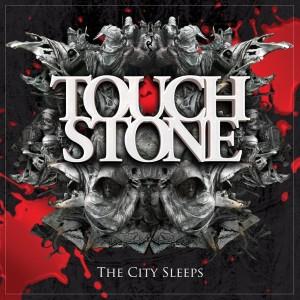 And your brand new album The City Sleeps

Well, after the success of Wintercoast, this was always going to be the 'difficult third album'!

We also had the added 'pressure' of hitting a deadline to deliver product to SPV, after we had agreed the signing with them in May.

The album includes two sequels from the previous two albums - When Shadows Fall, following on from Shadow on Discordant Dreams, and The City Sleeps, following on from Wintercoast's title track. On the latter we have Anna-Marie Wayne, actress and daughter of 'War of the Worlds' Jeff Wayne, doing a voice-over. Again, thanks to Jeff loving our work, he kindly suggested her for the talking part when he found out we were looking, and she does a stunning job, as well as being just a wonderful person to work with.

Whilst as usual, Adam and I came up with the song ideas, the overall writing for this album was very much more band-orientated. The philosophy is not 'who has had the idea' but 'which idea works best for the music'. This can be subjective, but you tend to know as a musician if something is working or not. Normally after the first play!

Overall, we think this album is perhaps more 'hooky' than Wintercoast, and for sure we feel this is an album that could appeal across the industry genres to many different rock markets.

In some respects the album is typical Touchstone such as the sequels mentioned earlier, but in others we push the envelope, with a few shorter rockers, and even some jazz influences on one track, Horizons. We also make good use of the dual vocals, I think, plus the backing vox including Moo's talent.

In summary, we are delighted with our new baby. You never know what reaction you will get, but so far the label love it; we reached Number 36 in the UK Official Rock Album charts on the week it was released - and the reviews have been frankly humbling in their enthusiasm.

How is the creative processes in your band from coming up with ideas to get them onto a recording ?

As mentioned above, Adam and I tend to come up with initial compositions for songs which everyone then works up into a Touchstone track, so everyone is involved in the writing and we feel this is important in the whole process. Moo has an excellent ear for arrangements; Hen is full of drumming ideas and, whilst I have been the main myric-writer since the band's inception, Kim was more involved with the lyric-writing on this album.

The band really is like a family, and there is a lot of trust and honesty between us, in that we can really say what we think about ideas without causing ructions. There is a lot of integrity in the band, and we like to keep it pro, but have some fun and come up with music which we think people from all walks of life will love.

We tend to be 'music first' merchants with lyrics written after, but in a sense we have two approaches. I tend to prep up full song demos with melodies and lyrics drafted, which I have developed in my own studio, for the band to take 'as is', kill or cure, and Adam comes up with riffs or motifs, if you like, which we weave together after he and I have worked out the bones of a structure.

So the writing process can be very fluid, but the important thing is to have a kernel of an idea and then make it grow into something we love and believe in, as a band. We then hope people will love it all as much as we do.

Recording was at Outhouse Studios in Reading run by John Mitchell, as before.

We felt for this album we wanted to use someone who really knows us and our material. He and the team, Ben and James, did a brilliant job as always, and then the music is mastered by a total mastering wizard by the name of Tim Turan, who masters for the great and good, as well as little old us.

For those of us unfamiliar with your music; how would you describe you music and which bands would you compare yourself with ?

We are very much 'us', but, as mentioned, a rock band with progressive twists. Our music is dynamic, in that you can have on one track a crazy roller coaster of a track, and then a beautiful profound sensitive piece, and we believe we have pushed the dynamic even more on this album.

Influences are Genesis, Van Halen, Yes, Pink Floyd, Our Lady Peace to name but a few, but check out our website. To say that the really is a mix of influences across all band members would be an understatement!

What have you been up to since the recording of your new album, what is your current status and what are your plans for this year and beyond ?

We have recently completed a very successful UK album launch tour covering north, south, east and west of the country, and we are presently preparing for a slot with Arena and Haken at the end of November.

Beyond that we are working with our management and label in looking at festivals, Europe and the US next year. Nothing we can officially announce at the moment, but there is a lot going on behind the scenes.

We also have some visual material of High Voltage which we kicked off last year, and our recent Borderline gig, and we are looking at perhaps releasing some material in Spring of next year.

To wrap up this interview, is there anything you want to add to this interview ?

Yes - if people are interested in us - please access our website and / or get hooked up with us on Facebook.

After gigs, as our fans know, we often come out and mix and chat with people - and we enjoy meeting new friends either face to face or on Facebook, so please say 'hello' to us and if you have any other questions, please ask us on Facebook, or our forum.

Finally, a massive thank you firstly to you Torodd and all at Prog Archives, for taking an interest in us, but especially to our loyal fans whose support has led to our recent signing with the biggest independent rock label in Europe; a fantastic UK tour and a place in the UK rock album charts.

We cannot thank people enough. It is great to be signed, but what really matters is how much the public enjoy our live shows –and how they embrace our music globally.

Thanks again, Torodd!
Thank you to Rob for this interview