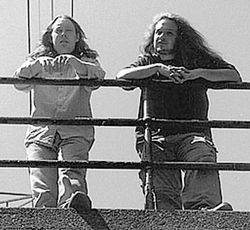 NASCENT is a duo from Boston/USA with Jeff Briggs (guitars, bass, synth, vocals) as the mastermind. It all started with some musical ideas by Briggs who wanted to have more than a one-off project. Someday he figured out that he's on the same musical wavelength with drummer Libor Hadrava, a native Czech Republic and Berklee music student. At the end of 2005 they decided to form the band NASCENT as the core members.
I got in touch with them and Jeff Briggs answered my questions.
###################################################################################
When and by whom was your band born ?
While in grad school for art I was spending more time playing music than I had in a while. After a year or so of writing some stuff without any end goal I started looking for musicians to accompany me. Many auditions later I met Libor. The material really came together and that's about that. I had the good fortune of living with some great musicians in Brighton at the time (a neighborhood in Boston). Justin Francos ended up contributing some keyboards to the recording. Tom Hanlsowe played bass on about half of this record too. I recorded, mixed and mastered that first record.
Did any of you, past and present members, play in any other bands before joining up in your band ?
I was in plenty of bands that never really went anywhere. Mr. Fribble, Agent Scaringi, and Gericault's Arm were pretty good, but never went farther than a couple zip codes. Libor was in Infinity Minus One.
Why did you choose that name and which bands were you influenced by?
The name Nascent came from a sense of something fresh. I felt like we were scratching the surface of something deep with plenty of room to explore. I wanted a name to reflect the feeling I was having at the time. I hope the name will continue to reflect a newness in the future.
Regarding bands we're influenced by: Rush, King Crimson, Carcass, Megadeth and Ulver would probably be the most immediate. Influences are funny though. We're influenced by everything we hear, positively or negatively; and with a band like this, we can explore a breadth of influences that some other bands can't get away with. For instance, I'm really drawn to the minimalism of Morton Feldman and Harold Budd, and that finds a place alongside excessive moments of 50's Hard Bop derived chord changes played over with high gain guitar thrash riffs. I think we are willing to draw from almost anything, but the people/bands that were willing to arrange disparate styles/genres and sounds together merit particular recognition regarding our appropriation of their particular aesthetic. These credits go out to folks like Peter Gabriel, Naked City, etc. The list grows as post-modernism becomes further entrenched in pop music.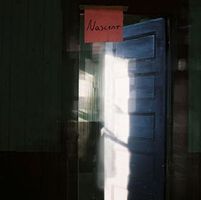 Over to your self titled debut album from 2006. Please tell us more about this album.
You're going to have to get more specific if the first paragraph of this interview doesn't suffice.
The latest news about your band is from 2009 and is about laying down drums on a new project. What have you been up to during the last five years and what can we expect from you in the future ?
For the last 5 years I've been busy writing new music and making paintings. Libor opened Axiom music school and has recently been making instructional videos for !Drum Magazine. We started tracking some new material in September 2009. The new album will be out early 2012. The title track from the new record "Methods for Detection, Analysis, and Isolation" is currently available to stream on our
website
.
For those of us unfamiliar with your music; how would you describe you music and which bands would you compare yourself with?
I would describe Nascent as a mostly instrumental contemporary metal band with serious inclinations towards narrative linear compositions. We acknowledging a debt to progressive rock from the 60's and 70's. Current bands I feel represent something sympathetic to our musical vision would be maybe be Dysrhythmia and Canvas Solaris. There are more...
Thank you to Jeff for this interview