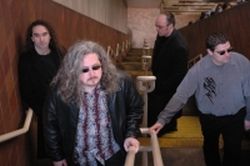 Longtime friends Gee-roj and Empathy have been composing music together since they were kids in a northern Virginia high school. Gee-roj stuck around to attend VCU while Empathy traveled north to Boston's Berklee College of Music. Gee-roj moved to Boston after graduation, and the two resumed their musical collaboration with what later became SPECIMEN 37's first CD, "Adverse Reaction".
Originally intended as a studio project, SPECIMEN 37's successful recruitment of Berklee drummer MojoNine (ex-GRACIE, THE GLORIA FORWARD) and bassist Sketch Element led to successful live shows. A revolving door roster that at one point expanded to 7 members has eventually gelled into today's lean and nimble 4-piece.
I got in touch with Gee-roj and Empathy for their story.
###################################################################################
When, where and by whom was your band born ? Did any of you, past and present members, play in any other bands before joining up in your band ? Why did you choose that name ?
Adam Crary (a.k.a. Empathy): gEE-rOj, Buen and I are old friends from a northern Virginia high school. gEE-rOj and I actually met auditioning for a play. I was a budding musician with an additional interest in theater, and he was a budding actor/director with an additional interest in music. We discovered we had shared interests right away, and struck up a friendship. gEE-roj and Buen had pooled their resources together to purchase a 4-track cassette recorder (yes, we're that old), and we started making some music together at that point. Those early recordings were under the name Negated Dog, and had a very small circulation. The 3 of us went our separate ways to college – I came up to Boston to attend the Berklee College of Music, and both gEE-rOj and Buen went south to Richmond to study theater and film at Virginia Commonwealth University. We stayed in touch, however. They continued making music under the name Substance P (with several cohorts they had found along the way, including Osiol and Kookina), and I did some solo work, and various unnamed collaborative projects… some of which was with Chuck, who I had met in Boston, and immediately "clicked" with.
After graduation, gEE-rOj, Buen, and Osiol moved up to Boston, and the material that became Adverse Reaction started taking shape. Sadly, during this time, Buen's struggle with mental illness came to a tipping point, and he was forced to leave Boston.
As Adverse started coming together, I had the good fortune to work with MojoNine, and we asked him to record some drums for us. He agreed, and we loved the results, so we asked him to come on board as a permanent member.
We had planned to continue as Substance P, right up until we were finishing Adverse Reaction. At that point we had discovered that there appeared to be another band using the name Substance P, and we decided it would be simpler for us to change our name. A common concept to our releases is the idea of viewing human behavior from an "outside" perspective, as a higher intelligence might view a specimen in order to learn its properties and behaviors. The number 37 has pursued several members of the band (and some other friends of ours) for years now, and it's truly a fascinating number to us. The human body temperature happens to be 37 degrees Celsius, is a prime number, and seems to appear "randomly" at very specific times for us. For example, the analog clock on my stove stopped one day on 4:37. In the process of burning a CD once, I had inadvertently created one long track that was 70 plus minutes long. I just happened to pause it at 37:37! One of our favorite stories about the number is when gEE-rOj and I had discussed changing the band name to Specimen 37. He wasn't entirely convinced, and decided he needed to "sleep on it". That night he continually woke from a restless sleep at 1:37, 2:37, then 3:37. He took the hint.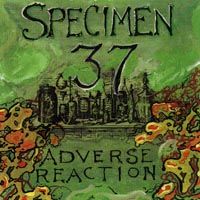 Over to your two albums. Your debut album was Adverse Reaction from 2000. Please tell us more about this album.
Adam: As is par for the course with Specimen, the inspiration for the material on Adverse Reaction came from several different sources. Certain songs ("ABC, Silent Sorrow") were the results of some live jams. Others were built upon from recordings that Buen had already made ("Wormhole", "Immanence", "Luminescence"). On others, one member would build the framework for the song, and the others would come in and flesh it out.
It wasn't until we decided to change the band name that the conceptual side of the album (and really the general conceptual thrust of the band) was born. The "Adverse Reaction Suite", as we've come to refer the tracks "Extraction" through "Enlightenment", is the story of Specimen 37's initial encounter with an extraterrestrial lifeform.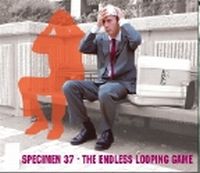 Your second and most recent album is the The Endless Looping Game album from 2004. Please tell us more about this album.
Adam: This time around, we decided early on that this album would be a continuation of the concepts we began to touch on in Adverse Reaction. "Awake with a Shock", starts the album off with the Specimen dreaming of his otherworldly encounter (I re-used many of the themes from Adverse as a dream-sequence kind of "sound collage". Then the rest of the album follows the Specimen through a typical week, your typical "human condition" kind of thing.
Between Adverse Reaction and the Endless Looping Game, we had recruited Sketch Element (Geoff) on bass duties, and we had started to develop songs much more as a band unit – I think the chemistry we began to build shows in the material, personally.
You have also released some singles too. Please tell us more about them.
Adam: The songs we've released since The Endless Looping Game weren't intended to be singles, but as it appears that we're on indefinite hiatus at this point, we decided to release the three songs we completed as singles, just to get them out there.
"Driven to Distraction" is kind of a dual commentary on the Attention Deficit Disorder humankind seems to be developing as we become bombarded with more and more information from all sides. It's also an observation that the deeper we seem to descend into this syndrome, the easier it becomes for those who would manipulate and control to do so.
"Fret" is an instrumental that sprang forth as a result of playing with alternate guitar tunings.
"Breathe In… Release" – gEE-r0j wrote these lyrics, so I'll comment on the music. The main riff has a very Sabbath-meets-Floyd feel to me, and the sample loop along with the guitar riff really felt like being caught in some kind of giant grinding machine. In fact, the working title for this one for a long time was "Grinder". The B section is the "release".
Besides of the singles, what else have you been up to since the release of the The Endless Looping Game album ? What are your plans for the rest of the year and next year ?
Adam: The singles have been about it for Specimen 37 in the last few years. As I mentioned before, we're on a sort of indefinite hiatus. There seems to be an interest in resuming at some point in the future… I really hope that happens. I feel like we definitely have more to say.
In the meantime, I've been singing with another original band called The Blank Attack. We've been in the studio finishing the mixing process of our album. I'm hoping that will be ready for mass consumption early next year. I've also recently joined a Beatles cover band, and I'm really enjoying learning that material. They were truly brilliant.
I've also continued playing with Geoff (Sketch Element) and Darrell (MojoNine), and that's been really great. I love playing with Specimen 37. We're all set up for recording at our rehearsal space… who knows, maybe some of that will find its way out into the world…
Geoff Valentine (aka Sketch Element): I've been focusing my musical attention primarily on classical guitar over the last couple of years. I've been involved in a couple other low key music projects as well. I'm pretty excited to be playing with Adam & Darrell (MojoNine) again. Not sure where the jams will lead, but it's great to be playing and writing again with these guys.
Your music is difficult to both pinpoint and describe. How would you describe your music and which bands would you compare yourself with ?
Geoff Valentine (aka Sketch Element): That's a tough one. Maybe progressive experimental industrial electronic? I had a friend who once called it science fiction music. I think that as a group we're coming at this from so many different musical perspectives that the end result is a bit hard to pigeonhole. How about Frankenprog?
Adam: Ha! Frankenprog is pretty great. I still feel like "psychetronic rock" is pretty accurate. Psychedelic electronic rock kind of covers many of the main aspects of what we do. I think one of the main defining characteristics of our sound is that we have such diverse influences, but still enough commonalities to draw it all together. We get a lot of comparisons to Porcupine Tree, which I can definitely see, but we only really discovered them about a decade ago. I think we draw on a lot of the same influences and inspirations as Steven Wilson does (which must be why gEE-rOj, myself, and recently Sketch Element, are all big fans of Porcupine Tree. What it always comes back to for me, and gEE-rOj, however… is Pink Floyd. They changed the equation forever, as far as we're concerned.
How is the music scene in your local area now and how is the gigs situation ?
Geoff Valentine (aka Sketch Element): Depends on what you're looking for, I think. Boston is not a very big city, and the scene tends to focus on a handful of styles of music at a time. There's always room for the non-mainstream, but it takes a little more work to put together successful gigs.
Adam: Unfortunately, I don't feel as if the local scene here in Boston ever really warmed up to us. There were some successful shows partnering with some local Art Rock societies, and other "artist collective" types… but the scene here tends to be very punk and alt-punk oriented.
To wrap up this interview, is there anything you want to add to this interview ?
Adam: Not really, I already feel like I've blathered on enough! Thank you very much for the interview! I do hope that the Specimen 37 story does continue on at some point.
Thank you to Gee-roj and Empathy for this interview