November 11, 2011 ... already felt footsteps of the winter, it was a bit cold even in Osaka, where is always one of the hottest area all around Japan. Yup of course, it was no problem.
DJAMRA
could make a live house named Nakatsu Vi-Code hotter and more of passion. They'd announced they played upon the one-man (one-project?) stage, with their side projects or musical mates. Wondered how their progressive (partially traditional) stage should go on ...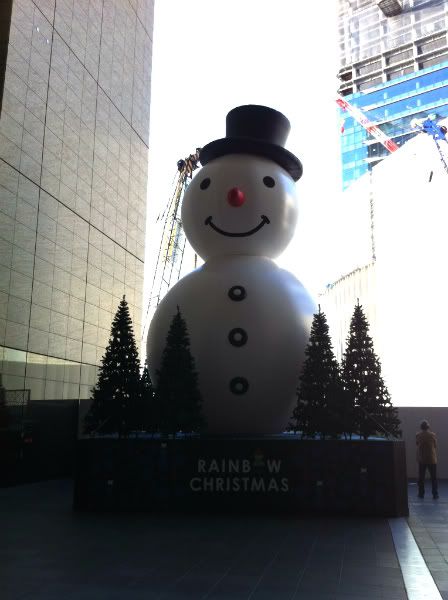 A large snowman at Osaka Station ... an extra pic.
Upon 19:00 DJAMRA landed upon the stage with such a cool appearance.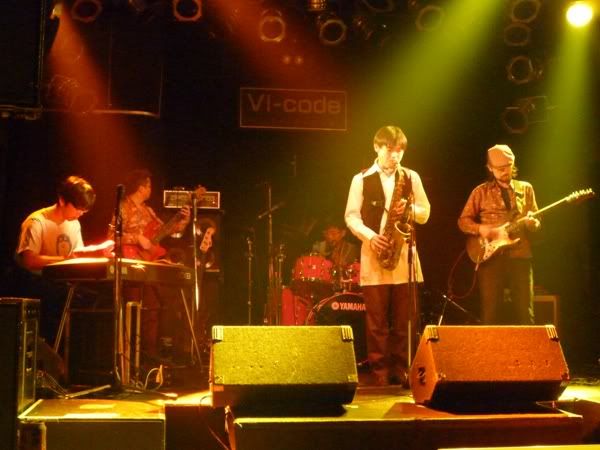 DJAMRA had landed finally!
They (at first, as a quintet) played aggressively the intro of "Rolling Tiger" ... suddenly the audience had been knocked down!
Shinji KITAMURA (alto saxophone)
Akira ISHIKAWA (guitar)
Takehiko FUKUDA (keyboards)
Akihiro ENOMOTO (drums, percussion)
with "coloured" glasses :P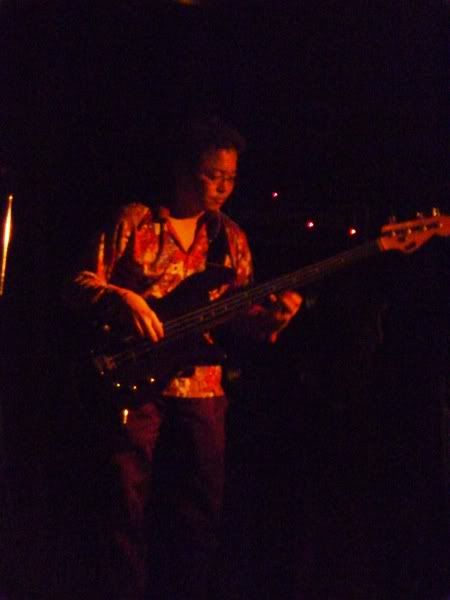 ... And
Masaharu NAKAKITA (bass)
, the leader of Ahonoko ... err ... DJAMRA.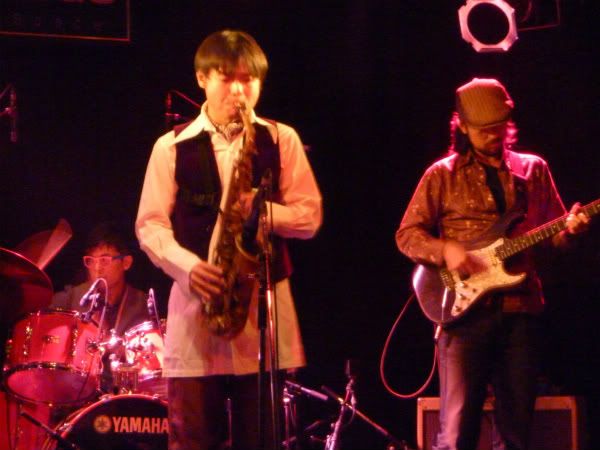 As usual, aggressive Shinji and cool Akira, and coloured glasses Akihiro behind them.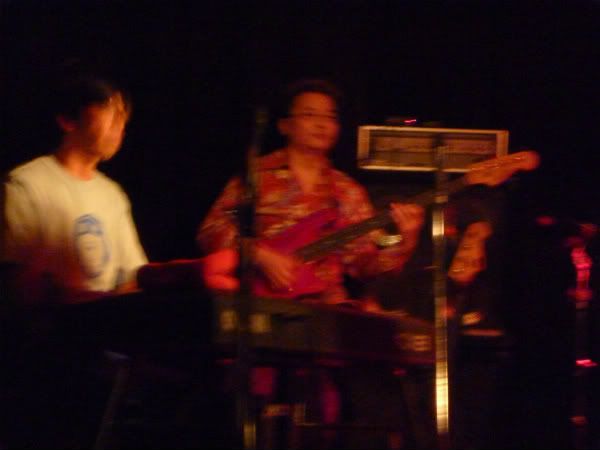 Fantastic Takehiro and funky Masaharu (he calls himself "Wai" ... Osakan "me").
The quintet launched 5 pieces on the former stage as follows:
1. Rolling Tiger
2. Dictator
3. Neo Skin
4. The Cave
5. Civilization
Masaharu talked kinkily and funnily upon some intermissions.
Ouch, a bit bungled ... sorry all (he might say?).
And Sayaka, the sixth Djamrer, followed them, with her another standard jazz project named
SJB
.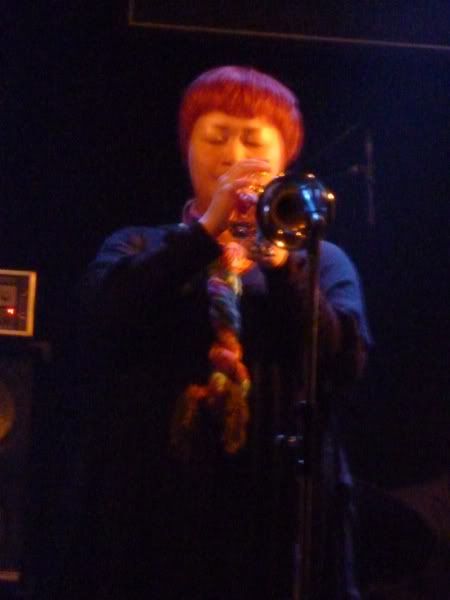 Sayaka KAWADA (trumpet)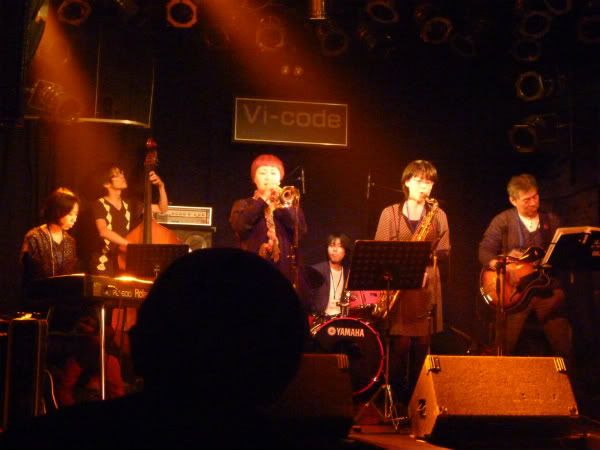 SJB, a traditional jazz music combo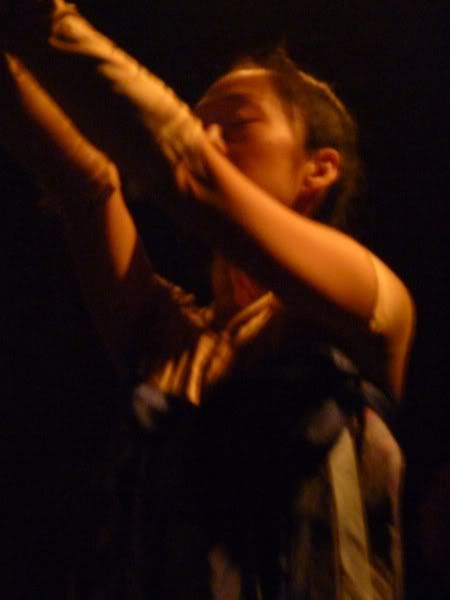 A female avantgarde dancer
YANGJAH
had done an eccentric but graceful dance, to an improvised play by Shinji and Masaharu ... addictive, sensual modern visual / auditory art.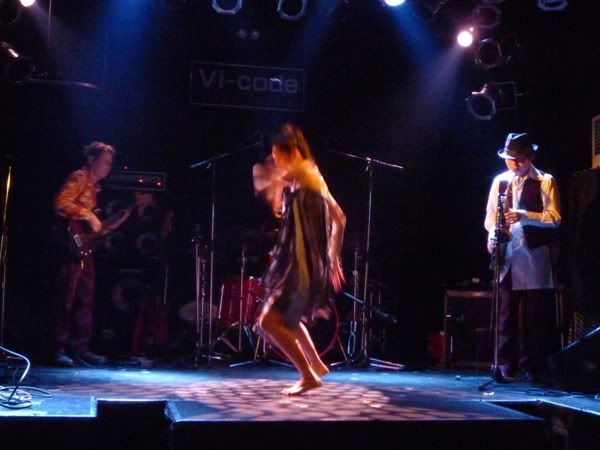 E. Ce. O.
, a unit by
Mika USHIO
(voices) and Akira (guitar) shot wonderful acoustic songs.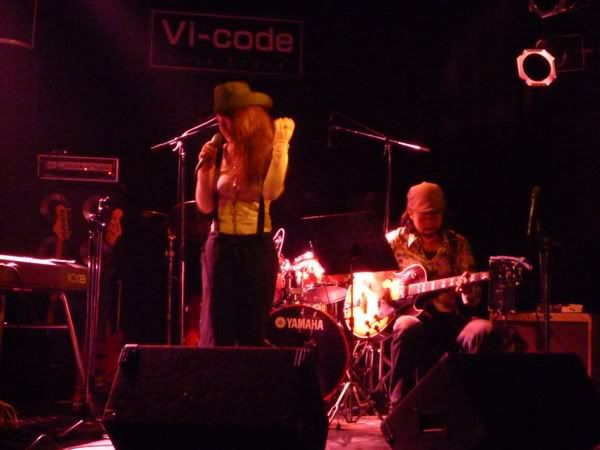 E. Ce. O.
... Mika's voices were beautiful, powerful, and amazing.
And after that, the "Sextet" DJAMRA stood upon stage again, firstly with Mika. They, surprisingly, played an acoustic jazz song "Mizu No Uta (Water Song)" and a traditional jazz one "You'd Be So Nice To Come Home To" (surprising, quite surprising!).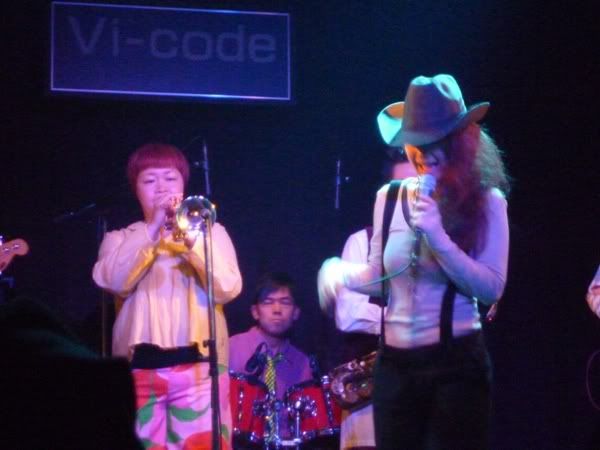 Sayaka and Mika, twin mademoiselle power.
The sextet played six or more titles on the latter stage:
6. Mizu No Uta (w/ Mika Ushio)
7. You'd Be So Nice To Come Home To (w/ Mika Ushio)
8. Kamihitoe
9. Time Flies Like An Arrow
10. Zetsuen Doon
11. Club / Crub
12. Komurakaeri
13. Pierrot's Foot Goes Into Convulsions (Encore)
DJAMRA the current sextet ... a progressive jazz rock treasure box from Osaka.
Please check their artist page in Progarchives too.
http://www.progarchives.com/artist.asp?id=4699">http://www.progarchives.com/artist.asp?id=4699
Thank you for reading my report about
DJAMRA
in Nakatsu Vi-Code. ٩(̾●̮̮̃̾•̃̾)۶