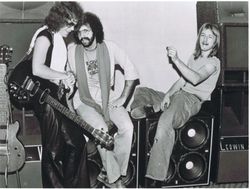 Symphonic Slam was mainly about Timo Laine (born in Finland, and moved to America as a child), and his polyphonic guitar synthesizer. The rest of the band was filled out by drummer John Lowery, and keyboardist David Stone.

Timo had been playing the club circuit for a while, but it wasn't until he relocated to Canada that things began to happen. It was there that Symphonic Slam was discovered by A&M Records. What set them apart was the $10,000 360 systems guitar synthesizer prototype. This led to the release of their 1976 self-titled album. A legend was born.
I got in touch with Timo Laine for the story, told and published for the very first time.
#####################################################################################
Your biography has been covered in your ProgArchives profile so let's bypass the biography details. But which bands were you influenced by and why did you choose that name ?


I picked up the name Symphonic Slam because I wanted to reflect a larger sound. All my projects in the past had Meletrons,or Chamberlins, and since I was playing six synthesizers with my guitar, it all added up to a very large symphonic approach, but with a rock ( Slam ) flavor.
I was influenced in the very early years by guitarists Wes Montgomery, Barney Kessel, Joe Pass, and Kenny Barrel. The bands that influenced me were Pink Floyd, King Crimson, Frank Zappa, Moody Blues, Beatles, Stones, Jeff Beck, Eric Clapton,and, Dick Dale. Classical guitarist were Andres Segovia and Carlos Montoya.
You moved from Finland to USA in your youth. How old were you when you relocated to USA and why this relocation ?


My parents immigrated to America when I was 6 years old. Dad was a Chemist with a great interest in geology.
He wanted to explore the great Mohave desert in the California Nevada areas. Her also had an interest to establish his family in America because he always feared the Soviet Union.
It is claimed you were one of the first musicians to use a synth guitar. Please tell us why you took up that not so cheap and I guess quite bad tempered instrument back then.


I had performed with my Les Paul, Fender amp and echoplex full time for decades. I started playing guitar with the idea of making a living with it at an early age, and I did just that. I played in night clubs full time for about 10 years. I was also a guitar teacher for 4 years. So I desired a fresh sound, I was hungry to see what could be done to make the guitar do more.
My first attempt was to try out the GuitOrgan by MCI. This was a micro curcuited B-3 inside a ES-335. The frets were cut in six sections that functioned as a micro switch.
This allowed me to play the guitar and organ at the same time. But, it also was a very limited, and did not offer for me, anything I wanted to live with for very long. I then contacted and, met with Oberheim, and asked him to hook up the guitar to synthesizers. Oberheim said that he had already worked with that idea, but that I should contact a man named Bob Easton of 360 Systems.
What 360 Systems had done was invent a device called a Pitch to Voltage convertor. The convertor was hooked up to a hexiphonic pick-up allowing it to be sent to a synthesizers.
Bob Easton had the prototype sitting on his work bench, it was hooked up to six Oberhiems. I fired it up and Bam!, I fell in love.
I made a deal with Bob immediately, and at a price of $10,000 he sold it to me. I had it shipped to Canada where I was in pre-production for my first Symphonic Slam album.
This system was a great tracking unit because it was polyphonic. There was no harmonic problems like the later developed monophonic systems that never worked or tracked well.
This was a high performance moon rocket that responded perfectly to my style.
Since I used the system on every song on that album, the word got out real fast about this monster guitar rig. To my good luck A&M Records released the album world wide off the starting blocks.
The press and media caught on to the new sound, and my famous 360 Systems Polyphonic Guitar synthesizer won me the title "Father of the Guitar Synthesizer."
Later on, I heard Frank Zappa had bought one from Bob, but could not use it because it was running Moogs. The Moogs drifted so bad the systems could not be kept in tune. So I bought Zappa`s
polyphonic guitar as a back-up, but not the Moogs. Jimmy Page called us and wanted to buy my system at a hefty price, but I refused, and explained I was doing tour support with it and was planning another album later.
Stevie Wonder also wanted to rent the system for one of his albums, but I was on the road.
Six units were built, mine being the first, and the first to record an entire album with it on a major label, with a world wide release. There were pitiful monophonic guitar synths on the drawing boards at that time, and even though players were trying to get their footing with them, they ended up being more of a bad joke than a sincere musical effort.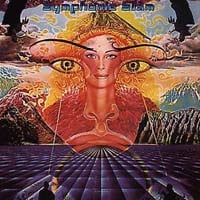 Over to your first two Symphonic Slam albums. Please tell us more about the self titled debut album from 1976.


I had just completed an album recorded at Capital Records in 1974 with Neil Merryweather, The band was called "Space Rangers". I had written most of the originals for the Space Rangers years earlier with a group called Zebra, which were recorded at Pat Boons Lion and the Lamb studios.
But our producer Tony Carey died in the middle of the project. So when I started with Space Rangers, I used the same material over. Neil wrote the words, I wrote most the music, and played lead. When a conflict of interest in relation to actually getting paid came up, I left Space Rangers along with Bob Silvert, the Meletron player.
I then was asked to record a demo with Epic Records in San Francisco, However, in the middle of that production, the producer was fired. He gave me the tapes and said good luck.
So I decided it was time to go elsewhere. I took the band to Canada, played clubs for a few years, and one day had Chum FM play the demo over the air. The president of A&M was listening and called the DJ and said "Tell that kid Timo Laine to come and see me." We got signed to record Symphonic Slam. The material was a collection of musical ideas I had been saving while playing clubs and concerts over the years.
The songs for Symphonic Slam took years to develop, and about 9 months to rehearse and record.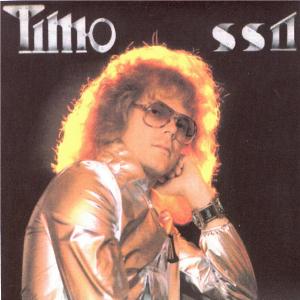 The second album Timo SS II was released two years later. Please tell us more about this album.
After A&M Records option came up for the second term, they wanted for me to record a disco album. I told them that that was like asking Segovia to record a surf album.
I put an ad in the LA Times under venture capital, and since I was still on the billboard charts got an investor to start Lady Records of Canada Inc.
I bailed out of the record deal and started the production of SSII. The album was recorded at the Righteous Brothers studio in California and A&M studios Hollywood. The players were Jimmy Haslip - Bass, Linda Nardini - Keys, and Jan Uvena - Drums. David Stone, my Canadian keyboard player, went on to play with Richie Blackmore, so he stayed behind in Canada. Jimmy, after the SSII album, started Yellow Jackets.
SSII was me doing a lot more vocals and more melodic tunes that I had written on the road with in Canada.

In 2011 Musea Records was contacted by Denis Meyer, The author of the book Rock Anthology. Denis had asked Bernard at Musea Records, that it might be a good idea to re-issue
the SSII album, since Denis had proclaimed Symphonic Slam as one of the top Progressive rock bands in the world. So They contacted me, and Denis Meyer became the executive producer on the re-master and it was re-issued last March 2011.
Then there was no more albums under the Symphonic Slam name. What happened and what were you up to in this time ?
I came back to the states to try and release SSII. I pressed 10,000 units and went to get distribution here. But I was about $200,000 short on my PR campaign. No support, no distribution.
I shelved the project and filed a BK.
After that I got very sick for a long time. My doctor told me "Whatever you have been doing all these years you better take time off or you're gonna die."
So took up oil painting, and started a large collection of international exotic Coleoptera and Lepidoptera ( Beatles and butterflies).
I went to Costa Rica, Southern Mexico, Trindad, Tobago, and collected bugs. I joined the Musium of Natural History, Lorquin society. and started displaying my collection at the various museums and universities. My goal was to collect every exotic bug in the world. And I'm telling you, I came pretty close to having a collection to rival that of the Museums. I also painted African wildlife, like Elephants, Rhino, etc. Did a lot of landscape paintings of Hawaii. Spent a lot of time collecting
on all the Hawaiian islands.
I also got married to my Kimberly, and had two sons: Timo Jr and Jesse.
You also have your own solo career. Please tell us more about your solo albums.
I figured it was time to get back in the swing of things, music wise. So after listening to players like Joe Satriani, Steve Vai, and Eric Johnson, I figured I can pull that off.
So I started to record instrumentals featuring the guitar, but with a good dose of synth.

Musea re-released the debut Symphonic Slam album in 2001 if I am not mistaken. Please tell us more about how Musea got involved.
Bernard, the President of Musea Records, contacted me and asked if he could re-issue the first album.
So I contacted Universal and negotiated a mechanical License in favor of Musea Records. The re-issue came out, and I was
pleased to see the press was starting to put things back on the map


You resurrected the Symphonic Slam name again and released the third Symphonic Slam album called Her Fire in 2005 if I am not mistaken. Please tell us more about this album.
I figured since Musea is going to put the stuff out again I better write a follow up CD. I wrote and recorded Her Fire. The album was originally going to be called "Cave Canem"
which means "Beware of Dog" in Latin. But my wife said "Why are you calling an album full of love songs 'Beware of Dog?'" Duh!! So I named it HER FIRE and painted the cover with a two faced woman
I asked Les Carlsen (lead vocalist of BloodGood) to help with the vocals, since my voice was still out of shape. Noe Cruz on Bass, and Bob Winn on drums.
You are again working on a new Symphonic Slam album according to your homepage. Please tell us more about this new album and material.
I'm putting material together with a hopeful release date of 2012. Like the A&M release, this contains spiritual content, and will be a big production.
The first tune is 17 minutes inspired by Revelations.
I have a great keyboard player named Steve Eddy that rivals Linda Nardini and Dave Stone on this work. I also have Jeff Hull on Bass. I may use guest artists
also to be determined Maybe Jimmy Haslip. I have talked to producers as well including Ken Scot.
Do you also have some old material hidden in the vaults and is there any plans to release this material ?

I have about 2 to 3 albums worth of unreleased material yet to be recorded.
What is your plans for next year ?

I'm working on the new material for the new album, titled "Phoenix Rising."
To wrap up this interview, is there anything you want to add to this interview ?
Only that the world is a great place to work and play and experience and that everything I've done has been a fantastic adventure.
I hope to keep writing, playing, collecting, painting, and keeping my family in perfect harmony.

NetPrPro has entered into a 24 month contract to promote Timo Laine Symphonic Slam to 3.2 Billion People.
Thank you to Timo for this interview



Edited by toroddfuglesteg - November 22 2011 at 13:11