Brazilian act BLUE MAMMOTH was formally formed in 2009. At that point long time friends Julian Quilodran (bass) and Andre Micheli (keyboards) had already been developing Blue Mammoth as a studio project, initially perhaps mostly driven by Quilodran's need and desire to be involved in a creative and fruitful musical cooperation following the demise of his former band The Octohpera in 2002, slowly developing to become a studio based creative outlet and then finally a true to life band when Thiego Meyer (drums) and Andre Lupac (guitars) joined on a permanent basis.

Following the release of some initial singles, Blue Mammoth was approached by indie label Masque Records. Work subsequently started on the creation of a debut album which was released earlier this year. I got in touch with
Andre Micheli for their story.
###########################################################################

When and by whom was your band born? Did any of you, past and present members, play in any other bands before joining up in your band?
Before setting up the band, Julian and I used to work as professional musicians as members of some bands and as hired side men for some local artists. I've played at blues, pop rock and even bossa-nova bands, as well as a Deep Purple cover band, one of my greatest influences. Julian was part of relatively well-succeeded local bands, as well as the "Octohpera" progressive project, which released a full-length album called "Bons Amigos" by Rock Symphony Records, and many other sporadic free-lancing gigs on different styles. I've met Julian in some of these frequent common gigs, just after dissolution of "Octohpera", when I was coursing my Musical Composition graduation. At this time, Julian thought a keyboardist/composer would be a perfect partner for a new progressive rock project. Then we started to build a repertoire and write arrangements.
Cesar and Thiago had played together at the local pop rock band "Celtha", as well as "Quantum" cover project, in which they played some Camel, Rush, Pink Floyd and other progressive classics. At the early times of the band, Thiago joined the band and brought Cesar along, which integrated the band for some months, at the pre-production phase of the album. Andre Lupac, guitarist which recorded the album and left just after for personal reasons, leads a Rush cover band, his great musical passion. Cesar then rejoined a few months ago.

Why did you choose that name and which bands were you influenced by?
A band's name is sometimes hard to explain. I remember spending some time looking for something interesting and Julian came up with this name, as an elaboration of a friend's suggestion. It has a heavy-psychedelic feel, which pleased us instantly and fits well in a hard-progressive rock project.
About the influences, we have different preferences, but all of them connected in some way. At my teenage years, I've got frantic for some bands which would be part of my life forever.I've started with rock music by listening to Elton John and Beatles, and later on, Deep Purple and Iron Maiden, which I listened until holes appeared in my LPs. Later on, I listened a lot of JethroTull and Renaissance. As a student on classical music, great composers like Bach, Mozart, Beethoven, Chopin had a great impact on the construction of my musical personality.
Cesar was a great heavy metal fan when he was younger, and Dream Theater was sort of a bridge for him, as he got interested in other styles of progressive rock. He is a great fan of modern symphonic progressive bands, such as Neal Morse, Transatlantic, Flower Kings, Beardfish, and space rock like Pink Floyd and Ozric Tentacles.
Thiago started to listen progressive music as a teenager, as a huge Rush fan. Neil Peart was his primary motivation to start playing drums, and is a major influence. Contrasting with Peart's approach, Triumvirat's drummer Hans Bathelt was also a great influence with his straight and powerful style. The last but not least, and, for sure, the biggest,ones the great Bill Bruford, from Yes, King Crimson, Earthworks, Genesis, and many others. He spent a lot of time playing all his masterpieces, and learned a lot in the process.
Julian listens to music as a musical producer, which means he gets interested in a lot of different and contrasting styles, despite of his personal preference to rock music. From hardcore to experimental progressive, he devours them all, with a special taste for prog monoliths Gentle Giant and Yes at its Bill Brufford days. To have an idea of his ecletic view, some other influences includes Bad Brains, Living Colour, Hermeto Paschoal and Les Luthiers.
For those of us unfamiliar with your music; how would you describe you music?
As a composer, a think about exploring the elements that attract me the most in music: the energy and adrenaline of heavy rock together with the lyricism and harmonic colors of classical music. It seems to be simple but it is not. Overloads in heavy energy can engulf the harmony and excessive lyricism softens the composition. I'm always trying to walk this thin line of balance, where the sum of these elements results in a perfect match. In addition, I've found a partner with a peculiar sense for rhythmic sections. Listening carefully, there's a lot of polyrhythmic moments throughout the album, with contrasting time signatures coexisting with melodic-harmonic sections conceived by Julian, which ends up sounding smoothly and elegantly resolved in the composition. These elements may be overlooked at a first contact, but they are the result of a very sophisticated musical thought I think, that brings a very special taste to our music.
However, I would say that our music does not intend necessarily to contain hallmark features of progressive rock, which ends up making the classification of our sound pretty difficult. When I write and we start to arrange, we never think like "let's evolve this part as the prog band we are" or "let's put some strings here, because we want to sound symphonic". Actually, we think about obtaining the maximum emotional deepness from each composition and tell a story as interesting as possible in each song.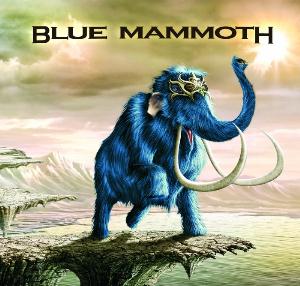 Your self-titled debut album was released earlier this year. Please tell us more about this album.
The album was our first goal and almost the entire material was written specially for it, except for "Resurrection Day", which came from a previous moment. Thus, these songs reflect a specific moment of us as musicians and artists. I think the album sounds naturally connected, telling a story as a whole. It doesn't sound like a patchwork or individuals put in a same place by force. I think the album will be felt as a single travel through various landscapes. The connection and efforts of the four musicians was essential for this result. A special mention to the record and mixing work of Julian, which allowed us to reach the desired sound, my partner lyricist George de Souza and illustrator Julio Zartos, who captured the vibe we needed in a splendorous artwork in the album cover.
What have you been up to since the recording of that album and what is your plans for the immediate future?
We were fully focused on rehearsals for concerts, one of them occurred last November 12th, and working hard on promoting the CD. By the way, we would like to thank progachives.com for the support. Finally, we intend to start the production of a new album in a near future, since we already have all the material written. We are just setting up our scheduling for the next year.

To wrap up this interview, is there anything you want to add to this interview ?
We honestly believe that progressive rock is a neverending style, with a lot of unexplored territories and full of enthusiasts, generation after generation. Against some widespread opinions, which all of you may be quite familiar with, it didn't die in the 70's at all, as we can see lots of good stuff coming out every day.
Thank you to Andre for this interview



Edited by toroddfuglesteg - November 23 2011 at 14:08