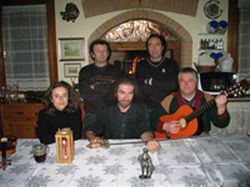 FAVERAVOLA is a band made by ex 70s musicians from Treviso - Italy (Le Tarme, Diamond Red, Opera prima). After 30 years they re-group and release "La Contea dei Cento Castagni". An excellent italian symphonic prog with strong medieval-folk hints, with clear references to important acts such as Le Orme (their acoustic repertoire mainly, not their bombastic one, it seems), Angelo Branduardi and Il Castello di Atlante. But also to other important english bands as The Moody Blues. Vocals by Franco Violo ex Asgard and ex Helreid. Aldo Tagliapietra (Le Orme) also appears as guest giving his voice to the wise spirit of the river.
I got in touch with the band and Giancarlo Nicorelli answered my questions.
##############################################################################
When, where and by whom was your band born ?
The band Faveravola was born around 2002-2003 from my original idea (Faveravola is a word which doesn't exist, but it can mean "a fable which come true"). I met the old friend Adriano Durighetto after many many years. Adriano was the bass player of my first bands in the seventies. I had some new songs in a corner, composed with lyrics and piano. I proposed to Adriano to begin again to play, for a new season of music. We found the perfect drummer in Paolo Coltro, with the right experience. He played also in some bands in seventies years.
Also Alessandro Bonotto was a guitar player of those years, who loved prog and folk music. Those musicians were the first members of Faveravola band. The fable began with those old players, taking off the dust from our instruments, with new emotions.
Did any of you, past and present members, play in any other bands before joining up in your band ? Why did you choose that name and which bands were you influenced by ?
The old players of Faveravola had some experience in the seventies in no famous bands about progressive and rock-blues: Opera Prima, Diamond Red, Le Tarme. Very old memories.
The new entry of Franco Violo (voice), Gianluca Tassi (electric guitar), Consuelo Marcon (violin) had been very important. They came from important experiences with Asgard, Black Jester and Cabaret Du Ciel, in '80 and '90 years. The word Faveravola doesn't exist, it can mean "a fable which become true". That's the meaning of our story and also of the concept "La Contea dei cento castagni", our first album. We love the music of the seventies (all italian prog of those years), also from the sixties late years. So our music can find influence from Moody Blues, Procol Harum, Genesis, Le Orme, the first symphonic prog, and also some kind of folk in medieval way (in Italy is famous Angelo Branduardi for his folkish lullabies).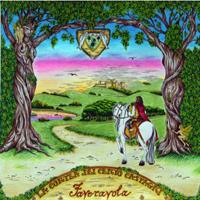 Over to your only album so far. Please tell us more about the Contea Dei Cento Castagni album from 2006. How would you describe the music on this album ?
"La Contea dei cento castagni" is a concept, a tale and a kind of biography for me, but in a medieval imaginary trip. A story of love, loyality, honour, passing though some difficulties, the meeting with my lovely wife Annalisa. Also an echologistic and philosophical long path, with the dialogue with the old wise river, with the special and precious interpretation of Aldo Tagliapietra of Le Orme. A special, emotional moment in the album. We can describe our music like a meeting of symphonic prog with medieval folkish melodies, but I think it's just our music with the magical inspiration and fairy ambientations and unforgettable melodies. Surely unforgettable for us, and I hope for many listeners too.
What have you been up to since 2006 ? Is there any plans to do another album ? What is your current status and plans for this year and beyond ?
After 2006 the band has met many difficulties and troubles, over our best intentions. Just after "La Contea dei cento castagni" we were going to prepare another concept with the title "Castrum Zumellarum", a music for a story of the castle of Zumelle, near our land, in the north-east of Italy, toward the mountains. Many tracks were ready, but the bad disease of Paolo and the transfert in Germany of Franco for his new job has stopped the work. Anyway Faveravola, against those bad winds, has existed in fragmentary activity, with two new tracks for Colossus compilation, the first one for Dante's Paradiso with the vocals by Angelo Calleri (the singer of Bondage in the fantastic cd-concept "Anima Terra") and the second one with the vocals by Alex Secchi (the singer of Epica, Dark Lord and Moonlight Circus, important bands of Venice and Treviso). In the meantime I've written the fantasy book "La Faveravola della Contea dei cento castagni", related to Faveravola's musical tales. In the last months Paolo is back and the activity of the band is going well, with a new young guitar player too. So we hope to prepare and record the interrupted concept "Castrum Zumellarum". It will be a new important step for Faveravola.
To wrap up this interview, is there anything you want to add to this interview ?
Dear Torodd, I want to thank you very much for this interview. Bring my lovely salute to all the collaborators and friends of Progarchives, one of the most important prog-site in the world (when I need some prog informations about bands and discographies the help of Progarchives is fantastic).
And don't forget....listen to the music with the deepest side of your hearts and souls!!!
Thank you to Giancarlo for this interview

Their PA profile is here and their homepage is here