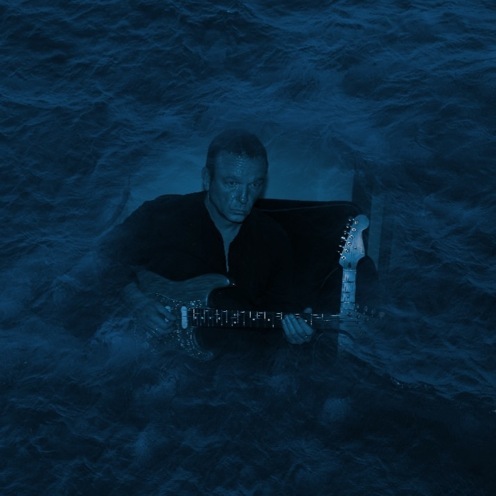 French artist STEVEGANE PROJECT is the creative vehicle of composer and multi-instrumentalist Pascal Stevegane. He started working with material for this solo project in 2008, following a number of years collaborating with fellow artists and musicians. In the fall of 2011 the end result of this now three year long process appeared as the CD When the Time Is a Present, issued through French label Musea Records.
I got in touch with Pascal Stevegane for his story.
#######################################################################################
When and where were you born? When did you take up music ?

I was born in PARIS in 1961. I became interested in music when I was 8. My father worked in a petrol station and at this time they gave out records as gifts for their customers and my father brought some home for me. They included Gene Vincent, Eddy Cochran, Bill Haley, The Platters, and all the blues musicians, BB King, Muddy Waters and the Comet, Jimi Hendrix and others, so I think that my love for music, including the blues, started at this time. During the sixties I particularly remember listening on the radio to John Lennon's "Power to the People" and the Beatles' songs "Michelle" and "Yesterday".
In the seventies, the first album I bought was Pink Floyd's "Remaster" from the period when the group included Syd Barrett. I was fascinated by a title called "Interstellar Overdrive" which seemed to me to have a very powerful psychedelic feel. After that I bought all of Pink Floyd's albums. "Middle" was very important and the track "One of these days" influenced me deeply - typical rhythm and blues with UFO British sound and quite innovative at this time. "Echo" was a very long track, like a story, but it gave me love of long tracks.
Afterwards of course came "Dark side of the moon", "Wish you were here" etc, until their last album.
One day in 1972, I discovered Deep Purple's "Child in time" with this magical guitar playing… I think that, at this time, I understood that music will the important element of my life. Nowadays Ritchie Blackmore is someone I admire deeply. With Rainbow
and now with Blackmore's Night, his work and his music have been exceptional and have had a great influence on me. In the seventies, I discovered the British sound of Genesis, Yes, Led Zeppelin, Jeff Beck and later the Canadian group Rush but also classical music, Bach, Beethoven and Serge Gainsbourg. Over the years I have listened to a huge variety of
music - one interview is just not enough to mention it all.

In which bands and projects have you been involved ?

I started playing guitar in 1977. I lived in Paris so I was able to play in different groups with different styles. The most important group I played with was "Reflet" from 1982 to 1985. We played some songs of RUSH and some of our own tracks influenced by Rainbow, Yes and Led Zeppelin. It was a great experience playing in festivals around Paris.
Besides this, I had some experience playing in studios in Paris until 1995.

Which bands were you influenced by ?

As I mentioned before, Ritchie Blackmore is one of my major influences along with Jeff Beck, David Gilmour of course and Rush who were also something huge for me.

When and why did you start out on your own with the recording of your album ?

After all these experiences, I decided to work more in my home studio to do something more personal. I think that the Stevegane Project was born around the year 2000. At this time, I moved from Paris to live in Touraine (Loire Valley) where I found the serenity to help me realize my project and combine all these influences and experiences of life.

How did you get in touch with Musea and make a record deal with thematic ?

To start with I created a MySpace page in 2008 where I put some samples of my music. I had already done a lot of work. I realized that people were interested in the music, especially by a piece entitled "Lady of the Lake". I sent the link for my Facebook page to different places on the web, in particular those in the world of progressive music. One day I received an email from MUSEA who asked me to send them a CD. So I decided to make a postproduction project for them. I had an answer from them in November 2009. The record deal was an international distribution. It was then that the Stevegane Project and "When the Time is a Present" was born.
Your debut album "When the Time Is a Present" was released earlier this year. Please tell us more about this album. For those of us unfamiliar with this album; how would you describe the music here ?

My objective was to make music that would touch everyone. The main idea was that each listener would make the album his own. I realized, during the project that many people who had heard my work were not in the habit of listening to progressive music, so I wanted to maintain this impetus to reach as many people as possible. Each person can create their own images; paint their own pictures.
I used a lot of cross harmonies to give a hypnotic feel and allow the spirit to be free. The track "When the Time is a Present" was inspired by my life in Paris. The impression that nothing is new, things are repeated (life repeats itself) over and over again.
I have tried to create the musical atmosphere of a big city with its mix of world
cultures.
"Sly return 11 march 2011" was written to mark the earthquake and tsunami in Japan. As the death of the great artist Gary Moore occurred at the same time, these events created a very blue atmosphere in my studio at home, so I decided to include this track in the album.
"Through the Stones" is about the memory of everything around us.
"The Green Eyes" is dedicated to the person who has lived with me for a long time.
"Lady of the Lake" was written following the death of a good friend.

What is your current status and what are your plans for the immediate future ?

I am currently working on a new album in order to have more material to present the STEVEGANE PROJECT on stage . We already have some ideas to make a very visual show.

To wrap up this interview, is there anything else you would like to add ?

I would like to thank you and Prog Archives for taking an interest in my project. I hope that my music will touch as many people as possible.
Thank you to Pascal for this interview

The PA profile is here and the homepage is here