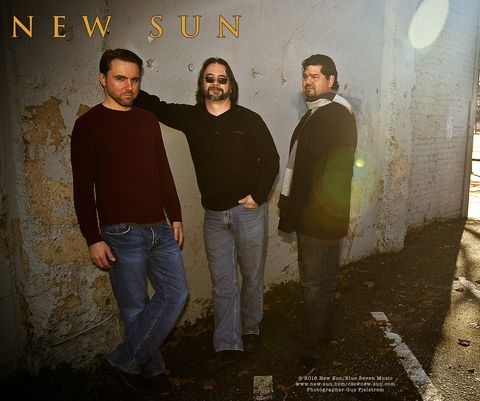 NEW SUN plays a nervous, shivering and varied Progressive hard rock which goes beyond classical schemes and stereotypes of this style. Expectations features a number of guest players on bass, violin, piano & voices / vocals. This music can be defined as melodic Progressive rock and includes a restless rhythm section, pulsing and airy solos, sometimes in the YES way. The band hints at traces of KING CRIMSON & KING X styles while still keeping a spacerock sound. They clearly have their own sound.
I got in touch with the band and Chris Cooper answered my questions.
#####################################################################################
When and by whom was your band born ? Did any of you, past and present members, play in any other bands before joining up in your band ? Which bands were you influenced by ?

Doug Erickson and Christopher Scott Cooper were introduced by a mutual friend in 1991 and found common musical interest. Thus was born New Sun. In 1993 Alex Kley(bass) and Scott Landucci(drums) answered an ad in BAM magazine and joined. 1994 saw Landucci leave and Alex brought in Chris Trujillo and that has been the rhythm section lineup ever since. 2 CDs were released with this lineup 1995 "Fractured" and 1998 "Affects". After "Affect's" release Doug left to work on Fripp's Guitar Craft and the remaining 3 continued with the 3rd CD "Expectations". From 2002 to 2008 the band took an extended hiatus. 2008 saw work on 4 songs begin and in 2009 Chris Elio was asked to join on lead vocals after CSC saw him at a venue fronting a cover band. Work on the forthcoming 4th CD "Damage Done" began in earnest. This album will be released in January 2012.
CSC played in various unknown bands and a Rush tribute band called 2112 throughout the 80's.
Our influences are varied, King Crimson, Rush, Jethro Tull, Blue Oyster Cult, Yes, Elton John would be the 70's influences. Later influences include Damn the Machine, Tool, Soundgarden, Porcupine Tree, Dave Matthews Band, Steve Tibbets.
How is the music scene in your area now ?

The Bay Area has a diverse music scene, but is not terribly focused. We are the center of tech world and thus have a large percentage of Progheads here. However the cost of maintaining a venue and the travel times have created a haphazard, hit or miss scene.

Over to your albums. Your debut album was the Fractured album from 1995. Please tell us more about this album.

In essence this was one of my first full album project as a young engineer and was done to lay down where we were at the time musically. We weren't sure how long New Sun was going to exist. DL Erickson and CSC wrote the majority of the material, with Kley and Tru filling out the rhythm components.



The follow up album was Affects from 1998. Please tell us more about this album.




With the release of Fractured, New Sun began playing shows around the Bay Area and working on new material. In 1997 recording on songs began. Tru stepped up to the vocal plate and took more of a front role on some songs. We began exploring harmony vocals and other instruments and special guest helping out on various songs. DL Erickson wrote some improvisations and the band as a whole pushed our own boundries compositionally. This fell album fell together more quickly and felt more cohesive than Fractured. It also yielded our first single that garnered attention "Prometheus", which is still a band favorite.


Your third album is the Expectations album from 2001. Please tell us more about this album.


After touring the West Coast of US and playing many shows in support of Affects, Doug decided to leave the group to persue his interest in Robert Fripp's Guitar Craft. After a brief hiatus, Tru and CSC began writing new material and 2000 Kley rejoined and the recording began on what would become Expectations. As a trio now, the band took a different tact in both sound and composition. Tru shared lead vocal duties with CSC and both worked harder on harmonies. And for the first time CSC was not the sole lyricist. Tru wrote several tunes and Kley contributed more to the arrangements. Tru and CSC challenged themselves more as players. This album also saw CSC take a more 70's approach to recording and mixing. Overall the sound got heavier and more aggressive.

We heard nothing about your band for many years. What were you guys up to ?


After Expectations the band members all had other areas of interest become their focus. CSC's engineering/producing career took off and resulted in his building a studio to continue his work in (Blue Seven Audio). Even though there were no formal rehearsals, Tru and CSC continued writing and playing together till 2008 when Alex rejoined the writing sessions the New Sun started up in earnest again. Chris Elio joined in late 2009, which changed the focus and direction of the new songs, stalling the release of the new material till the new dynamic had settled down.

A new album has been announced and a release gig was announced for two months ago. That's all I know so please enlighten us about album title, music and all the good news.


The 4th CD will be officially released in January, but a 4 song EP was released at our CD release show on 11/11/11. The album will be titled Damage Done, has 7 tracks and a total running time of 54 minutes.
Tracks(not in album order):
Damage Done
She Moved Me
Shards in the Sand
Miscreants
Dreams
Chasm City
AntiGravity
New Sun has been doing a series of warmup shows around the San Francisco Bay Area in anticipation of touring more extensively next Spring and Summer. Seeing as it has been 10 years since we did any kind of serious touring, the need to build back our stage muscle memory is a must.
How is the availability of your albums ?
For those of us unfamiliar with your music; how would you describe you music ?
If Rush, Tool, and Porcupine Tree had a child, it would sound like this. New Sun takes odd meter and makes it groove, going from soft and ambient to hard and heavy.
What is your plans for the immediate future and the next years ?

The immediate focus is getting the new album distributed and promoted worldwide. The 2nd focus will be doing more performances and expanding our live repetoire from the previous three CDs. Updating the older songs to fit within our newer sound approach and perfecting our live show.
To wrap up this interview, is there anything you want to add to this interview ?

New Sun really appreciates your interest and we would love to hear from our fans outside the US. Their continued interest over the years has kept us going.
Thank you to Chris for this interview