When and where did you take up music ? Why progressive rock ?

I was nine years old when I started playing music. I have an older cousin who took up the guitar and began writing songs in a Cat Stevens/James Taylor style. This was a big influence on me at the time and I asked my mother for a guitar for Christmas and indeed that is what I received as a present. I immersed myself in practicing that instrument and also began to start composing as well. I didn't start playing the piano until I was in high school, I began by simply transferring what I knew on guitar to the keyboard. I found that I really connected with the piano as an instrument and it completely eclipsed the guitar at that time.

Progressive rock came somewhere in the middle of those experiences. As a child I enjoyed the current hits being played on AM radio and also my parents record collection which included classical titles and a smattering of jazz. The first band that I fell in love with was The Beatles (I suppose you could consider them the 'first progressive rock band' in a way) and then other important bands of the classic rock era such as Led Zeppelin, Pink Floyd and so on, became favorites. However, the first progressive band to grab my attention was Jethro Tull. The attraction of progressive music was really all encompassing, it appeared to have everything. There was a complexity to the music that was intoxicating and it seemed that there was something new to hear in it every time I listened. Similarly, there was a poetic, lyrical depth to the words that I hadn't experienced in popular music before - I loved the fact that there were no boundaries in progressive music. If you wanted to do a 45 minute song like Thick as a Brick then get on with it!

Let's first start with your two books Yesstories and Classic Rock Stories. Why did you go to such a laborious task as writing these two books ? Please tell us more about them and from where they can be purchased.

I was waiting for many years for someone to update the information in Dan Hedge's "Yes: The Authorized Biography" and release a new book on my favorite band. However, after all of this waiting I finally decided to take on the project myself. Yes, it was a lot of work, but it was a labor of love. It was a very exciting project that had its own rewards before the book was even published. When Yesstories was published by the St. Martin's Press it was very successful and my editor wanted to do a follow-up. He and I talked about various possibilities and the idea of Classic Rock Stories was born. This book was even more successful than Yesstories and I was surprised to hear that Howard Stern had recently featured it on his show. I think one reason the books have been popular is that people love to hear about the creative process about the music that is a part of their lives. Yesstories is unfortunately out of print (although I understand the publisher will be creating a download only version of it), but Classic Rock Stories is still available through any book store. Since these books have been published I've written many magazine articles and I've been considering writing another book in the near future. This would be a biography of an important musician/composer, but I don't want to give too many details on the project at this time.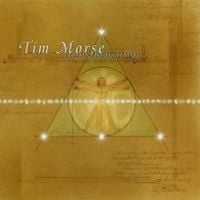 Over to your only album so far. Please tell us more about the Transformation album from 2005.

Transformation was a huge project, a big part of my life for the three years it took to write, arrange and record it. I met my producer Mark Dean through Mike Varney of Magna Carta Records. He had heard me play and put the two of us in touch with each other thinking that we'd be a good fit together. The album is the story of a person going through a series of events that eventually transform his life. You could say it is a semi-autobiographical work, although certain songs like "Shatter" are more about people that I've know, than my own personal experience. Musically there are a lot of diverse elements coming together to hopefully create a cohesive whole. I love being able to do an acoustic finger picking almost folk song like "Adrift" and put it next to the fifteen minute expansive, everything-and-the-kitchen-sink song like "Apocalyptic Visions". I'm still very proud of this music and was pleased to see how well it was received in the progressive rock community.

You are currently finishing a new album. Please tell us more about this album.


The new album is entitled Faithscience and will be released in early 2012. This has also been an enormous project to complete, but in some ways very different than Transformation. The first important difference is that I've produced this album. I was very pleased with the working relationship that I had with Mark on the first album, but he was unavailable to produce this project because he was finishing his own album "No Man is an Island". Producing oneself can be a difficult job as the producer in you stresses the timetable and deadlines and the artist in you wants as long as it takes to complete it correctly. Obviously the artist in me won, because it has taken years to finish the album!

Faithscience started out as a concept album based on the life of Charles Lindbergh. I'd read a book on him and was fascinated by the arc of his life. It seemed that I could say things I wanted to say using that as the template. However, as I worked on the project it strayed from that initial vision (but I'm sure you can see the thread of it if you wish). I'm proud of the music on Faithscience and it has been a pleasure to create it. I've assembled a collection of some of my favorite musicians to play on it, including the great Jerry Jennings on guitar. There is a special guest appearance by David Ragsdale from Kansas on violin on one of the tracks.


For those of us unknown with your music; how would you describe you music and which bands would you compare yourself with ?

That's a difficult question, although I'm sure at times you can hear all of my influences filtering through into my music. I'd say on Transformation that some of it sounds a bit like U.K. and perhaps Genesis. I wouldn't consider Eddie Jobson to necessarily be a major influence, but perhaps we're drawn to similar sounding chord progressions and keyboard tones? I would say that Transformation is very keyboard driven music as all of the songs, except for "Adrift" were composed on keyboards. However, on Faithscience that balance is addressed and I've included three or four songs that are guitar centric as well.


Besides of book writing and making albums, what else are you up to in your life?

I have a variety of interests and passions and I won't get into all of them now. However, having said that I'll quickly add that one of them is teaching. I work as a teacher and it is something I love to do and there are great intrinsic rewards in teaching. In my musical life I should add that I'm in the process of putting together a band to perform my music and to record a new album next year.

To wrap up this interview, is there anything you want to add to this interview ?

Thank you for your time and interest in my music and books. I look forward to hearing what you think of Faithscience when it is released next year. All the best to you and your readers!

Thank you to Tim Morse for this interview