Let's start by thanking
Aussie-Byrd-Brother
for bringing this one to my attention:
http://www.progarchives.com/forum/forum_posts.asp?TID=83087&PID=4364613#4364613
, who picked up one of their albums on eBay...And whaddya know? -They're not on here...and they damn well ought to be!!
Germany has provided some great bands in the Symphonic field, Grobschnitt, Novalis and Schicke Fuhrs Frohling being three from the original wave...and there was also a second generation, of whom there were really quite a number - Neuschwanstein, Sirius, Ivory, Tau, Shaa Khan, Oktober, Epidaurus, etc. (We have Ivory in Psychedelic/Space Rock, Shaa Khan in Heavy Prog...and neither Tau or Oktober are here at all - as yet(!), but that's all by the bye). The common line is almost always the Genesis, Yes, King Crimson or VDDG influences.
Many of these late seventies and early eighties releases were private pressings and rare as hell these days, having never been committed to CD.
Ocean released two albums:
Melody (1981)
Double Vision (1984)
I don't have the second album as yet, but the first is considered to be their 'pièce de résistance' so that's the one I'll be using as a basis for this suggestion.
Melody (1981
A1. Ocean (10:13)
A2. Katrin (4:35)
A3. 7 to 8 Melody (5:47)
B1. Wild Pig (4:51)
B2. Slow & Chromatic (6:15)
B3. Melody Bass (3:69)
B4.Bolero (3:42)
- Gregor Heinrich / bass
- Thomas Pfeiffer / drums, percussion
- Mike Hoffmann / keyboards
- Peter Kunz / keyboards
Composed By, Arranged By Ocean
Producer – Kurt Eggmann
Producer, Engineer – Hanspeter Günster, Michael Siebel
Orig. German Private Pressing, Tonstudio Bieber – TSB 507/81, 1981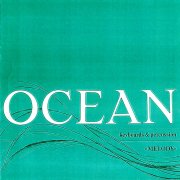 Melody (1981, 39.14) ****½/TT½
Ocean
Katrin
7 to 8 Melody
Wild Pig
Slow & Chromatic
Melody Bass
Bolero
Current availability: Not on CD
Mellotron used: Band's own M400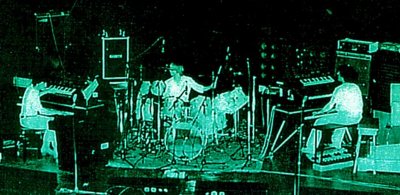 Ocean were a deeply obscure outfit, nothing to do with the French metal crew (whose eponymous '81 debut looks like it was made by a bunch of 19 year-olds). The German version produced a mini-masterpiece in Melody; entirely instrumental, it's (funnily enough) intensely melodic, with slight ELP and Focus influences, with much piano, although they suddenly lurch into a jazz feel on Melody Bass, sounding slightly out of place. Their, er, 'theme song', Ocean, is an absolutely fabulous classically-inspired piece that'll have all you '70s prog fiends salivating like rabid dogs, and the rest of the album's almost as good. Why is this so bloody obscure?
Their Mellotron use (from Mike Hoffman) is slightly odd, as they seem to use synth strings, except for a high string melody line on Wild Pig. Otherwise, it's choirs (Katrin, Wild Pig and Slow & Chromatic) and flutes (7 To 8 Melody), with especially good use on Slow & Chromatic. Although the 'Tron use isn't its best feature (while not being at all bad), if you see a copy of this, BUY. Incidentally, mucho thanks to my long-time info-finder Joe Ellis for providing the pics.
(The album cover colour is a bit 'off' in the picture above - in reality it's much more of a blue colour than Planet Mellotron suggests)
The only info I have at the moment on their 1984 second album (Double Vision) is the tracklist (no timings), and the release info:
Double Vision (1984):
A1. Ouverture
A2. Intermezzo
A3. Double Vision
A4. Ballade Zwo
A5. To Keith
A6. Kleiner Marsch
B1. Joe Z
B2. Sonntag
B3. Bassline
B4. Ragtime
Vinyl LP, Bieber, TSB 514, 1984.
One YouTube sample only from 'Melody' at the moment, I'm afraid - but it's the opening track, and probably as good as anything else on there. I'll try and get the rest uploaded in the next day or so.
"Ocean"
Symphonic prog if I'm not mistaken...but we'll have to wait and see, I guess.



Edited by yam yam - November 28 2011 at 14:50