STREAM OF CONSCIOUSNESS is a progressive metal act formed in 2002 in Chur, Grisons, Switzerland. The band consists of Ivan Strimer on vocals/ Guitar, Duri Camenisch on Lead guitar, Gion Alig on bass and Marcus Seebach on drums. All four members also hold membership of the technical death metal act TASTE OF TEARS. STREAM OF CONSCIOUSNESS released their debut full-length studio album "Journey Through A World Of Thoughts" in August 2008. The band mentions PSYCHOTIC WALTZ, COMMUNIC, OPETH and ULVER as influences on their myspace.
I got in touch with Ivan from the band for their story.
##################################################################################
When and by whom was your band formed ? Did any of you, past and present members, play in any other bands before joining up in your band ? Why did you choose that name and which bands were you influenced by ?
SOC was formed in 2002 by me (Ivan Strimer, guitars and vocals). The idea behind this project was, to create music without stylistic borders. I just wanted to take rock/metal as a base and combine it with different music styles: folk, electronica, death metal, doom, hiphop...
I met Gion Alig (bass) and Duri Camenisch (guitars) around 1998 and we played and jammed together every now and then. Later they joined the death metal band TASTE OF TEARS. Because they were good friends and good musicians, it was a logical decision to ask them if they wanted to record an album with me.
After drummer Marcus Seebach (also Taste Of Tears) joined SOC, we started to complete my ideas.
Stream of consciousness is a narrative mode in literature and is a synonyme for an interior monologue. By choosing SOC as band name, I wanted to summarize the music and lyrics.
I was mainly inspired by bands like Psychotic Waltz, Opeth, Communic and Ulver. Their styles have not much in common, but I wanted to combine these different influences and experimentig around with them in the studio.
There is a band in the USA with the same name as you who also plays progressive metal. Has this created any confusions and how do you deal with this issue ?

I herad of them after the release of our album. But because we aren't selling millions of copies (and I think they aren't neither) and have much press presence, I don't think there should be any problems.
Stream of consciousness is a common term and has also been used as song title, so if somebody googles SOC, both of us profit ;-)
How is it to run a band in Switzerland now and how is the music scene there ?

To tell the truth, here in Switzerland the situation with progressive and technical music is difficult.
I joined TASTE OF TEARS as a singer in 2006 and the first album "Once Human" was released worldwide in October 2011. The music style is progressive/technical death metal, but although the reviews are mainly positive, it's very difficult to get acceptance in the scene.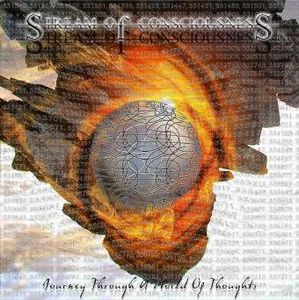 Your debut album Journey Through A World Of Thoughts was released back in 2008. Please tell us more about this album.
The most part of the music an lyrics were written between 2003 and 2004. We began to record early 2005 but the recordings weren't completed until the end of 2006. Because it was only a project, we recorded only when we were not busy with Taste Of Tears. And so time went by, but in 2008 we decided to finally mix and release the album over the small label Quam Libet Records.
It's a conceptual work and a lyrical and musical journey through my world of thoughts. Some riffs, themes and ideas are repeated and modified throughout the whole album. There are hard metal riffs, acoustic guitars, sweet melody lines, death growls, a beat boxer, odd meters, canon lines, programmings, sad and doomy atmosphere, shred guitar solos, long instrumental pieces, a theremin, tweeting birds and an additional track in the indigenous Swiss language Rhaeto-Romansh.
The lyrics are sort of personal and deal with things I was thinking about at that time. They are built around quotations from some philosophers.
A true progressive album.
The album received some good reviews in Switzerland Germany and Austria, but was totally forgotten because of the lack of live presence.
For those of us unfamiliar with your music; how would you describe you music ?

Take Psychotic Waltz, Opeth, Communic and Ulver an throw them in a mixer!
If you like your progressive metal with some experiments, then "Journey Through A World Of Thoughts" is something for you.
What have you been up to since the recording of that album and what is your plans for next year ?

As mentioned, SOC is a project of mine and the guys in TASTE OF TEARS. As I became the singer of TOT in 2006, SOC was put on hold. There are several unused ideas, acoustic bits and a nearly finished longtrack on my harddisc, but it's not planned to release anything under the name of STREAM OF CONSCIOUSNESS in the near future. Maybe I'll use some ideas for TASTE OF TEARS. Time will tell...
To wrap up this interview, is there anything you want to add to this interview ?
Thank you for the opportunity to explain my work with STREAM OF CONSCIOUSNESS.
Always be open minded!
Thank you to Ivan for this interview