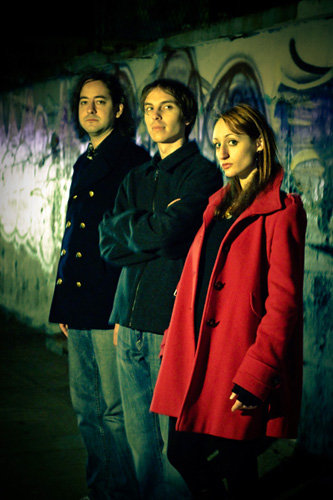 SKY PICNIC is a psychedelic rock band from Brooklyn/New York that surrounds the listener in a mystical and fairy tale like world of psychedelia, taking you to the edge of the universe and the unknown regions of the mind. They have been described as 'dark and eerie layered psychedelia' and 'highly textured psychedelic space-rock', while drawing comparisons to styles as diverse as Syd Barrett's Pink Floyd and early Slowdive.
I got in touch with the band and here is their story.
##################################################################################
Your biography has been covered in your ProgArchives profile so let's bypass the biography details. But which bands were you influenced by and why did you choose that name ?
Chris: The Sky Picnic name came about from a friend of mine who had these word magnets on his door that haphazardly spelled out "sky picnic". I loved the imagery of those words and filed it away. Then when it came time to name the band, it seemed like a logical choice, especially fitting of our music.
As far as influences, the big ones are Syd's Pink Floyd, Tomorrow, the Beatles, King Crimson, Yes, the Pretty Things. For me as a guitarist, the styles and sounds of David Gilmour and Reine Fiske are my main influences. I think this contributes to the fact that Sky Picnic has a very un-American sound, and it is definitely because of who we listen to and follow.
Leah: The influences are pretty much the same for all of us, although I have been inspired by newer bands lately like Stardeath and White Dwarfs.
Your music is full of associations to LSD tripping dairy cows, sheep and cockerels in some vast farmfields somewhere in the west. How is it to play this type of flowery music in the rather urban Brooklyn, New York ?
Pete: For me, it's refreshing and inspiring to be part of a band that doesn't follow the current "Brooklyn Sound" or "Brooklyn Look" per se. It can make alot of people unsure what to think of us at first, but once we start playing, we find that our music speaks to everyone, regardless, and hope it can be brief sojurn from the everyday. As a drummer, my job is to make people feel something rhythmically, and that must shine through all musics, regardless of style.
Chris: It makes you have to work extra hard to win over an audience. The scene here is rather "hard", or on the other end of the spectrum, "dancy." It's a challenge to go against that grain. And it's hard to encounter the more laid-back crowds. Same with writing here...I find I need to mentally escape my surroundings to get in that state of surrealism to go about creating. Thankfully, we have a ton of parks here!
Leah: I don't think the kind of music we play would go over as well in rural areas - it's kind of weird, and kind of retro, and in a place like New York where everyone has already seen and heard things that are way more "out there" than psychedelic music (noise music anyone?) it's easier to take in and appreciate.
Over to your four releases so far. Please tell us more about.......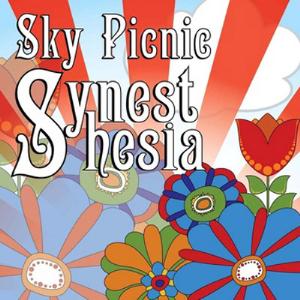 Synesthesia from 2008
Chris: That one was recorded under interesting circumstances. We had a few songs ready to go and we knew we had to get something officially recorded and released after just having done a series of demos the previous year. We had just parted ways with our first drummer and we weren't really sure what was happening with the band. So with me on the drums by default (having grown up as a drummer), Leah and myself laid down the foundation for the band. While some of it doesn't necessarily hold up well for me just 3 years later, I really dig some of those tunes, like "Moons of Jupiter" and "Tea Break". That EP certainly has it's charms and it really came together quickly in the sense that we had no real plan and just hoped for the best.
Leah: This seems like it's from so long ago! It was kind of all over the place style wise - some songs are a little pop-y, some are a little crazy, and there's even a mini-rock-opera. The composition reminds me of early David Bowie albums - lots of different ideas before we settled on a cohesive sound.
Pete: Much like Steve Howe and Time & A Word, I did not play on this but made it to the cover photos. I dig these songs alot but alas they are fading from our setlist!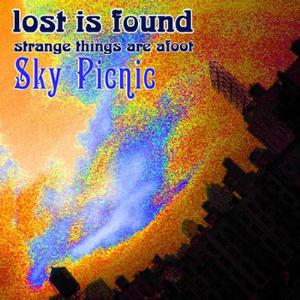 Lost Is Found from 2010
Chris: This was originally featured on a compilation called "Trip Inside This House Vol III". We put it out ourselves as a digital-only single release. We're working on a better re-worked version for the next LP. Recording sessions anecdote: An absolute monsoon of a storm hit that day, and I recall driving through sheets of rain. Everytime I hear these songs, I feel like rain just permiates from the music's vibe.
Leah: Best b-side ever.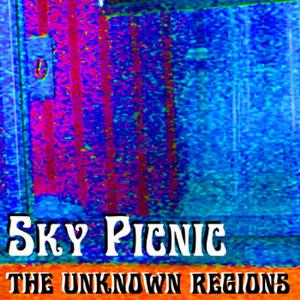 The Unknown Regions from 2011
Chris: Another digital-only release...
Leah: Songs we didn't know what to do with I guess.... they were too early for the next album, too late for the last one, didn't really fit in with anything. But they're all awesome songs that needed a home.
Chris: That sums it up nicely. I will add the only reason we even bothered with this was to record a cover of Tomorrow's "Revolution" for a Fruits De Mer Records comp (just released this week- shameless plug!). Since we had time left, we put down a few more tunes that were laying around. Put this and the previous single together, and you have a nice "Odds N Sods"-type release.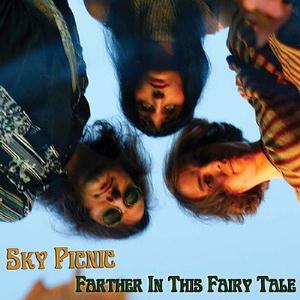 Farther In This Fairy Tale from 2011
Chris: The first full-length, released on Nasoni Records of Germany. This is the first release of ours that is indicitive of how we sound. It's a conceptual piece that deals with the end of innocence and a journey to find oneself, although people can draw their own meanings from there, as I like to leave it sort of open ended. Alot of care went into this: from writing and arranging to mixing and effects to mastering. Being a perfectionist does have it's merits!
Leah: It's nearing a year since this was released on vinyl, and it's still hard to believe that it's true. It's probably the coolest thing I've ever done, and I still love the album, but the next one is going to blow everyone away. "FITFT" was just the beginning - our first real cohesive work that we're proud of. I think the relative success of the release has gotten us all excited about our music, and has inspired us all to do great things.
Pete: A "feather in our cap," not just for the band but for me personally. Vinyl pressing and selling internationally, this is one of, if not the, proudest achievements of my drumming life. Until our next record!
Chris: I'm also glad it's been received rather well, and has been selling nicely. It's little things like that that make you want to keep on going and also improving.
For those of us unfamiliar with your music; how would you describe your music and which bands would you compare yourself with?
Chris: Modernized classic British psychedelic rock with progressive leanings. It's mystical and eerie, yet flowery and bouncy.
Leah: I will always compare us to early Pink Floyd, with smatterings of other 60's psych, and newer neo-psych/alternative.
How is the creativity in your band from coming up with the riffs to getting them onto a record?
Pete: Chris always has the germ of an idea - sometimes complete, sometimes not so much. I love it when we all start working on arrangements in reheasals, and the songs start to crystalize. We are all extraordinarily democratic about arrangements, ideas and production; and that is how our best pieces have come into existence.
Leah: We just seem to get each other very well. Things fall into place like magic.
Chris: And it's an ever-evolving process. If we pushed the envelope this far last time, then we need to go even further next time. No resting on our laurels.
What is your current status and what is the plans for your band in the future ?
Leah: Making a new record, about to be famous. Basic stuff.
Pete: We have put the finishing touches on the songs for the follow up to "FITFT" and are looking forward to recording after the new year. Going on a tour of Europe where we seem to sell a majority of records would be one big goal of mine!
Chris: 2012 will be brought in with the arduous process of producing and mixing on the horizon...! (I kid...seriously, it's fun stuff!) We also have a festival we're putting together in January that's going to be pretty big, called the "Keep Off the Grass Fest" in NYC. And more shows from there it would seem, followed by shopping the new LP around.
To wrap up this interview, is there anything you want to add to this interview ?
Chris: It's always great to know that people want to read about our band, and the more new people we can reach, the better. You can check us out on the web at
http://skypicnic.bandcamp.com
and/or
http://skypicnicmusic.com
. Again, thank you very much for the opportunity to do this!
Leah: (P.S.- buy our record.............!!)
Thank you to the band for this interview