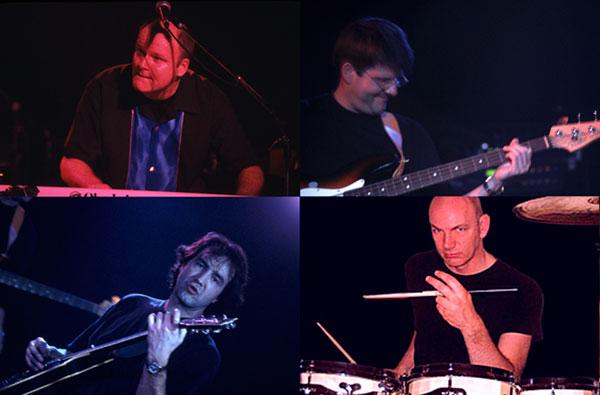 A Dutch progrock band that was founded in '97 with this line-up: Hans Gerritse (guitar), Ferry Zonneveld (drums), Peter Stel (bass guitar) and Erik Groeneweg (lead vocals and keyboards). All are experienced musicians, they played in several pop - and rockbands. In 2001 NICE BEAVER (slang for 'pussy') released their debut-album "On Dry Land", it got a positive review in Muziekkrant Oor, the most famous Dutch music magazine. The catchy and melodic music is rock with progressive tendencies (hints from CAMEL and RUSH).
I got in touch with the band and Erik answered my questions.
#####################################################################################
When and by whom was your band born ? Did any of you, past and present members, play in any other bands before joining up in your band ? Which bands were you influenced by ?

Nice Beaver started as the merger of two bands, 4 Cryin' Out Loud, a wave/metal band with Peter (Stel, bass guitar) Ferry (Zonneveld, drums) and myself on the one hand and Scotty, a progressive band with Hans (Gerritse, guitar) and again Peter in it. Both bands broke up at one time and a convergence of the remaining members seemed a logical step. All of us have been in numerous bands in our lives, but none amounted to anything before Nice Beaver.

Beavers are a bit of a controversial animals. You in Holland has copied them and gotten a country out of lessons learnt from beavers. Those who got their cellars and houses flooded by not so nice beavers are not that happy about them. Beavers keeps the US National Guard busy during the summer months. Besides of having dry land under your feets, why this fascination with an animal which longer can be found in Holland ?

First of all: you are mistaken. Beavers are (admittedly reluctantly) alive and kicking, if not the bucket than at least a havoc in controlled environments, for instance no more than 20 miles from my home. Other than that, the name of the band has a lot to do with us going without a name for the longest time until, at a diner where we drank an awful lot, we came up with this stupid name. It's supposed to be a reference to the famous scene in The Naked Gun (Thank you, I've had it stuffed recently) but when you think about it: the joke is funny because it's exactly the opposite of what you expect because it is exactly what they say it is. Our music is us making something really difficult sound as simple as we can. We play with perception in more or less the same way.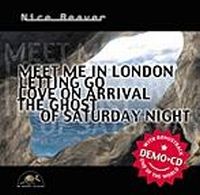 Over to your 1999 demo. Please tell us more about that demo.

Well, what can you tell about your first endavour? We recorded the stuff ourselves, the first four songs where we 'clicked' so to speak, where we sounded remotely like what we had in our heads. The difficult thing about Nice Beaver is, that every piece of music has to be created by the four of us in rehearsal, spontaneous so to speak. This means that we get a unique sound, but take for ever to get where we're going. A band where one or two members write the material that everyone than makes his own can work a lot faster. One song we still play live, Love On Arrival.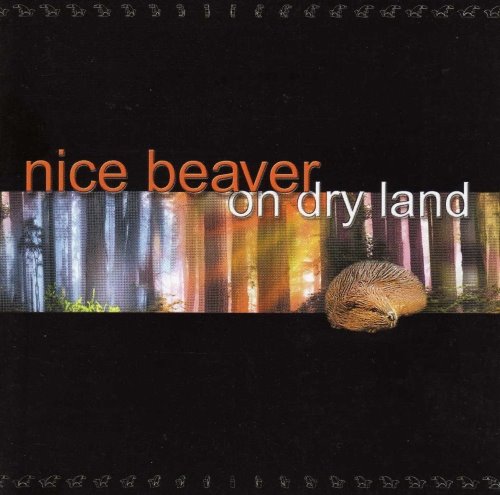 Over to your two albums. Your debut album was the On Dry Land album from 2002. Please tell us more about this album.

On Dry Land was recorded in Arnhem in a truly analogue studio. I remember that we recorded the entire basic album (drums, bass and most off the guitars) in one day and took roughly two more to record keyboards and vocals. It was produced by Mike van Dalm, in The Netherlands slightly known for recording comedians. Your first real album in a real studio is always exiting. When we made the album, we had no record label, no distribution deal. So we had the first batch of copies printed ourselves. Only then did Cyclops Records pick us up. They released a new version of the album, so there are actualy two different versions as far as packaging goes. They insisted on us putting a picture of a real beaver on the sleeve, so as not to upset an English speaking audience.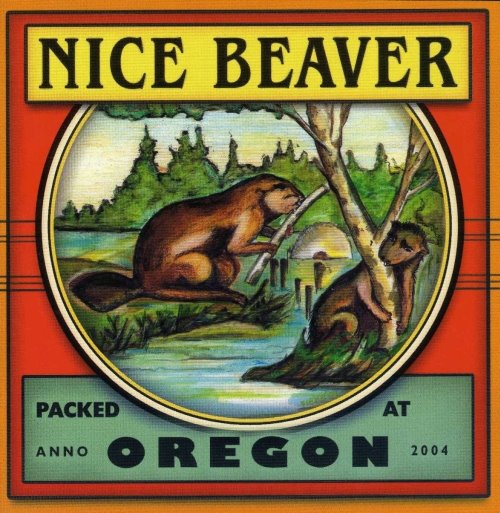 The follow up album and your so far last album Oregon was released in 2004. Please tell us more about this album.

Oregon is, in my mind, a much more mature album, both in the quality of the writing as in the way it sounds. On Dry Land is a more funny, quirky couple of songs and I regret that the stuff on Oregon is more serious, but on the whole I think it's better. Again Mike van Dalm produced it. We chose the name Oregon because, as you know, it's the Beaver State! Most of the songs on this album are still fun to play live.

For those of us unfamiliar with your music; how would you describe you music ?

Our music sound like a nude descending the stairs, ass over backwards. No seriously, we sound like a pretty heavy band trying to play the music that interests us the most. Challenging music, both in the level of musicianship that is required and the quality of writing. It's prog, but not as we know it. It has to be fun, exciting, stimulating and most of all, it has to get us girls. (Just kidding, we're all way too old for that kind of stuff).

What have you been up to since the release of that album and what is your plans for the immediate future ?


We have been in trouble. Since Oregon, we've had to say goodbye to Ferry, who wanted a simpler and more direct kind of music. Then we spend two years getting to know our new drummer who subsequently left. So now we are in the process of getting our néw new drummer housebroken. He is by far the most talented drummer I know, Corné van Disseldorp, so he's learning to play our stuff in record time. Still, these things take an awful lot of energy and time and they have put us off track. We had four songs ready and were about to record the rest of a new album, but that hat to be put on hold. But I promise: once we're back on track a new album is definitely in the works!

Also, some of us have taken the time to engage in other projects. Hans has made a beautiful album with a friend under the alias King Eider (It's on Musea, called Somateria Spectibilis). Peter has moved to the very north of our country, a two hour drive from our rehearsal space. This hasn't stopped him from being in the band, but it has enabled him to join yet another Dutch progband: Leap Day. This band has made two great albums worth checking out. I have been busy studying the kazoo, so hopefully we can add that rich texture to our Beaver sound.

To wrap up this interview, is there anything you want to add to this interview ?

Support your local music! And check out our website, we're in the process of giving it a good make over in the coming time:
www.nicebeaver.nl
.
Thank you to Erik for this interview

Their PA profile is here and their homepage is here