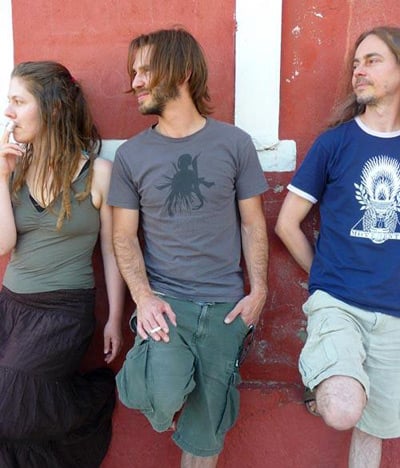 ELECTRIC MOON came into existence in 2009 - a new project with cosmic traveller Sula Bassana as the driving force. Bassist Komet Lulu, illustrator on top of that and responsible for corporate design and artwork is aboard as well as Pablo Carneval (drums).

I got in touch with them and this is their story.
######################################################################################
Your biography has been covered in your ProgArchives profile so let's bypass the biography details. But which bands were you influenced by and why did you choose that name?
Lulu: it was my old e-mail adress and Sula asked me "why not use that?" so we did without thinking much about it... But this name totally fits to our music... and we feel really connected to the moon...
You are the mainman of Sula Bassana. Why did you set up Electric Moon in addition to your label and Sula Bassana & what is the differences in music between Sula Bassana and Electric Moon?
Sula: Sula Bassana is my solo-project, where I compose all songs, play all the instruments and record, produce, mix everything. Electric Moon is the band where I play guitar (and in recordings sometimes organ and/or drums). My girlfriend Komet Lulu plays bass and vocals and makes all the artworks, plus Alex on drums. By the way: Electric Moon is Lulu's brainchild, not mine!
Lulu: Brainchild  It is OUR BABY!!!!
How would you describe your (Electric Moon's) music?
Lulu: "The real psychedelic experience".
Sula: It's more about feelings than about virtuosity!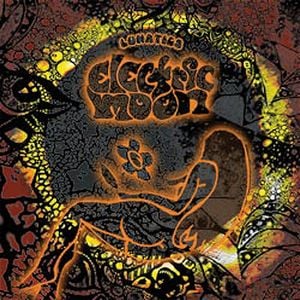 Over to the two albums so far. Your debut album Lunatics was released last year. Please tell us more about this album.
Lulu: There is nothing to tell. We jammed the first time, thought it would be great and recorded the stuff, mixed it and made an album.
Sula: And that's the way we still work. Improvised freak outs in our little homestudio, later produced and mixed by ourselves. And finally mastered by krautrocklegend Eroc.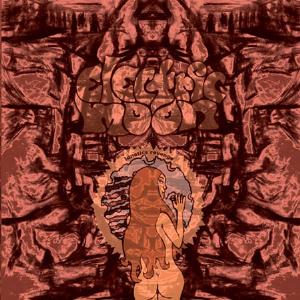 Your new album is Lunatics Revenge. Please tell us more about this album.
Lulu: Well, it isn't that new anymore... The newest album is called "The Doomsday Machine" and is a double vinyl/CD with great paintings by my cool dad.
Lunatics Revenge was the follow-up to Lunatics, because there were two songs not put on the LP because of less space, so we made a "part 2" with a B-Side that is only released on this edition (D-Tune and The Landing)...
Well, almost sold out.
Is it just me who read this wrong or is Lunatic and Lunatics Revenge a part of a multi albums concept?
Lulu: It was like that: Nasoni did not want to release a double LP debut. That is the only reason why Lunatics Revenge exists!
What is your current status and what is your plans for next year?
New stuff:
"Sun and Moon" Split LP (with Glowsun) – foldout and 180gr vinyl, almost sold out
"Flaming Lake" double LP (live)
both on Sulatron Records.
And our baby "The Doomsday Machine" – 2LP and CD.
2LP: 100 limited splatter coloured, 400 black – poster – foldout – highglossy!
CD: digipak, 12 pages booklet
Great art by Ulli Mahn!!!!
Out on Nasoni-Records, Berlin.
In February out on Transubstans-Records:
7" Split Single with the Band "Hypnotized not Paralysed" – our song will be called "The Pop Art Accident"
and plans – more than we can tell!
Thank you to the band for this interview

Other links:


Edited by toroddfuglesteg - December 11 2011 at 11:59