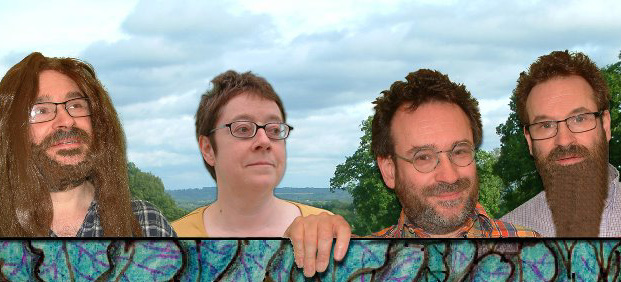 UK act LYRIAN started out as a trio consisting of John Blake (vocals, guitars), Alison Felstead (vocals, bass) and Paul W. Nash (vocals, guitars, keyboards, percussion, woodwinds) back in 2006. All of them past or present librerians. By 2008 they had an album worth's of material ready, and after indexing them released their debut concept album Nightingale Hall.
I got in touch with the band and Dr Paul Nash answered my questions.
######################################################################################
When and by whom was your band born? Did any of you, past and present members, play in any other bands before joining up in your band? Why did you choose that name and which bands were you influenced by ?

Lyrian was born in 2006 when Paul W. Nash decided it was time to give up dreaming about making music and start making it. He was joined at once by John Blake (they had known each other since childhood, as I will soon explain) and by his partner Alison Felstead (whom he had the known for a mere twelve years), and they began recording songs. Nash and Blake had worked together on compositions as early as 1978, and wrote two sequences of songs between that date and 1982. At the time they were both at school, and were in various schoolboy-bands, called "Scarecrow", "The Scarecrows", "Clematis", "Frog", rather embarrassingly "A Stranger Came Into The Garden" and, most embarrassingly of all, "The Nash". None of these bands ever performed, but some dusty tapes of rehearsal and improvisational sessions survive. For twenty-five years the music lay, while Nash and Blake pursued parallel careers as librarians (Nash also attempted to make it as a novelist, but has so far failed to find a publisher for any of his seven novels, though he has recently issued a collection of new Sherlock Holmes stories). Once the idea of the band formed, everything fell into place quickly. Alison suggested the name, based on the word librarian, but without a "bra" - we just altered the first I to Y and had Lyrian. The word pleased us, as it suggested the classical lyre and the constellation Lyra (the aliens who are believed to live there are known as Lyrians). We did not realise at the time that there was already Portuguese band, and a Japanese soft-porn model and actress, both called Lyrian - but that could not be helped and the lady mentioned, might, perhaps have increased the fame of the band among users of internet search-engines.

Musically, we were influenced most deeply by early Genesis. The three greatest albums of all time are, in the view of Nash and Blake, "Trespass", "Nursery Cryme" and "Trespass" by Genesis. We were influenced by other music too, of course, liking Pink Floyd especially, and Jethro Tull, and Emerson, Lake and Palmer, E.L.O. and Yes, and later Marillion, and a whole host of classical composers, notably the Bachs, Beethoven, the Russians, Mendelssohn and the Minimalists.

Your band consists of present and past librarians according to the bio I got. A library is exactly what ProgArchives is. How did you meet up and what is your views on (physical) libraries as social institutions?

Alison and Paul met while at the Royal Institute of British Architects Library in London, where Alison worked in cataloguing and the reading-room and Paul worked with rare books. John was always hanging about there too. Later we were all employed at the Bodleian Library in Oxford. We are all great believers in libraries, as repositories of information, as tools for accessing information, and as palaces of pleasure (might this approach a definition of ProgArchives too?). The pleasures of reading, and the connected (but slightly different) pleasures of holding and owning books, are very important to us. Public libraries hold a vital place in liberal society, being the true schools of humanity. As Blake once remarked "the only true education is self-education. That can best be achieved through a combination of doing, listening and reading - but the greatest of these three is reading." The reading, and to some degree the listening and doing too, are best facilitated by libraries.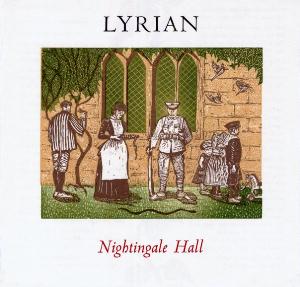 Over to your two releases so far. Please tell us more about the Nightingale Hall album from 2008.

The album began life in the late 1970s as a concept developed by Nash and Blake (one of the sequences of songs I mentioned) and it seemed the obvious project to record once the band was formed. However, the album quickly grew and changed, in the arrangements, in composition and, especially, in the lyrics (which originally had an innocent charm, but were pretty juvenile). So we began to rework the material and ended up with a sequence of eight songs telling the story of a country house through a hundred years or so, from its erection to its destruction by fire; the house was haunted from the outset (being built on the graves of three children), and the ghosts proliferated as time passed. The finished sequence of songs was based on the earlier compositions, but included less than half the melodies and only some ten percent of the original lyrics, the rest being entirely new material, composed in the rush of creativity that followed the formation of the band.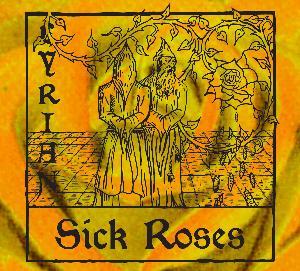 You released a two tracks single called Sick Roses earlier this year. Please tell us more about this single.

We released the single largely for fun, and to let our fans (both of them) know that work on the second album was under way. We did not expect to trouble the charts. But we felt that the song "Sick roses" was unusually radio-friendly for us, being only some three-and-a-half minutes long. Most of our compositions are rather longer and more complex than that. The B-side (a concept which is no more than that these days) was the opening song from "The tongues of men and angels" and we hoped it might introduce a few new listeners to our music, and the then forthcoming album.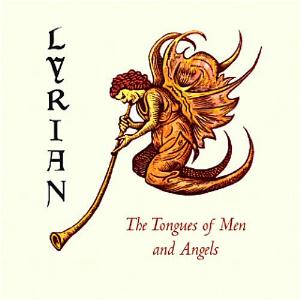 This single is the forerunner to a new album named The Tongues of Men and Angels. What can we expect from this album?

After the narrative of "Nightingale Hall" we were ready to move on to a larger concept, and something which has troubled us all (in different ways) is the question of man and his relationship with God, with various lesser gods, and with the churches. Could there be a larger concept? Well, yes there could, but this is a pretty big one. We took it on, and the album developed into something of an epic, with over two hours of music on two discs. We felt that the drumming and percussion on the first album were a little weak, so we sought out and found the answer in Edgar (Ed) Wilde, who joined the band in 2009 in time to work on the new album. Such a large and complex subject, interpreted in the prog-rock style over a double concept album, might have resulted in something very pretentious. In fact, it did, and we make no apology for that. We had pretentions to write classical music, we had pretentions to rock, and we had pretentions to oppose the falsities and idiocies of religion. We also aimed to tackle the subject partly in a satirical vein, with humour and parody in the words and music. Whether we have succeeded, and whether the pretentions of the album are divine or satanic, we leave to our fans (both of them) to judge.

I see Lyrian has been compared to both Genesis and bands in the British folk rock scene. A bit confusing. For those of us unfamiliar with your music; how would you describe you music?

Both comparisons are flattering, and we certainly look to early Genesis as our main inspiration (though I hope we may bring something of ourselves to the songs too). Folk-rock music has influenced us too, especially through Jethro Tull, and we were delighted when Bryony Holden, the "golden voice" of folk-band Tinkerscuss, agreed to sing guest vocals on one of the songs on "The tongues ...". We do love what might be called the "acoustic grandeur" of much British folk-rock, which rocks without using loud amplification, heavy drumming or electronica. However, we also love heavy drumming and electronica, so our music is an attempt to fuse these different metals into a gleaming alloy.

You also run a record label called Medieval Records. How is it to run a record label these days? In addition to Lyrian, you have also signed The Blossom. What is your plans for this label in the immediate and long term future?

The label was established in order to issue Lyrian's works, and we originally had no thoughts of doing anything else. Running a record label on this basis is pretty simple, provided you do not expect to get rich in the process. The Blossom is really a side-project of Lyrian. The band was formed in 2010 to pursue the more purely acoustic/folk leanings of Nash, and he is now working with the band to write and record the first Blossom album, which we hope will be out in late 2012. The working title is "The Shepheardes' Calendar" (after Spenser) and it will be "pastoral, with a dark edge". For the future we are not looking to sign other bands, but if a good horse comes along we will look it very carefully in the mouth.

Back to Lyrian again. Besides of the new album, what is your plans for the immediate future ?

Now that "The tongues ..." is out we are beginning work on three new projects. The major one is the third album which will be (of course) a concept-CD, dealing this time with the most difficult concept of all - the human heart. There are so many songs of love and hate, but Nash and Blake hope to tackle the subject with originality and verve. The band also hopes to issue an album of "tributes, parodies and perversions", which will be a little more humorous than usual, including covers and parodies of some well-known songs, rendered in Lyrian's distinctive style. The third project is an interpretation of some little-known music by Mendelssohn, written in 1840 for the celebrations in that year of the four-hundredth anniversary of the invention of printing by Johannes Gutenberg (Nash is also a printing-historian and handpress-printer, so this project has a special interest for him).

To wrap up this interview, is there anything you want to add to this interview?

We have been delighted by the responses to our first album, and hope the new one will be equally well received. Even the one really stinking review the first album received gave us pleasure, because it was so full of the joy of revulsion and humorous insults. We will make sure to send a copy of the new CD to that particular reviewer, and hope to get an even worse notice this time. It has been pointed out that in the picture of Lyrian now on the Medieval Records website, the three men (John Blake, Paul W. Nash and Edgar Wilde) look rather alike. Let me say, once and for all, that they are not the same person. They are, however, housed in the same body, multiple-musical-personalities perhaps. Of the three men in the band, only Paul W. Nash has a birth certificate. But John and Ed are both real. They are individuals with distinct characters, physical characteristics and musical skills, who may be interviewed, loved, hated, stalked or sacked from the band as time and chance allow (though if Blake and Wilde conspire against Nash, there will be trouble of an existential kind).
Thank you to Paul for this interview