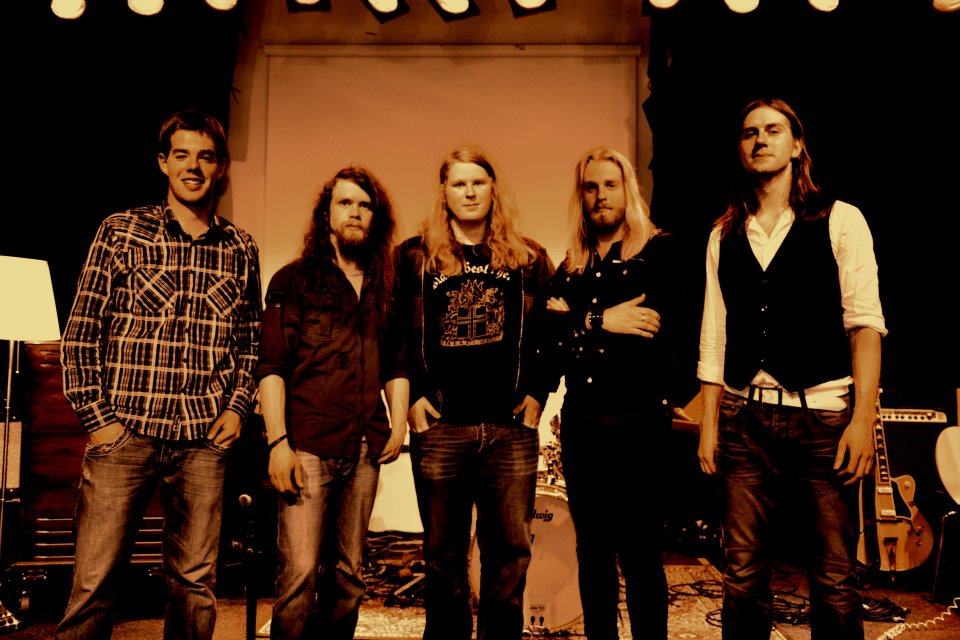 Icelandic act ELDBERG was formed back in 2008 by Jakob Gretar Sigurdsson (drums), Asmundur Svavar Sigurdsson (bass), Reynir Hauksson (guitars) and Atla Ma Björnsson (keyboards). The latter opted out the following year however, and was replaced by Kristjan Ingi Arnarsson (keyboards). His tenure didn't last too long however, and at the start of 2010 Eldbrg was reduced to a trio. But a few months into 2010 Eldberg completed their line-up with Heimir Klemenzson (keyboards) and Eythor Ingi Gunnlaugsson (vocals), and soon after they started to record material for their debut album.

The end result was the self-titled CD Eldberg, issued by Chilean progressive rock label Mylodon Records in 2011.
I got in touch with the band and Jakob G. Sigurđsson answered my questions.
#######################################################################################
When, where and by whom was your band born ? Did any of you, past and present members, play in any other bands before joining up in your band ? Why did you choose that name and which bands were you influenced by ?
Eldberg was formed in early December 2008 by the brothers Ásmundur S. Sigurđsson bassplayer and Jakob G. Sigurđsson drummer, and with them were Reynir Hauksson guitarist and Atli Már Björnsson keyboardist and Eyţór Ingi Gunnlaugsson singer. Ásmundur and Jakob had started to jam together some old Focus and Procol Harum song's in the autumn, at that time Ásmundur was playing in the metal group Knight's Templar but Jakob had decided to quite the music business, and go to school after playing with a couple of bands. Atli was an old school friend of Ásmundur and had played in many groups before joining Eldberg. Guitarist Reynir who had played with Ásmundur in Knight's Templar but had quit do to his drug addiction was now of the drugs and playing guitar again. They stared meeting and listening to some old records by band's like Yes, Emerson Lake and Palmer, Procol Harum, and Jethro tull, and playing song's by them but the band was more of a jam session. Couple of months later Ásmundur and Atli started out a prog rock band named Melkorka with a drummer named Helgi Eyleifur Honher to participate in a Icelandic music competition and couple of week's before the competition Reynir joined in on the guitar. After the competition Atli decides to move to Glasgow Scotland to learn sound engineering and Eyţór went on to do do other projects. After short pause Jakob had finest school Reynir, Ásmundur and Jakob started to play together again with church organist Kristján Ingi Arnarsson. They started to write song's manly instrumental and did their first recordings in the summer of 2009, but the recordings never came out. In the summer Jakob G. met with folk singer and politician Árni Johnsen to come up with a name for the band, Árni named the most famous Icelandic rock band Trúbrot in the late 60's and Árni came up with the name Eldberg. After the summer Kristján quit do to lack of time for the band. After Kristján left the band Ásmundur, Reynir and Jakob focused on song writing but Kristján joined the band to do some test recordings in the winter. When 2010 came Ţór Birgisson singer, now actor joined the band with keyborist Heimir Klemenzson, and the band started rehearsing more and becoming what it is to day, also at that time Heimir and Jakob joint the jazz-rock band Höfuđlausn but not for a long time, only after a couple of months Ţór had to quit. When Ţór left Eyţór Ingi Gunnlaugsson came back and took his place behind the microphone and in early summer 2010 the band decided to record an album in the autumn with Pétur Hjaltested who in the 70's was the keyboardist of the well known prog rock band Eik.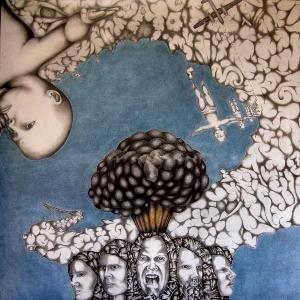 Over to your only album so far. Please tell us more about your self titled album from earlier this year.
The band wrote and rehearsed the album over the summer and began recording it in September. The recording's only took 4 day's but Pétur Hjaltested was 2 week's mixing the album from tape and to help him with the tapes was Sigurđur Rúnar Jónsson better known as Diddi Fiđla who was the Hammond organ player and violinist of the early 70's prog group Náttúra. When the mix was ready Ásmundur S. had to fly with the tapes to England to do the cut for the vinyl. In London it was Noel Summerville you made the cut for the vinyl and was it is last job before retiring.
I have noticed that you are mainly a local Icelandic band. Your band info is mainly in Icelandic. How is it to run a band in Iceland now and do you also distribute your album and have any activities outside Iceland too ?
Being that Iceland is a small country access to media is good but attendance to concerts is very bad. Icelanders rather like to spend their time on Facebook and besides that they are so few that we would never work up a crowd anyway. But the album is doing very well both in Iceland and all over the world trough sales on Mylodon records (CD only). The LP is available trough request at
[email protected]
and trough ebay.com . Our activity outside Iceland have so far been limited to record sales but we are willing to play outside of Iceland so concert promoters can feel free to contact us.
The music is a bit difficult to pinpoint. But how would you describe your music and which bands would you compare yourself to ?
We call it post-prog seeing that we listen to prog rock and this is what comes out. Our main influences are Procol Harum, Savage Rose, Eik, Yes, Jethro Tull and Focus but if course our musical taste is not limited to prog rock, we also listen a lot to classical music and jazz.
What have you been up to since the release of this album ? What is your plans for this year and beyond ?
Lots of interviews and promotion work on the internet and radio. We have played lots of small venues and held one big concert to celebrate the release of the record which was surprisingly well attended. We are well on our way rehearsing a new album which we will be recorded in 2012.
To wrap up this interview, is there anything you want to add to this interview ?
Check out our album, especially the vinyl…
Thank you to Jacob for this interview