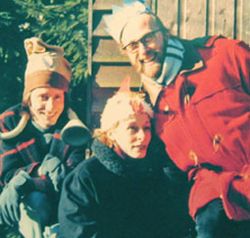 TOUPIDEK LIMONADE is another French group who's members spanned from Hellebore. The band formed in the early '80's, rumoured some time around 1984, by three likely suspects: Jean Caël, Kwettap Ieuw, and Denis Tagu. "In greenlander Toupidek refers to small statues that are sculptured in whale bones and that represents sea monsters with magical powers; of course Limonade means the juicy bubble drink !"* The bands keen sense of humour transfers to both their music and album titles, with their debut taking a play on words to Hellebore's soul album.
I got in touch with the band and Denis answered my questions.
###################################################################################
Your biography has been covered in your ProgArchives profile so let's bypass the biography details. But which bands were you influenced by and why did you choose that name ?


We were/are influenced by many things as usual. I would say the « roots » are the Canterbury scene with mostly Soft Machine (Wyatt's period) and Hatfield and the North. Then came very quickly Henry Cow and Wyatt's solo albums. In the meantime, The Residents opened many new area of follish music and opened new tracks of « everything is possible ». Of course, Eskimo, for Toupidek meant something specials. A toupidek (or a toupilek) is a small monster carved with whales or seal bones by the Angakok (the man of magic). Then we put together with « limonade » which is a soft drink:in our native region of Lorraine (east of France): a Tek limonade is a kind of tonic with lemon slices. This is just a joke to show that the music of Toupidek limonade does not want to be too serious, even if we sometimes go deep into emotional expression. Aside these roots, influences are multiple from different art media (still music with Erik Satie), but also many French writors such as Alfred Jarry, or from the Oulipo's movement created by Raymond Queneau: the Oulipo is a mean to create texts under constraints such as removing not using a letter (a lipogramme) well exemplified by the Georges Perec's book « La disparition" witout and « e » in French (« e » is the most used letter in the french language). To finish with influences, we also used a lot humour and absurdity, by spontaneity, and of our own private experiences.

How is the music scene in your area now ?

We are getting old, now (50 years old): Toupidek's music was on the tracks of the Rock In Opposition family in the 80's. But I guess our music has no age, except the way to compose it. We don't use too much machines, DJing or automatic sounds. We still (badly) play our instruments and records like the old years by re-recording. We are quite different in the types of music we listen, independently: some of us still listen to 50' to 70's musics (of all kind from psychedelic to scandinavain folk), others more singers and others more independent rock or rough art. As an example, Denis Tagu went to listen to Conan Mockassin on stage: this is amazing to see how the spirit of this band is probably not too far from the early Soft Machine or Kevin Ayers'gigs, even if the music is different. We don't care to be « in » or « out » any fashion or movement. We play the music we love.

Over to your releases. Please tell us more about.......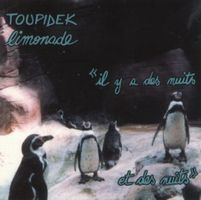 Il y a des nuits... et des nuits from 1985

This is the first recording of Toupidek, as a cassette (under the name "Il y a des nuits", distributed by our friends of AYAA. Recorded in 4-tracks at Centre Culturel Malraux (Vandoeuvre-les-Nancy, France) it contains the first composition of Toupidek. As Toupidek arised after Hellebore splitted, you might recognized Toupidek's style a bit from some numbers from the Hellebore's album « Il y a des jours », such as the first track (Introduction végétarienne) composed by Jean Caël. As a kind of continuity, and again in order to introduce humour, we called this cassette « Il y a des nuits ».One novelty compared to Hellebore is the use of songs with the singing of Kwettap Ieuw, and the limitation of the drums. This cassette was then re-issued on a CD (InPolySons) with some tracks taken from obscure compilations.



Il y a des bulles dans la banquise from 1998

This one too was recorded on a 4-track tape recorder, but at home, by our friend Etienne Himalaya from Look de Bouk.
A lot of personnal emotion are included in it. The challenge was to expres, - according to our unaccurated way of dealing with instruments – the emotions we are in fact made of. There is no technical filter between the inner feeling and the musical translation of it. In the same movement, the compositions gushes roughly out, with spontaneity and absurdity ; and once orbited out of us, we refined and refined and maniaquely refined to reach the exact sound (but sometimes failed). On the opposite, pieces may come at random, escaping quickly from us without any control.


Le Phoque a Bu L'Air from 2007

As you see, we are very long to record an album (9 years for this one). This reflects the fact that we don't leave anymore in the same city, have family like and interesting works. All the title of this album refers to Georges, who could be anyone, but probably one of the presidents of the USA...
Although we added several musicians on this album (especially David Willey and Pierre Bastien), this nevertheless remains some deeply crazy toupidek. Our noises are unskilled craft constituted by pieces of our hearts, head and stomach.

You have released albums every ten years or so. What have you been up to inbetween recording and releasing these albums ?

In terms of music, we did many things. Denis Tagu was playing with Look de Bouk in the mid80's, and is still busy with the label InPolySons. But again, work and family take time, and we are far from being professional musicians in terms of technic. This requires a lot a time to compose, play and record. Every track is recording alone, we are unable to play kind of live. We made a tiny exception : we played in 2008 in Paris for an "hommage aux frères Jacques / la confiture ça dégouline", with dear friend Dominique Grimaud. In matter of concerts, we only made 2 with the early Toupidek in 1985 or 86.

For those of us unfamiliar with your music; how would you describe you music and which bands would you compare yourself with ?

I think our sound is culturally French: something inefficient, light and unskilled like Jacques Tati gestures , smart in a way, but clumsy. We cannot compare because it would not be fair to those we would think we sound like.

You have a great affection for penguins. Penguins are plucky nice animals but not a very typical French animals although France is claiming some penguin occupied pieces of rock down in Antarctica. Why this fascination with penguins ?

Dressed seriously with proud bearing but always ready to surprise you by juggling or chinking words. And when we went to Greenland in 1984, thinking of making birth of Toupidek, we saw none !So this animal remains for us mythic, mysterious : we mean that he is not supposed to be in the place everybody thinks he is, Greenland. So, the question is is he really existing ? (like for the Residents) It is known that a race of giant penguins disappeared by the end of XIX century because of hunters. Will the other races, if they exist, survive ?

What have you been up to since the release of Le Phoque a Bu L'Air, what is your current status and what are your plans for this year and beyond ?

Since Le Phoque a Bu L'Air, we recorded a new album which is finished now. We still have to go for mastering and to finish the ark work from Jean-Pierre Nadau. This is a "biosony" called "il y a des vies qui dévient". It recounts Jean Caël's life, slices by slices from conception and birth to over-death. Chronogically, each piece connected to a segment of an ornamental lake in the park of Versailles castle, is supposed to represent a period of life.
Thank you to Denis for this interview