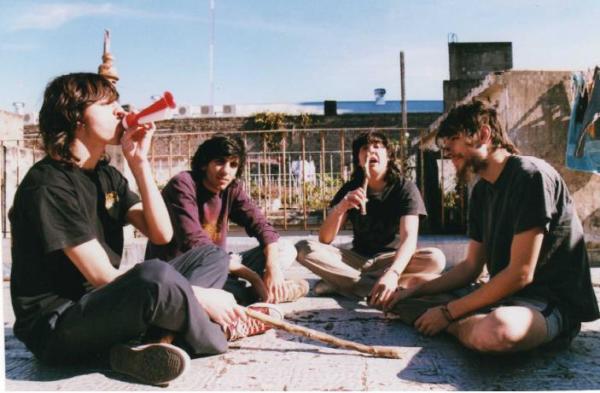 Argentinian band RISOTRAGIA appears to be newcomers to the progressive rock scene, and so far they have one self-titled album to their name. Released in 2011, this production have been made available by the band through the use of Creative Commons: The digital version is legally available for free, restricted to personal use.
I got in touch with the band and here is their story.
###################################################################################
Your biography has been covered in your ProgArchives profile so let's bypass the biography details. But which bands were you influenced by and why did you choose that name ?
We were influenced by a lot of different music that goes from rock bands to academic music, going through other genres such as jazz and folk. There have been a lot of bands that influenced our music, but i consider two King Crimson's albums the most significant ones: Lizard and Island.
The caothic atmosphere, the complexity of the compositions, the diversity of sounds and the perfect orchestration/instrumentation of those albums were the inspiration for our music. Although we cant leave out Yes, Genesis, ELP, Magma, Jethro Tull, Gentle Giant, Premiata Forneria Marconi and many others.
From our county: Luis Alberto Spinetta (Almendra, Invisible, Spinetta Jade) Bubu, Crucis, Charly Garcia (Seru Giran, La Maquina de Hacer Pajaros) and a lot of folk and academic musicans (like Alberto Ginastera).
On the other hand, we study composition in a conservatory of music in the city of Rosario, and we like contemporary academic music (Stravinsky, Schoenberg, Webern, Ligeti, Bartok and a big etc.)
A very important icon of jazz music that has inspired us, is Eric Doply, and in what refers to fusion music, The Mahavisnu Orchestra and Chick Corea.
The name of the band was born while we were playing with words,and the possible combinations between them,so the name comes from the mix of the spanish words "risa" (laugh) and "tragedia" (tragedy) getting RISOTRAGIA as a result.
Argentina has a rich musical tradition with a lot of great bands from both the 1970s and now. Where does your band fit into this scene ?
If we fit in some scene, it would be in Latin America. We think progresive rock is not a genre that abounds in Argentina, however there are a lot of good bands, and in other latin american countries as well. We share a big part of our traditions with those countries, and that makes us maybe, have a common,mutual identity.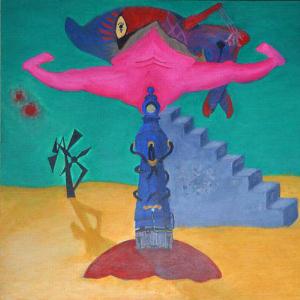 Your debut album Risotragia was released earlier this year. Please tell us more about this album.
Our album is a conceptual work that took more than a year to be developed, starting from just a few ideas and musical motives, and then developing and elaborating them until we created the entire album.It consists of three very asimetrical parts. The first one, is a song called "La cima desde el mar"(the crest from the sea ), that is a pray to the sea with the impresionist poetry style. The second part, has a latinamerican root, and it's inspired on the seven prophecies of the Maya civilization,a group of seven pieces that have instrumental interludes. The final part is a recapitulation and gives a completion to the artistic work.
The album is
a free download
. Why release your album as a free download and what's the economics in this ?
Our wish for the album was that it could get everywhere possible, recording our music and giving it to all those who wanted to listen to it. We preferred to distribute it for free trough the internet because we consider it the best way to get it anywhere.We didn't expect to make money, considering the fact that the album was recorded and produced by ourselves. On the other hand, we believe that our reward are the sincere thanks from the people who like our music, and the satisfaction of composing an artistic work that we like, and we really enjoy playing it.
Maybe it would be a good idea to edit the album in CD of audio format for those who, having the possibility to download it, they can also buy it and give us money as a colaboration, but it would be something we could think of in the future.

For those of us unfamiliar with your music; how would you describe your music ?
Risotragia's music is mainly a fusion between the music we like and our personal experiences. It has extended kinds of atmospheres, that go from traditional melodic balads to frenetic polyritmic and polytonal instrumental sections. The constant changes are the escence of our music, without leaving behind the coherence and continuity of the speech.
In reference to the instruments, we play traditional instruments (guitar, bass, drum, keyboard and piano) but we write arrengements for instrumets related to academic music, such as string quartet and woodwinds. We are also interested in exotic instrument and even the sounds that are processed on the computer.
We try to emphasize the melodies and the contrast between them, and the way they can pronounce lyrics that are conected with things that are deep inside, and at the same time are inspiration for us to create the music that will join those lyrics.
What have you been up to since the recording of this album, what is your current status and what is your plans for next year ?
We haven't been playing the four of us toghether since the day we finished recording the album.There have been some ocational meetings where we got to play and improvise for a while. (We used to improvise during the reharsals). However, each one of us is in contact with music, either studying, playing or composing. It's possible that in the future we'll get to play live toghether again. A few months ago, the idea of organizing a concert to present the entire album came up.
The idea was to play it from the top to the end, with all the parts that make it up, and including all the musicians we invited to record it, but it's still just an idea.
To wrap up this interview, is there anything you want to add to this interview ?
We would like to thank progarchives.com for the incredible work of recopilation, and for being one of the most important sources of information about progressive rock and everything related to it. We want to thank you as a band for the possibility to show our music and get it closer to people, and also thank you as readers and loyal followers of this page for a long time.
Thank you to the band for this interview