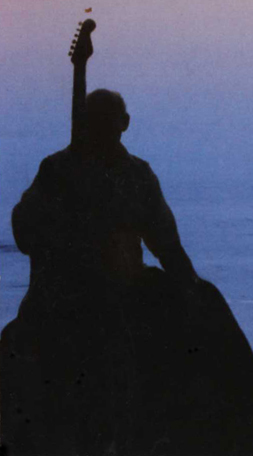 MINDMOVIE is the moniker used by German composer and musician Achim Wierschem for his solo productions. He's had a long career as a band member prior to his more recent personal endeavours, the most notable arguably being his long tenure in German band Flaming Bess, being a central part of that outfit for more than 30 years. Wierschem also makes out half of the creative duo Wi:Re, who have issued two EPs to date.
I got in touch with Achim Wierschem for the Mindmovie story.
##################################################################################
Your biography has been covered in your ProgArchives profile so let's bypass the biography details. But what made you take up music ?
My father was a saxophone player playing in a local band since I was born, but I was never intersted to lear saxophone when I was a kid, at the age of 13 I was sitting together with my best friend in my grandma's sleeping room, he had a very cheap guitar and played just 3 chords and this 3 chords kicked me, I asked him how he has done it and he showed me, I could play them very quickly.
The next day I asked my father to drive with me to the local music store and buy an electric guitar for me, he did, as well as he did build my first ever amplifier by himself. The only promise I had to give to him was to never stop making music, and I promised ehehe so that's why I am still doing it.
You have been and still is a member of Flaming Bess in addition to running Mindmovie. Why did you set up Mindmovie ?
I am very active when it comes to composing, I can easily compose more than 100 songs a year, but a band is a democratic instance and as such it would not be good for Flaming Bess if I would comose all the songs for the band. Once I did discover this I needed to find another outlet for my songs, which are not fitting to the Flaming Bess content, or which are simply too many songs - so I released the first Mindmovie record in 2008 - and now I can use all of my song ideas in different platforms and independently.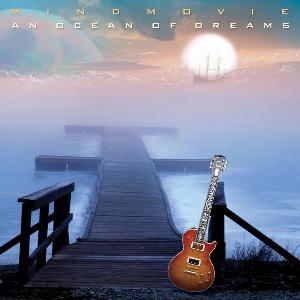 Over to your two albums. Your debut album An Ocean of Dreams was released in 2008. Please tell us more about this album.
Actually this is already explained by the last question, but I think that the final trigger fo the album was that I joined a musicians community on the web which was called MI7.com. Unfortunately this commuinity does not exist anymore. It was a place where you could get feedback about your songs, but also I came into contact with some musicians which first of all encouraged me to do my first solo album "An Ocvean Of Dreams" and some of them even appeared as guest musicians on the album.
Apart from this I think that my project name "Mindmovie" explains what a listener has to expect once he dives into listening.
It was my intention to compose and release songs which are creating imaginary films in the listeners heads - like day dreams sometimes do.
So I called my first album "An Ocean Of Dreams" . I would say I have offerend 26 songs on this double album in the wide genre of progressive vocal and instrumental music, to trigger mindmovies in my listeners heads :).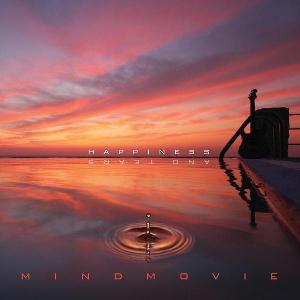 Your second album is named Happiness and Tears and it was released in 2010. Please tell us more about this album.
I was going to some very emotional periods during 2010, my mother in law died as well as that my own mother died,
A period of permanent change, up's and down's, pains, fears, moments of happiness, job changes etc so it was a year filled with very different sometimes painful, but sometimes also wonderful emotions.
Naturally this was reflected in my compositions and is now a part of the double album "Happiness and Tears". I had again the opportunity to work with some very unknow but very fabulous musicians all around the planet and I think that even more than "An Ocean Of Dreams" this new album has "quality and emotion " written all over it.
What is the availabilities of your releases ?
They are available as physical copies, either by contacting me personally, or on the Flaming Bess website http://www.flaming-bess.de, In addition you can also buy the records at the mailorder distibution of Just For Kicks music, or at CD-baby.com. And of course the records are availabel on all download portals such as amazon.com, itunes, napster, etc.etc.etc.
How would you describe your music and which bands would you compare yourself with ?
I was always a huge fan of bands like Camel, Pink Floyd or Genesis, and of great guitarrists such as Andy Latimer, David Gilmour, Steve Lukather or Joe Satriani.
On the other hand I like a couple of new bands very much such as Massive Attack, O.S.I., Fluke or Junkie XL. I am not sure if it would do justice to my music to compare it with these bands, but I know that people and the press need this kind of categories. Some reviews talk about a certain affinity to the early Mike Oldfield or Mark Knopfler but I was never a huge fan of them so I did read this with interest. So what you can most probably expect is to hear a progressive mixture of this influences my own ideas and skills and imaginary film music
How is your creative processes from coming up with an idea to it's being recorded ?
Always different, sometimes it is a certain sound which inspires me to compose a song, sometimes I start with a blank piece of paper. Sometimes I want to create a certain dreamscape, sometimes I want to rock and base the song on a certain guitar riff. Once I develope things further I also look if this should end up as an instrumental piece or a more traditional song with vocals and than I asks some friends from time to time if they feel the inspiration and would like to add their ingredients.
All in all I would say there is no firm rule or ritual I am going to, but it is a constant flow of musical ideas, many songs in the stage of developement at the same time.
What have you been up to since the release Happiness and Tears ? What is your current status and what is your plans for this year and beyond ?
Well 2012 will come up with a new Flaming Bess record, we have already 12 songs finshed for a new record and they sound amazing, fresh and the fans will love it but they will also be surprised about certain parts.
And of course there will be the third Mindmovie record,I have already composed about another 30 songs which are still at different stages but will be released in 2012. The new Mindmovie record will sound a bit harder and a little more edgy than "An Ocean Of Dreams" and "Happiness And Tears", but still contain a lot of emotional songs as well, It will also contain a couple of longer tracks - so I would categorise it to be progressive rock in the actual sense of the word rather than the genre's name.
To wrap up this interview, is there anything you want to add to this interview ?
As I am working independently from any record industry, it is very important for me that I acutally can reach potential listeners, fans and music maniacs, this means I need airplay and pages like yours to spread the message about "Mindmovie". So first of all many thanks for giving me the chance for this interview. In case someone get's curious reading this and wants to listen to some of my songs of the two double albums - he can do this on the internet using the following links
http://www.myspace.com/mindmovie1
http://www.reverbnation.com/#!/httpwwwmyspacecommindmovie
Thank you to Achim for this interview

The PA profile is here