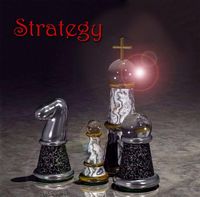 Over to your two albums so far. Your self titled debut album was released in 2007. Please tell us more about this album.
During the late 90's John and I were working with a vocalist and putting together longer pieces that were more reminiscent of KC, genesis, yes, PFM and some other vocal oriented bands. Unfortunately the vocalist, whose family was from the San Francisco Bay area, moved back there in 2000. We tried to continue to work long distant but it didn't work out. John and I spent the next 2 years trying to find a vocalist to try and carry on. That didn't work out so we decided to do an instrumental, and thus was born Strategy.
I'd describe it as a kind of of heavy rock meets avant progressive. I love the first Captain Beyond album, actually I like all 3 but the first was definitely my favorite, Black Sabbath, Cream and again Rory Gallagher. So you collide that with KC, Gentle Giant, Henry Cow and National Health and I think you have a good representation of what the CD sounds like. A lot of heavy riffs with odd meters and dissonant sounding melodies that are harmonized ala HC.
Then we heard nothing from you for some years. Why this long silence ?
This is kind of a funny question in that the first CD really took about 7 years to complete. The second was a relatively quick 4! A couple of things that affected the length of time between cd's was, Rocco decided to stop playing music and move on to other pursuits so we were without a bass player for about year. After that we reconnected with a friend of ours who we had worked with earlier, Tony Olive. I had a number of songs that I had written so we needed to bring Tony up to speed on those as well as work out new songs I was writing as we were going. We have about 16+ songs, of which 8 made the new CD. So we still have another CD in the works. My hope is this one won't take as long to get out.
You have returned with a new album. Please tell us more about this album.
The new album still has a heavy vibe to it but not as much as the Strategy CD. It's quite a bit more melodic and maybe a little less focused on the odd meter riffing. Still has a lot of odd meter but 4/4 finds itself into the picture quite a bit more. Although I'm very proud of the Strategy CD, I was disappointed in the fact that we could not find a keyboard or horn player. Many of the harmony parts for that cd were not originally planed for guitar but rather horn or keyboard. So to rectify that I started playing keys and they are an integral part of the new CD. I'm not a great keyboardist but adequate enough to play what I was hearing in my head.
There are a lot of diverse pieces on the CD from acoustic to very heavy with some jazz, blues and hard rock. Additionally this is not a Strategy album. With the different focus on the music and the fact that Rocco left I felt we needed a new name to distinguish this from the Strategy band. So we choose H.O.W for Herschberg, Olive Watts. Not very imaginary but it'll do. We may do another Strategy band CD in the future, but as of know that has been put on hiatus. If Rocco decides in the future to get back into music then there is probably a good likely hood that will happen.
For those of us unfamiliar with your music; how would you describe you music and which bands would you compare yourself with ?
I, we are influenced by a wide variety of musicians and bands. I personally like, classical, jazz, blues, rock, blues rock and progressive. I'm partial to progressive but all those things find there way into my music. Aside from the bands mentioned my guitar influences are Rory Gallagher, Alvin Lee, Leslie West, Tony Iommi, Bill Nelson, Roye Albrighton, Jukka Tolonen, Robert Fripp, Fred Frith, Andy Latimer, Wishbone Ash, Thin Lizzy and whole bunch more (of course Hendrix, Beck, Clapton and Page go without saying).
As I said above the music is a collision of all these influences. It can run from very subtle to raging, from bluesy to jazzy and then very progressive. I find that it's never as easy to describe your own sound as other's can. We had one reviewer of the Strategy CS comment that it sound like a fusion band with a blues guitarist. So the best thing is to listen to it and decide for yourself (PLEASE LISTEN TO IT).
What is your current status and what is the plans for your band in the future ?
Currently we are still writing and recording. I'm finishing up the additional songs that Tony, John and I tracked. So hopefully there will be another H.O.W CD out in the not to distant future. John and I continue to write and are working on a CD. Additionally we have started working with our vocalist, Rich McCloskey again, and have several vocal tracks that are coming together. Hopefully that will be completed sometime in 2012 (crossing my fingers). With digital recording and file sharing advances we can now share tracks back and forth and Rich being in SF and John and I being in Phoenix are no longer the hurdle they once were. So we are looking forward to that. We have a couple of tracks completed, and if I do say so myself, they sound very good.
To wrap up this interview, is there anything you want to add to this interview ?
I'd just like to thank you for the opportunity to talk a little about our music. Hopefully people will read this and find an interest in our brand of progressive and want to hear more. Thanks again and Happy Holidays!
Thank you to Strategy for this interview