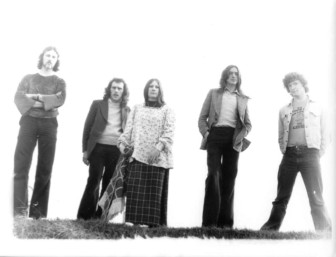 The group STONE ANGEL were formed by the key members of another Norfolk (UK) area band (MIDWINTER), and like that group much of their early recorded music went either unnoticed, unreleased or both until its release by Kissing Spell in the mid-nineties. Unlike MIDWINTER, STONE ANGEL did manage to release a couple of studio albums during their heyday, and also reformed after the reissue of their early work. The reformed band still exists today and released the delightful if somewhat difficult-to-locate album ?Circle of Leaves? in late 2007. Multi-instrumentalists Paul Corrick and Ken Saul, along with MIDWINTER acquaintance Mick Burroughs put together the first STONE ANGEL lineup in 1974, replacing former MIDWINTER vocalist Jill Child with the just-as-angelic singer Joan Bartle, who would eventually become Joan Saul. The group rounded out their lineup with violinist/mandoliner Dave Lambert.
I got in touch with John Lee Saul for their story.
#################################################################################
If I am not mistaken, Stone Angel is based on the band Midwinter who is also represented here in ProgArchives. When and where did you form Midwinter ?
Paul Corrick and I were rehearsing for a spot at the Great Yarmouth Folk Club Christmas party in December 1972, but all we could come up with was a guitar duet version of 'God rest ye Merry Gentlemen'. We invited singer Jill Child to join us, and worked on a couple of recently composed songs based on local legends, 'Sanctuary Stone' and 'The Skater'. That first performance was well received, so we decided to continue and started to perform at clubs, concerts and festivals throughout East Anglia.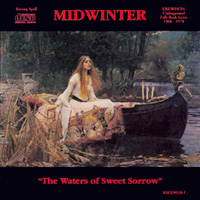 You recorded a demo called The Waters of Sweet Sorrow which twenty years later was found in your attic and released on a CD in 1993. This feels like the BBC TV series Antiques Roadshow. There should be a special programme for old bands and artists too. Off course presented by Fiona Bruce. But please tell us more about this album. What's the difference between the demo and the album ?
There is no difference between the demo and the album. It was taken directly from the original master tapes that were in my attic! We had originally decided to make it chiefly as a promotional thing to send out cassettes to try to get bookings. I suppose it was also partly to give ourselves something concrete to remind us of what we did. The material was all stuff we were currently performing, and we were able to invite Mick Burroughes and Dik Cadbury to help us out on some tracks with percussion and bass respectively. Of course, Dik later found fame with Decameron and Steve Hackett's band, and Mick joined us in Stone Angel.
Why did you close down Midwinter and start up Stone Angel ? How much of Midwinter did you carry over to Stone Angel ?
Midwinter came to an end in September 1974 when Jill left the area to go to college. I think that Paul and I felt that it was too good a thing to let go, and we'd already thought about future possibilities once we knew that Jill would be moving on. He and Mick were playing together in a rock combo, Joan had arrived on the scene and was now my girlfriend, and Dave Lambert was having violin lessons with my aunt and jamming with anyone else who would let him!
We carried over a few of the Midwinter songs, like "The Skater" for example (which we still sometimes include in our live sets now). We'd also been performing "The Black Dog" in that band too. The other members of Stone Angel all brought their own influences to the band, so it was a bit of a melting pot in that respect.
Your type of folk rock was very popular back in those days with the Glastonbury and many other festivals in fields, parks and backyards. How was this time for you ?
It was very exciting, although we probably didn't really appreciate it at the time. There seemed to be such a lot of musical experimentation and exploration going on. Both Midwinter and Stone Angel found themselves performing in all kinds of venues – clubs, pubs, festivals, village fetes, and so on.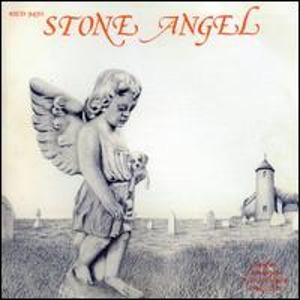 Over to your self titled debut album from 1975. Please tell us more about this album.
Stone Angel were performing at all these different gigs, but almost exclusively in our local area of East Anglia. Many people in our audiences kept asking if we'd made a record, but we didn't have any kind of deal, so we decided to do it ourselves. Our good friend Eddy Green (who had been part of the band Vulcan's Hammer) helped us with the recording, but unfortunately the sound quality suffered in the transfer to disc. The saving grace for us was the superb illustration of the stone angel by another friend, the artist Mel Harris. His original drawing was actually displayed in the Royal Academy. Despite the poor sound, we managed to sell about two hundred albums at our gigs. I don't think at the time that we ever though that our music was particularly special – it was just what we enjoyed playing.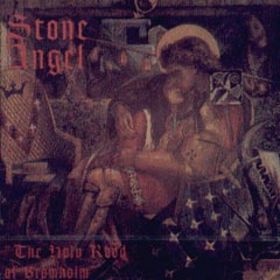 You also have a live album from 1976 named The Holy Rood of Bromholm. Please tell us more about this live album.
When Paul and Mick left for university and art college respectively, Dave, Joan and I continued as a trio, becoming more acoustic and traditional in our approach. Dave was about to go to work in Botswana for a spell, so we taped one of our performances in a local church just to have a record of ourselves really. Fortunately, we still had the tape when Kissing Spell reissued the original album. They asked what other material we had, and decided to put it out as a separate album.
It is my understanding you took a long break from Stone Angel until 2000. What were you up to during this time ?
Joan and I carried on playing as a duo, with Dave rejoining us briefly between returning from Botswana and then getting married and emigrating to Australia.
In the eighties we became engaged in a slightly more serious venture with early music, including playing for mediaeval banquets at a local hostelry. Then in 1985 we formed a new band with Michael Wakelin on bass, Dave Felmingham on keyboards, and Carole Irwin on vocals. Our second gig was a local version of Live Aid, with many of our former fans still referring to us as Stone Angel – so we kept the name going. Because of the work commitments of the other members the band was fairly short-lived.
The next stage was an involvement with a local theatre group, writing and performing music for several productions. From time to time we were assisted in this by other musicians – Dave Felmingham again, Andrew Smith (both were then playing together in a local rock band), and Geoff Hurrell – among others.
Joan and I were still playing around the local folk clubs then, when an article appeared in the magazine Record Collector citing Stone Angel as an example of "acid folk". This was the first time we had heard of the genre! The article also valued copies of our original album at £250.
It wasn't long after that when we were contacted by Kissing Spell with a view to re-releasing the original Stone Angel album on CD. That was put out in1994, alongside the Midwinter album and the "live" recordings.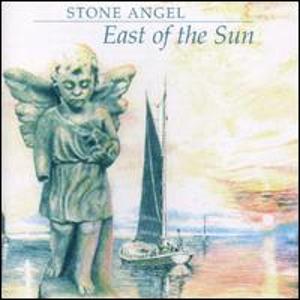 You reformed in 2000 and released the East Of The Sun album. Please tell us more about this album.
This started off as a bit of a self-indulgent project. Joan and I had been doing some research on local traditional folk songs, and, alongside some of the songs from the 1985 incarnation, we thought it would be nice to get some decent recordings of them done. We spoke to Dave Felmingham and Andrew Smith about it, and then contacted Michael Wakelin (who by this time was living in Cheshire). Richard Danby was also roped in to add oboe and cor anglais on a couple of tracks. We decided to include some new material to make it up to an album's worth, the plan being to get 100 copies produced just for families and friends.
We'd just completed the recording when we were contacted by the new owners of Kissing Spell. In the course of the conversation I mentioned the recording, and they asked if they could hear it. Within a couple of weeks a draft contract arrived, since when the whole thing seems to have taken on a life of its own! With gigs planned now to launch the new album, the new band more or less formed itself. Time, distance and work commitments prevented Michael from continuing, so Robert Futter helped out on bass for a while until we were rejoined by original seventies bass man, Mick Burroughes. At about the same time we added Jane Denny on percussion and additional vocals.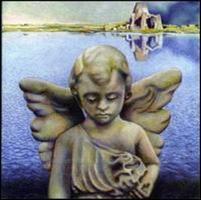 The Lonely Waters album followed in 2004. Please tell us more about this album.
This new line-up was the one that produced Lonely Waters. Although the overall style and mix of material was similar to the previous album, it was a much more considered affair, having grown out of what the band were now performing live. For us, at least, it felt more like a proper band album. It was suitably fitting that we were able to include the entire original Stone Angel line-up on one of the tracks. Paul Corrick came up to join us for what was a memorable weekend at the studio, while Dave Lambert was able to record his fiddle for us in Australia and add it to the mix via the wonders of modern technology!
However, it was also to be marked by tragedy – we had barely finished the recording and hadn't even begun the mixing, when Richard died in tragic circumstances. This really shocked the band, as there had been no indication to the rest of us of such a possibility. Before the album was released, Mick left due to pressure of other commitments, and was replaced by our old friend Geoff Hurrell.
After much discussion, we decided that it would feel impossible to replace Richard, but we did dedicate that album to his memory.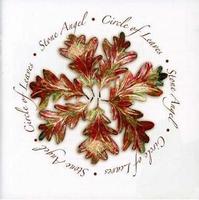 The Circle of Leaves album from 2007 is so far your final album. Please tell us more about this album.
We were given fresh impetus by linking up again with our friends at Broadlands Theatre Group. Having worked with them in the past, a discussion amidst the flowing wine at a party somewhere between Christmas and New Year saw us agreeing to do the music for a joint project – a community theatre venture around the theme of the Green Man, a "pageant of ancient mysteries"!
As it turned out, Stone Angel wrote or arranged all the music and performed it live within the context of the play. All in all, it was a great experience, and the idea of an album based on the music was an obvious step. However, it was almost a year after the performances before we managed to return to the studio, and almost exactly two years before the album was finally launched. One of the most memorable bits of the recording occurred when we reassembled virtually the entire cast, who had joined in with singing the final choruses of The Promise ( the last track), to record them against a backing track in the lovely little church at Mautby (in Norfolk). It was quite moving for all concerned, and we hope something of that magic comes through to all who listen to the album.
What have you been up to since 2007 and what is your plans for the future ?
Stone Angel celebrated our 35th anniversary with a concert in Norwich on, appropriately, "the fourteenth of November" 2009. For us, it was a very enjoyable evening, with friends old and new among the audience. You can read a review of the concert on the news page of our website (www.stone-angel.co.uk). I find it difficult to believe that it was that long ago that we started out, and probably even more difficult to contemplate all that has happened regarding our music since then. In particular, I am both amazed and bemused to hear artists of the current scene referencing us as influences on their own music.
As part of that, you may be aware that the early days of both Midwinter and Stone Angel are recalled in Jeanette Leech's recent book, "Seasons They Change", an examination of the history and development of acid and psychedelic folk music.
A further personnel change occurred at the beginning of 2010, with Jane Denny leaving due to personal commitments. We continue now as a five-piece band, sharing the duties and/or using programmed percussion. Aside from performing, we have also spent time researching and writing new material, and have recently returned to the studio to commence work on recording another new album - which we hope may be released sometime during 2012.
How would you compare the 1970s with this new century when it comes to the popularity of your band and the scene in general ? How would you compare the gigs scene in these two centuries ?
We have this internet thingy these days which means you in theory can get a large following in places you have never toured. You also have a very good homepage on the internet. How is the current interest in Stone Angel and indeed in Midwinter too ? Do you have as many fans now as back in the 1970s ?
I am going to cheat slightly by answering both these questions together. As you say, the internet has made a huge difference to all musicians and their ability to get their music heard. Although we had quite a loyal local following in the 1970s, I doubt whether hardly anyone outside East Anglia would ever have known of us then.
Clearly, the reissue of our earlier recordings was the trigger for the renewed interest in Midwinter and Stone Angel. That interest appears to be continuing, and we are aware of fans from all over the world, which again I find quite bemusing, and humbling, really. It's an interesting situation, where we could almost divide our fan base into three broad groups – those who know about the reissued original albums from the 70s, but are unaware that we are still performing and making albums currently; those who enjoy what we are doing now, but have no idea about our history; and (hopefully, the largest contingent!) those who know and love the whole story! I guess it may also be possible that there's another group who were fans in the 1970s, but know nothing at all about the reissues or anything that has happened since.
One of the really encouraging things now is the number of very capable young musicians who are revitalizing the scene. There seems to be a variety of venue types and a genuinely organic feel to how it is all developing. Perhaps in some ways that has similarities with how we recall things being in the 1970s, but it is also markedly different too – which indeed it should be.
To wrap up this interview, is there anything you want to add to this interview ?
I'd just like to say thank you very much for giving me the opportunity to do the interview, and for all the support you have given Stone Angel via the ProgArchives website.
Thank you to John Lee Saul for the interview

Their PA profile is here and here

Their homepage is here



Edited by toroddfuglesteg - January 04 2012 at 05:08