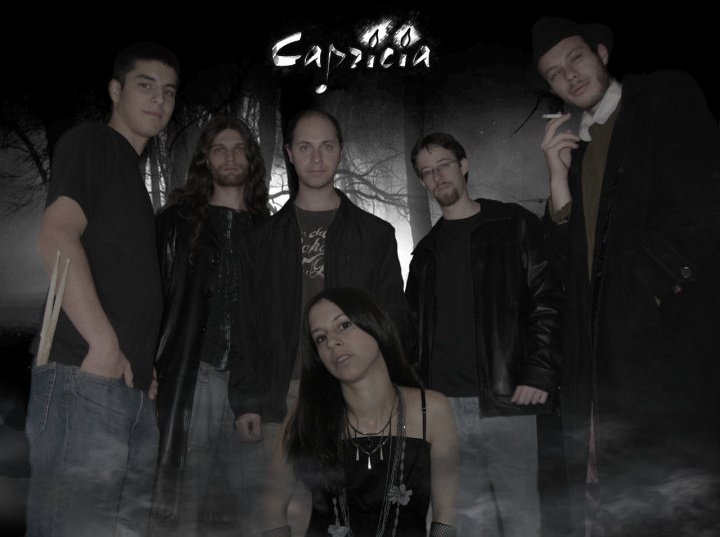 "Music should not always be "pretty" – it should let you feel what words alone can not."
Capricia are a band that took me by surprise. Israel has come out with some great metal bands in late years, and Capricia seem destined to join those ranks. In my review, I described them as being a unique take on the progressive metal style. I think their highly theatrical style speaks for itself. Band leader Arnold Nesis was kind enough to answer some questions I had regarding the band and their music.
How are you and the rest of Capricia doing lately?
I'd say that we are a band who is always having problems. I think not only we have experienced every kind of possible problem already, or so I hope, but it also takes a special person to be in this band because of our musical beliefs and our way of work. For us, overcoming these problems is part of the path, and part of the reason why we are addicted to this band. So I guess we have some problems, we are overcoming them and we are doing the thing we love. So it's all good!
For those in the metal or progressive scenes abroad, how would you describe the music and direction of Capricia?
We have decided to label ourselves as "Theatrical Metal" and if I had to explain the musical direction of Capricia in a few words, and just two, I would say that we try to make music that supports the story that we are trying to tell. Our way of thinking is similar to film scoring – there is a story, and the music should support it. In other words – if taking it to the extreme - if we are describing someone who (god forbid) saw his mother getting raped and murdered – we will not make music that you will want to hear, just as you don't want to experience this. For us, although music comes first the main purpose is to combine the story and the music and make music that has a plot, drama and "movement" to it. Music should not always be "pretty" – it should let you feel what words alone can not.
But I must say that our lyrics usually are dealing with a more physiological concepts – I think the best way to describe it is "a person on the edge". It is a constant test to the limits of the human mind and comprehension.
The music has quite a dramatic edge to it; were any of you inspired by theatre when writing or performing the music?
The music is dramatic because as I wrote before we are trying to support the story. Personally I don't find it very interesting writing about how "happy" or "sad" - I believe in taking it to the edge, and see what happens there. And the edges are in fact usually dramatic. The edges is where our familiar world meets the unknown, and this meeting for me can be best describes with progressive music.
Your debut album 'Fooled By The Hush' came out last year. It is peculiar in the sense that it is effectively two short albums rolled into one, divided onto two discs. What was your reasoning behind this two-disc division?
The two parts of the album is "Fooled by the Hush" – which is a collection of 5 songs, each telling a different story, and "24". The piece "24" is a 24 minutes long piece describing 24 hours in a person's life. Every minute of music equals an hour of the story.
24 was a very long project to work on and took almost 8 years to complete and we felt that it should get it's own place and be treated as a unique piece that is not "just" a part of an album.
'Fooled By The Hush' is an interesting album name; what inspired it?
I think it is fair to say that all our songs are dealing with characters who are on the very edge, and how they interact with society. It has always bothered me that we can not tell from a person's look what is going inside their head. Madness has no physical symptoms. A person who is in a very bad place will seem absolutely normal to us. And not only that, usually in these situations our reaction is to shut up, and become calm.
The name is taken from a line in our song "Chaotic". The original line is actually "Don't be fooled by the hush – I am chaotic still".
The two discs on the debut contrast each other; I described it as being 'two sides of the same coin'. Which of these discs do you prefer?
Although usually the answer is "I can't choose between my babies", I have to say that on a personal level, with no doubt "24". I have worked on this project for very long. I have thought about and considered every single note in it and in my mind, although I am a composer for computer games and films "outside" of capricia, this is the best thing I have ever written. Although I must say though that I am not representing the rest of Capricia in this answer.
Over the past decade or so, the Israeli metal scene has really picked up. What was it like starting a metal band and being part of the 'scene' in Israel?
The last decade or not only the Israeli metal scene picked up, but almost every Israeli aspect. We are the country with by far the most Nobel prizes per person, most PhDs, we have a world leading high tech market as well as medical research and many other spheres. All this is in a 7 million country that is constantly threat on it's very existence.
This in my mind this unique situation and Israeli mentality has created a perfect base for creating metal. Israel is on the edge in every possible matter, even geographically – we have enemies from one side and the sea on the other. This is country with much complexity, I would even dare say with the most complexity in the world, and I believe that this effects our music as well. Being part of this, for me is very challenging but mostly interesting.
Any plans for a second album any time soon? What can listeners expect?
A very clear yes. We have already started working on it but truth be told even I don't know what to expect from myself. I am a professional musician in life, but Capricia has always been for me the place where I don't have to think about anything apart from what I want to hear, and I believe that this is true for all our members. The new album has already some tango influences which I would never expect it to have if you have asked me this a month ago. So I'd say you can expect something that will be very special, and not style restricting at all.
What I can say for sure is that we are already working on the second album which will be a concept album and we are talking to a few known names in the industry and hope that we will have the opportunity to host them and work with them on this project. Also, this time we want to pick up the production aspect of the album. Our debut album was made by us with no budget at all, and this time we are looking for investors, and hope to make a more serious production.
Any words of wisdom for readers?
Don't be fooled by the hush!!!!
Capricia's PA Profile may be found here.


Edited by Conor Fynes - January 13 2012 at 03:51