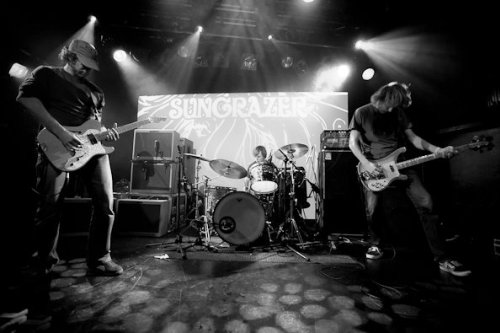 SUNGRAZER were formed as a Dutch heavy / psychedelic / stoner rock trio by Rutger SMEETS (guitar, voices), Hans MULDERS (drums), and Sander HAAGMANS (bass, voices) in early 2009. Gaining wide musical view by lots of gigs with other experienced stoner rock artists like ROTOR or COLOUR HAZE, or appearing on stage of Roadburn Festival, Stoned From The Underground Festival and so on, they made a formal contract with Elektrohasch Records and released their eponymous debut album in the following year. In July 2011 they released their second album "Mirador" via Elektrohasch Records.
I got in touch with them and Sander answered my questions.
####################################################################################
Your biography has been covered in your ProgArchives profile so let's bypass the biography details. But which bands were you influenced by and why did you choose that name ?
Okay. I think we were influenced by many bands. To name one or two bands here is really not giving the complete picture. Of course we like bands who are great in our type of Music, like Kyuss and Colour Haze. But that answer would be the same as looking up in a dictionary what typical stonerbands are. I think everything, even the bands we donít like, influence us. For me personally I get a lot of inspiration right now from Stephen Malkmus (from Pavement) or Lou Barlow (from Sebadoh and Dinosaur Jr.) or Thurston Moore (from Sonic Youth).
And we choose the name Sungrazer because we liked it.
How is the music scene in your area ?
It doesnít really exist.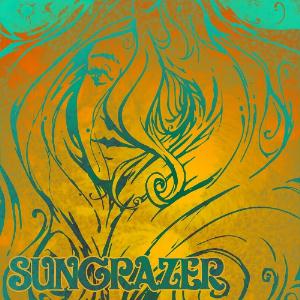 Over to your two albums so far. Your debut album Sungrazer was released in 2010. Please tell us more about this album.
Itís basically writing a few songs with friends in a band and then we met a cool guy who asked us: ďhey, you wanna record this or something?Ē
Your second album and so far final album Mirador was released earlier this year. Please tell us more about this album.
We already had our first album so we knew how we wanted to record the second one. We recorded Mirador in a period of 10 days. The first one was recorded on several days through out the year. It was good to be in the studio 10 days in a row, so we didnít have to build up our stuff every time. Thereís a song called Mirador on the album and we thought it was also a good name for the album. Also for the artwork it was a nice title, but you should discover that yourself.
How is the availability of your releases ?
Itís pretty good. If you mail us and pay for your order, we send it to you anywhere in the world. You can find that info on our website (www.sungrazer.nl)
For those of us unfamiliar with your music; how would you describe you music and which bands would you compare yourself with ?
We make psychedelic stonerrock. We can be compared, because of that, with Colour Haze, Kyuss, Dozer, Causa Sui or any other band which sounds heavy, downtuned, loud with stretched out space and jam parts. On the other hand I think we are often very dreamy with soft trippy parts, like Kaki King or maybe sometimes like Sonic Youth or something. Just like what I said about the influences earlier, I also donít like to compare (especially my own) music with other music. We just write and jam on things with the three of us and what comes out of that is a Sungrazer song.
What have you been up to since the release of Mirador ? What is your current status and what is the plans for your band in the future ?
We toured with Grandloom through Europe in October for two weeks, toured in December which was called Santa Psychedelica tour and had many great gigs in between. We were overblown by how many people showed up and liked it and stuff. It was amazing. Right now we decided to take it a bit more easy till summer so we can write some new material. Go back to the core of what this is all about. And that is having fun and jam together. Go to a bowling court once in a while. See some other bands. Jam. Write a song. Or two. Letís make an album and record it. Yeah. And a big tour after that. Yeah! And get famous! And wasted! And go bowling again.
Thank you to Sander for this interview