VOTE FOR YOUR LEAST FAVORITE TRACK.

The final two go to the semi-finals, and the third-place track moves to a consolation round.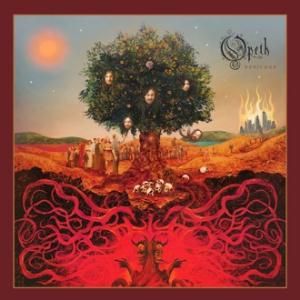 1) ?
2) ?
3) ?
4) Slither
5) Haxprocess
6) Nepenthe [tie]
7) The Lines in My Hand [tie]
8) Heritage [tie]
9) I Feel the Dark [tie]
10) Marrow of the Earth
Well, The Devil's Orchard made it to the finals, even though I consider it to be the weakest track on the album. I'm voting for it again.

Orchid
1) Under the Weeping Moon
2) In Mist She Was Standing
3) Forest of October
4) The Twilight Is My Robe
5) The Apostle In Triumph
6) Silhouette
7) Requiem
Morningrise

1) To Bid You Farewell
2) The Night and the Silent Water
3) Black Rose Immortal
4) Advent
5) Nectar
My Arms, Your Hearse
1) April Ethereal
2) When
3) Demon of the Fall
4) The Amen Corner [tie]
5) Karma [tie]
6) Credence
7) Epilogue
8) Prologue
9) Madrigal
Still Life

1) The Moor
2) Godhead's Lament
3) Serenity Painted Death
4) Face of Melinda
5) White Cluster
6) Moonlapse Vertigo
7) Benighted
Blackwater Park

1) The Drapery Falls
2) Blackwater Park
3) Bleak
4) The Leper Affinity
5) Harvest
6) The Funeral Portrait
7) Dirge for November
8) Patterns in the Ivy
Deliverance

1) Deliverance
2) Wreath [tie]
3) Master's Apprentices [tie]
4) A Fair Judgement
5) By the Pain I See in Others
6) For Absent Friends
Damnation

1) Windowpane
2) In My Time of Need
3) To Rid the Disease
4) Death Whispered a Lullaby
5) Hope Leaves
6) Closure
7) Ending Credits
8) Weakness
Ghost Reveries

1) Ghost of Perdition
2) The Baying of the Hounds
3) Reverie/Harlequin Forest
4) Beneath the Mire
5) The Grand Conjuration
6) Hours of Wealth
7) Atonement
8) Isolation Years
Watershed
1) Hessian Peel
2) The Lotus Eater
3) Heir Apparent [tie]
4) Burden [tie]
5) Coil
6) Hex Omega
7) Porcelain Heart