Hello all!
I was surprised to find the following band not currently on the Archives, especially considering their debut album is a terrific Canterbury styled album, with enough unique musical elements of their own. Caravan is certainly a big influence on these Italian guys, but they're hardly a straight rip off. I'd heard one or two tracks online and placed an order with Greg Walker's Syn-phonic instantly. It's been a huge favourite of mine for months now!
Their debut album `Le Ore I Giorni Gli Anni' was released on Mellow Records in 2011, and is a combination of lengthy vocal pieces with long instrumental sections, and fully instrumental tracks. There's quite an upbeat sound to much of the album, but with slightly more reflective and darker moments as well.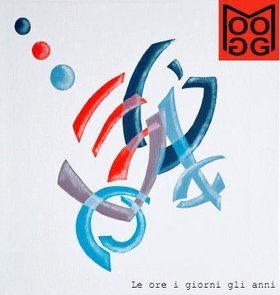 Here are some full-length Youtube samples from the album:
Le Ore I Giorni Gli Anni – the opening track, (pretty sure some Canterbury fans will love it straight away!:
Le Ore I Giorni Gli Anni
Classe 21 - My favourite track on the album, has a few little darker edges throughout – love the bit that starts at 2:15!!:
Classe 21
Gli Arroganti - The fourth track from the album, a lovely and catchy instrumental piece:
Gli Arroganti
Moogugni - Another nice fuzzy instrumental, with a confusing disco element in the middle!:
Moogugni
Finaly, here's a link to the band's website:
Moogg.net
Hope you guys will find plenty to enjoy here! I'm pretty sure there's even more proper clips on Youtube of this album, as well as live footage?
This is the first time I've tried to suggest adding a band/artist, so I hope my post is all in order! I did a search and didn't find any mention of this band, so I hope they haven't already been suggested.
I'd be more than happy to supply a very positive review for the band if they were to be added!
Aussie-Byrd-Brother (Michael).


Edited by Aussie-Byrd-Brother - August 29 2012 at 18:36