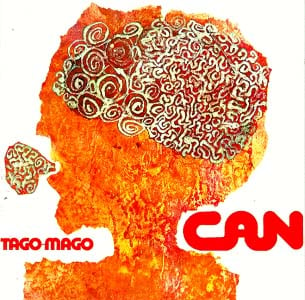 3.87
|
302
ratings
Tago Mago
1971

Despite the quite high rating, and I recall it being rated considerably lower when I joined this site, this is an album that has divided opinion to a considerable extent. I did not much like it when I got it (other than `Aumgn`, which I immediately loved, but gives many people problems), and it really took Ege Bamyasi (which I got later) for me to start to love Can. Later I returned to Tago Mago and instantly really liked it. I thought Tago Mago sounded too amateurish at first, and I did not think it was really progressive rock (one of those albums that didn`t take many spins to love, but maybe I needed some time in between for my tastes to catch up). I rated it five stars, by the way.

Here are some short excerpts of reviews which I have done poorly as I did not want to spend a long-time fine tuning the excerpts (please don`t be upset for butchering a review. The full reviews are much more enlightening):



This is one of those albums that everyone just needs to own, like Dark Side of the Moon, or something....

Although not an easy listen (if you're only into symphonic prog , you probably will not like/understand this....
loserboy
PROG REVIEWER
Honorary Reviewer

...To many I suppose this album will sound a wee bit dated, but for me it is a wonderful and highly experimental avant garde piece of German progressive rock.

Tago Mago is a real trip... You've just to lay on your bed, lights off, and listen. You will see emotions rise up in your head and exploding in the final part of "Aumgn" just like fireworks. You will laugh at the madness of "Peking O". You will feel sad at the first strings of "Bring me coffee or tea"... wow. One of the greatest album ever made.
Proghead
PROG REVIEWER

...Without a doubt "Aumgn" and "Peking O" are the definate love it or hate it pieces. Everyone will question your sanity for listening to those pieces, and they're certain clear parties so fast, you'd be wondering if you remembered to hold a party. But those two pieces are absolute genius, and you have to be pretty accustomed to the more radical albums of Krautrock (like TANGERINE DREAM's "Zeit") to appeciate this. Incredible stuff, and without a doubt, CAN at their finest!

This is one of the best progresive albums I have ever listened to, and also one of the most influential....
Carl floyd fan
PROG REVIEWER

... Anywho, I couldn't even begin to explain this album to a newbie of kraut rock but if you want an interesting album with funny, scary (especially the vocals, the guy sounds like he belongs in an insane asylum but it adds to the atomphere) noice, get this album. Can is way ahead of their times and its amazing to find that this is only 1971. Procced with caution and be patient, you'll get something positive out of it eventually!
Neu!mann
PROG REVIEWER

Contrary to the evidence presented elsewhere on this site there really aren't too many albums, prog or otherwise, deserving an unconditional five-star accolade, and in my not entirely unbiased opinion the majority that do originated in Germany during the early 1970s. But while I treasure the tongue-in-cheek acid deconstructions of FAUST, the irresistible momentum of NEU!, the sometimes intimidating deep-space void of early TANGERINE DREAM, so forth and so on, I tend to go all to pieces when contemplating the music of CAN....
greenback
SPECIAL COLLABORATOR
Neo-Prog Specialist

I was told that if I don't get the krautrock style, a subgenre of the progressive rock, then maybe some of the best Can albums would definitely convince me. Well, I still don't get this strange, psychedelic, UNMELODIOUS and MARGINAL music....

...I can't imagine that fans of symphonic progressive rock will enjoy the psychedelic drivel of Mushroom, Oh Yeah, Paperhouse and Halleluwah (although the latter two have moments of promise). While those songs are tough enough to stomach, they are nothing compared to the jarring 17 minute long electronic soundscape exercise Aumgn and its follow-up Peking O. In fact as someone who is also a fan of RIO, Canterbury, jazz-fusion, and quality psychedelic rock, I'm still baffled as to where the true appeal of Can lies. I really hated large parts of this album. If pushed, I'd say Bring Me Coffee Or Tea was the only song that I could tolerate all the way through. ... 19% on the MPV scale

It was my first Can's album. I loved them from first heared. For me this music is absolutely amazing. Something new for me. Something strange an fascynating...

...Newcomers, do what you can to prepare yourself. Take the wild and free days of early PINK FLOYD (up to and including the more bizarre moments of "Ummagumma"), make sure you're comfortable with ZAPPA's off-kilter melding of rock and jazz, and it wouldn't hurt to listen to things like APHRODITE'S CHILD's "666" and COMUS' "First Utterance" a few times before you have a decent context for your first "Tago Mago" experience. You still won't be fully ready for the unique and unsettling wonders of CAN, but at least you won't be trying to compare them to bands like DREAM THEATER or RUSH or CAMEL. This is much more progressive, in every sense of the word....

A classic, but not a perfect one. If you want some avantgarde-oriented album and not another boring Genesis clone, this album is what you're looking for....

Prog rock fans will hate it, since it has none of the boring cliches of the ordinary progrock groups that were supposed to do something-related-to-music by just leeching the classicals and adding some utterly dull "modern" equipment effects. Krautrock fans will hate it too, as it is sung (?) in english and can only remotely be associated to rock, blues, jazz, contemporary, soul or whatever. For the rest, it's the most iconoclastic, influential and important post-rock'n'roll, post-bebop, post-pop, post-something recording ever made, period and fullstop....

Tago Mago is one of the most sweeping and fluid albums of all time. Everything this album touches on, ambience, atmosphere, electronics, fusion, solos, everything is extremely well placed while sounding raw at the same time. No one sounds like Can, and Tago Mago is a perfect example. Suzuki's emotional vocals, the intense percussion, the fast-paced breaks, the droning atmospheric drops, everything blends together in one giant spread of perfected audio liquid....
archon

Ok, listen.This an intellectual project.Period.For his hystorical importance he gets 5/5 or maybe more.For his lisenabilty, beautiness and those other thing the rating depends on every single listener.You must be prepared for this.Fortunately i got into it and for me it's a 4/5.Together it's 4.5 but I just can't figure out more than 4-5 albums greater than this...so it has to be 5/5.FULL....

... Definitely this is not my cup of tea. I tend to give a one star rating but I'm sure some collectors / fans of this legendary album would enjoy this kind of music. But if you can not accept music with repeated segments, please don't ever try to have this album in your collection. Keep on proggin' ..!
Bilek

Third album by Krautrock pioneers, and a masterpiece at that!
Everything that could be said about this album is already said above, so no need to re- review the album. Suffice to note that Tago Mago, and Krautrock genre in general is not everbody's cup of coffee, so care should be taken when approaching this (and most other Can) album....

Wow...as I enter te mysterious Kraut Rock World, this is my entrance door. Can's Tago Mago is an album that took me a lot of adjustments. In order to appreciate this album entirely, you have to stop thinking about rock, stop thinking about melodies:we are far away removed from Yes or Genesis! This is different and took a whole lot of listens to truly undertsand its immensity and power....

The album starts of really pleasant with "Paperhouse", "Mushroom" and "Oh Yeah", followed by this albums best track "Halleluwah". This track is marvellous, mostly because of the fantastic drums that is extremely rhythmic. The track is more than 18 minutes long and by the end the careless and sloppy singing starts to annoy me. Track five "Aumgn" is a 17 minutes long pain. I think this track is a very poor and pointless sound experiment. Not that avant garde is unfamiliar to me, but "Aumgn" is just waiste of time! ...

This is a great album all the way through. Aumgn is my favorite. The formlessness of the piece is really beautiful and the ending with the percussion is heartpounding. Deserving of playing full blast!...

This is one I play half of at work all the time - guess which half ... The four stars says how good the first half is - if it were anyone else, this would be a 1 or 2.
CVoss

I have to agree with the entire world that Can was at their peak with this double-album (upon original release). The music becomes much less dense in comparison to Monster Movie and Soundtracks, yet Can puts together their most original work yet, with sprawling rhythms at the center of this masterpiece...

Progressive artists never cease to amaze me with their wide variety of mind-bending styles that push the limits of human capacity. ...
Cheesecakemouse

Essential, hypnotic, innovative, avantgarde I would argue that this is the 'Close to the Edge' of Krautrock.
This album knocked my socks off, it sounded as if it was recorded within the last ten years, not over 30 years ago....

Krautrock has its moments but this album is not the one that a man could remember. It's something so odd, unmelodycal and too psychedelic. It has its value only as the dead end of music evolution....

....I would only recommend this to those fans of extreme psychedelic or those with drug problems who may find some sort of enlightenment in this. Being as it's considered a staple of the Krautrock genre, I'm more than willing to admit I'm a complete novice to Krautrock. But after this set of experiences, I have little desire to go any further into exploring it.
Chris H
PROG REVIEWER

....It couldn't have been 10 minutes before my mother comes up and says "What is this crap?". I couldn't agree more Mom! ...This has to take the cake for the most pointless album ever made. Ever. "Peking O" and "Mushroom" are two of the stupidest, pointless songs I have ever heard. Maybe you need to be on shrooms to get everything out of them?....1 star, DO NOT BUY!
Eclipse
PROG REVIEWER

This is CAN's masterpiece ... this album won't turn you schizophrenic!! It is actually the kind of music that will work as a mind / creativity exercise, so don't start questioning how sane you are for enjoying such unique music. This is an excellet gem, so, with no fear, i give the full rating to this seminal album of progressive music.
The Wizard
PROG REVIEWER

As I sit here listening to this strange beat noise machine that is Tago Mago I feel that normal language conventions cannot describe it's surreal beauty....
Evans

I have not always though that Can's "Tago Mago" was a masterpiece. At first, i didn't even like it. However, i did not give up on it, and when i finally came around, it changed my view on music completely....
russellk
PROG REVIEWER

....It's certainly not one of my favourite albums, and I seldom listen to it. But it, and the other CAN albums of this period, were important to the development of a number of music genres. It is one of those low rotation, high interest albums that make any music collection better. And 'Halleluwah' is a monster.
thellama73

Tago Mago is widely considered the best Can album. Having only heard this one and Future Days, I can't speak to that, but this is certainly a strange and unique double album. The first half is filled with groove oriented Krautrock jams, like Paperhouse and Mushroom. I can't say I'm very fond of these songs. The singer's voice strikes me as somewhat annoying and the aimless repetition does nothing for me. However, after just a few songs, the album takes an abrupt left turn into spacey experimentalism....
Easy Livin
FORUM & SITE ADMIN GROUP
Site Admin & Moderator

The yoke is on the listener
I'm not a fan of Can, or indeed this type of music. Those who know and love their music can therefore safely ignore this review. For those unfamiliar with their work however, the intention here is to provide a balance by offering the views of someone who enjoys prog, but does not particularly enjoy this ... It may seem strange to question the progressiveness of a double album with two side long tracks and just seven tracks in total. The point here is though that the track lengths simply reflect the fact that the band takes a simple riff or rhythm, and repeats it ad-nauseum. There's no development of the themes, and little if any changes to the pace of each track. The playing is simplistic and in reality totally undemanding upon the performers. In short, an album only for those who know what they are letting themselves in for....
Mellotron Storm
PROG REVIEWER

It's pretty incredible that out of 88 ratings(including mine) only four people rated it as a 3 star record. This is the kind of album that seems to polarize prog fans,mainly because of the experimental stuff that's going on, along with the repetetive melodies. I'm one fan who although not a big fan of experimental music,really appreciates the genius going on here,and one has to acknowledge that this band and album have been a huge influence in the music world ... Essential Krautrock !
Zargus

The Sgt pepper of Krautrock! And yust like Captain Beefhearts Trout mask replica it devides opininos like no other album some hate it and dont understand whats the fuzz is all about and some like me love it, but no one can denia its importance....
King Crimson776

Seriously great album, this one. By far Can's best; the reason it's not as highly rated as some of Can's inferior albums is because all the people who have a negative opinion of the band bombarded this album because it's their most famous....
Flucktrot
PROG REVIEWER

Either you get it or you don't, right? In that case, maybe I don't. After being through this album many times and in many moods (though admittedly no chemically-induced ones), words such as genius and masterpiece simply don't come to mind when I think of Tago Mago. Whatever you do, don't make the mistake I did, which is to apply the traditional prog rule-of-thumb that longer tracks are generally better. The exact opposite rule applies to this album in fact....

This album is a series of experiences. Nothing like most other listeners ever get to hear. It is obscure, difficult and possibly determined to annoy ... Tago Mago is an album you do have to be in a certain mood to enjoy. Mainly because we are all trained or brought up to hear melodies, rhythms in an arranged, acceptable manner - dare I say format?... It is psychedelic, spaced out, yet oddly not dated as it is music that uses it's technology rather than vice versa. .. .There are those that will never like this and think little of it. Certainly if you are used to hearing standard music verse, chorus etc this will not find favour there. But if abstract avant garde, RIO, pyschedelia is to your taste then here is a very good listen. ... This album is brave, adventurous and well considered, it is difficult, progressive, weird....
dholl

This album is a brilliant example of fun, groovy and experimental rock music. It stems from the early 70's: a period of music Europe-wide that brought so much exciting sonic adventure....
digdug

Parts of this album are not too bad and....I might even get to like them.....but parts of this album are not even close to music..... I am a huge Pink Floyd fan....and some of this weird stuff reminds me of Pink Floyd's weird moments.....but 18 or 19 minutes of straight noise is just too much.... This may be a great album for some people....but I can't listen to large portions of it.....
kabright

I am suprised this album isn't rated higher. This is certainly my favorite CAN album. This music has a certain otherworldly magic to it in the same way MAGMA does. That being said, it sounds nothing like MAGMA. It just sounds so crisp, so confident.

Best album of all time. Hands down. Pure Genius. Everything comes in exactly when it is supposed to. I find absolutely no fault in this record. Its like someone took a recording of a brain, and then put it on an album. ....
UMUR
SPECIAL COLLABORATOR
Honorary Collaborator

Tago Mago is a really excellent album and had all songs been of the same high quality I would have given the album 5 stars. But as almost half an hour of the music is something I skip almost every time I listen to the album I´ll have to take away the last star and only give Tago Mago 4 stars. This album is highly recommended though and for people who like psychadelic music this is a must buy.
burtonrulez

Tago Mago is a brilliant album that I'm surprised hasn't got a higher rating here. ...
This has quicklybecome a favourite of mine, and an unquestionable 5 stars
MovingPictures07
PROG REVIEWER


This is perhaps the most well-known Krautrock album and thus makes a good first review for the genre. There is definitely some really interesting and accomplished material in here, but it comes across as uneven and very moody. ... Well, this is definitely an intriguing and unique listen, but is it essential for a music lover's collection? No. This is such a hard album to rate and I have a difficult time recommending to most proggers out there, but it is usually at least enjoyable in many parts and is quite revolutionary.

alionida

CAN is one of those magical bands you can't like on the first listen ... Time to grow necessary but rewarding.
horsewithteeth11
PROG REVIEWER


...If the warning "watch your step" could be applied to an album, I would certainly apply it to this one. Of course, I could also leave you with the assumption that some of these songs/jams/moments of psychedelic tripping seem to run one way too long. And for the longest time I believed that (for the most part). However I've moved away from that notion over time ... Recommended to fans of psychedelic or avant-garde music that enjoy really good rhythm sections and unusual vocals.
Negoba
PROG REVIEWER


...As background music at a theme party, this could be perfect. Without a doubt, there are some very cool noises on this record. When I'm in certain whacked-out moods, I do reach for this occasionally. (I reach for my single Ash Ra Tempel album more frequently though). For me, it's a 2-3 star novelty.
Neurotarkus

...My judgment of Tago Mago is that it's one of the most stunningly unique albums ever made, from one of the most stunning and unique bands to ever exist. This is not for the faint of heart- recommended to someone with a taste for the avant-garde.
Bonnek
SPECIAL COLLABORATOR
Prog Metal & Heavy Prog Teams

The relatively low rating of
Tago Mago
is a typical phenomena of Prog Archives. I don't say that as a criticism, just as an observation. It's only logical that a band's most acclaimed album gets the attention and scrutiny of the occasional passer-by and in case of Can, the predictable 1 and 2 star ratings as an obvious result. ... You may like it instantly, you might need years till it dawns on you or it might never mean anything at all. It certainly took me a few years (and a punk phase of sorts) till I was unchained from my earlier harmonic preconceptions and learned to appreciate music for its rhythmic feel, emotive intensity or for the artistic ethics instead of just for good melodies. The liberty obtained by that process and the amounts of great music it has unleashed on my CD-shelf is nothing short of amazing. 4.5 stars
Kazuhiro
COLLABORATOR
Neo-Prog Team

The music characters of albums of them who had been announced at the time of 1973 from especially 1969 might have influenced very various districts. Of course, the revolution of the music that Can did and directionality is the existence of the legend for various musicians. It is also true to have kept always making reformative music after they debut. The meaning of this album will be sure to have the meaning very much for them when thinking about the activity to "Future Days" that they announced. Some respects will be able to be enumerated in it....
friso
PROG REVIEWER

... Conclusion. This album has survived the test of time in a brilliant way. Record one is a masterful Can creation and record two is heaven for people who like true experimentation, avant-garde and even music beyond that. I'll rate lp one with four stars and record two with another four stars. The latter doesn't get it's stars for nice listening and have a great sunday afternoon, but because of it's motivation and innovation. This is a very important (I might say essential) record for progressive music: it will appeal to fans of Krautrock, psychedelic rock, psycho-beat, highly rhythmical music, jam-music, avant-garde and experimental music. For others this might be too psychedelic and hard to get into. I myself like the first record very much and have to be in a really good mood to listen to the second, though the latter strikes me as one of the most daring recordings of prog history! Four stars, well deserved!

TAGO MAGO is one of the most controversial albums under the progressive rock umbrella, and it's easy to see why. When the genre of progressive rock is spoken, people think about lush keyboards, crystal clean production, memorable melodies and carefully constructed compositions; CAN has virtually none of these elements here. I can't make the warning any clearer: if you don't like long jams, compositions that are almost ''nonmusical'' and ''off'' vocals then stay very clear from TAGO MAGO. ... This is an album where you'd better know yourself before buying. If you're the music fan that is open, adventurous or has a knack for experimentalism, this is a good purchase.
tarkus1980
PROG REVIEWER

One of the best and most reverenced albums in the history of "underground" rock music,
Tago Mago
was my introduction to Can, and I frankly wouldn't have had it any other way. It's an album that can satisfy snooty prog-rock fans and snooty indie-rock fans alike, combining incredible chops and grooves with incredible sounds and textures in a way that must have been beyond mind-blowing back in 1971 (and that's to say nothing about the creepiness factor). In short, this is the ultimate Can experience. ... one of the most incredibly screwed up, but also one of the most incredible, albums made in the 70's. The most experimental tracks can scare away even the faithful, but if you can't get into "Mushroom," "Oh Yeah" or "Halleluwah," then Can is simply not for you. Any adventerous music lover should have this.

This double album from "Can" is probably a turnkey in their musical history and a definite breakthrough .. 2 stars.
AtomicCrimsonRush
SPECIAL COLLABORATOR
Symphonic Team

The unsettling soundtrack to a lunatic asylum ...

My opinion now, beyond the historical significance. Unless you are a fan of disturbing insane prog, give this a wide berth. It was interesting as a curio of early Krautrock, but that's where it begins and ends for me. This album is obviously going to garner very strong reactions and some may hate it, some may like it; I am kind of combined with a love hate relationship on this. Which is more than I can say for the detestable weird art music out there such as Bjork, or Yoko Ono. Can is nowhere near as bad but... sorry, I am just not interested in being bombarded by insane burbling and improvised twangs. Magma are as far as I am prepared to go in that regard. I will award "Tago Mago" the 1 star for its iconic Krautrock status, and 1 star for the audacity to produce it. Definitely for collectors. Believe the hype; this is beyond bizarre.

Rune2000
SPECIAL COLLABORATOR
Prog Metal Team

I've been putting off this review for quite some time now in hopes of me finally comprehending more of what I've heard. Since this has not yet occurred I might as well scribble down my thoughts and impressions in order to adjust them later on when Tago Mago finally dawns on me.
There is really point for me to go through these compositions since this is not really an album consisting of individual compositions but more as a coherent experience of sounds and music like you've never heard before. It will also be impossible to give Tago Mago a rating based on the general guidelines since, like any piece of modern art, it can't be limited to constraints of a general rating....
SaltyJon
SPECIAL COLLABORATOR
Zeuhl RIO/Avant & Canterbury Teams

... I'll take this album to the grave with me, though - I never want to be separated from the wonderful, incredible music that unfolds across this sprawling 73+ minutes. An essential album, not only for prog fans, or Krautrock fans, but for music fans. It will blow you away every time you listen to it if you're anything like me.
JJLehto
PROG REVIEWER

I will admit, my entry into "krautrock" is still fairly new. Personally, I really loved this album, but it's reviews appears to be quite mixed. Frankly, I'm not sure why. Well, actually I can see why. This is difficult music. Not in its technicality or complexity. In fact it's the opposite case! This album really has no structure to it. That is because this album was pretty much a giant improv jam, which was then taken and edited into songs. I love it. The album is really free flowing. While it may have no structure it does not feel chaotic or disjointed, it is really smooth and mellow. This album is basically a giant psychedelic rock improv jam. What's not too love?.... Keep an open mind and try this album. Give it a few listens, and make sure you really listen. I don't think you will disappointed. Some parts could be a bit slow/boring and I'm sure some will be turned off by its more outright experimental sections, but please try it. A truly truly unique album!....

Can's most well known album but it is not their best and is very inconsistent. This is not the place to start with these guys; check out Future Days or Ege Bamyasi first. Having said that, this still has the band's best three songs: "Paperhouse", "Mushroom" and "Oh Yeah"....
snobb
SPECIAL COLLABORATOR
ZART & JR/F Team

This album is possibly most popular Can release ever and at the same time very controversially rated one. Long monotonous and very psychedelic compositions with unusual (almost African) drumming, very simplified music and freaky vocals- all that can attract of shock listener, depending on your taste...
The Truth

...Didn't like it the first time? Give it another spin, you'll be hypnotized!
4 stars, possible five star canidate, will have to give more listens.
colorofmoney91
PROG REVIEWER


...I admire this band, and they're definitely interesting, but the two albums after this are just much better in my opinion. This album is definitely worth checking out, and hopefully you'll have better luck with it than I did.
Man With Hat
COLLABORATOR
Jazz-Rock/Fusion Team

The definitive Krautrock album....
All in all, this is an album all prog fans should have, even if just to represent this side of the progressive rock universe. This is the perfect little Krautrock package. Sure, it would probably be silly to say that if you don't like this album you won't like any Krautrock, but if you can't find something here you enjoy it's a good bet that Krautrock isn't for you. Even though this album is flawed, it contains some truly awesome music and still deserves the full five star rating, as it is absolutely essential. Recommended.
Warthur
PROG REVIEWER

Damo Suzuki's first full studio album with CAN is also the group's most diverse and startling work....

This album is loads of fun. It's one of those that I like to listen to when I'm doing other things, whether it be driving, chores, homework ect... It's one of the things that I love about this album. I can multitask if I want. Not that the music is so simple that it doesn't distract me. If I decide that I want to LISTEN to this album, I will trip out. On the other hand, it makes for a good soundtrack for living life.
toroddfuglesteg

...I find this album hypnotic and great. I am probably under the spell of Tago Mago. Sometimes, primitive is great and this album is indeed a great album. A couple of barn stormers is missing, but this album still deserve it's status. I would urge everyone to at least check out Tago Mago....
EatThatPhonebook
PROG REVIEWER

10/10
More than forty years later, 'Tago Mago' still sounds alien.
Can are one of the most praised Krautrock bands ever-if not the most praised-; their uniqueness is timeless, their originality is unbeatable, and their influence on following bands was, and is, massive. Even though among fans and critics there is controversy regarding which of their opuses is the greatest, 'Tago Mago' is the LP that is most loved and the most known of the band. Indeed, 'Tago Mago' is one of the great albums of Rock music ... Tago Mago' is a landmark album in music history, an LP that redefined the word 'Experimental' and Ambition. An essential piece of art in anybody's music collection, one of those albums no one can live without, after having experienced it.


Edited by Logan - October 11 2012 at 13:03