The moments that make up a fun day – an interview with Torga Ostera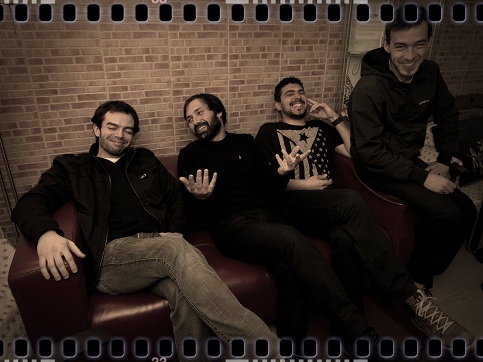 Torga Ostera in playful mood
Who would have thought that a Portuguese band I had been following with interest for some time now would end up working in a studio not 10 minutes away from where I live? It was a matter of time before we crossed paths, and what began as an interview via email became an invitation to drop by the studio for a chat.
It was around noon that I arrived at the Norton de Matos Music Academy in Coimbra, central Portugal, where the band has set their headquarters. Two members of the band are teaching there, so it is a highly convenient venue. I am greeted at the door by João Francisco, guitar and vocals, avid Pink Floyd fan. As we cross the studio proper into the control room, João Francisco introduces a new member of the band to me – I was getting ready to shake someone's hand when he proudly pointed to an olive-green metal box.
"Do you recognize that?" he asks. Can't say I did. "There's one just like that on Pompeii", he explained. Turns out it's a Binson Echorec, a 70's echo machine as seen being used by David Gilmour on Pink Floyd's cult film - even before the interview begins, the floydian influence heard on the band's first album is already seen in the gear.
On a red couch opposite the mixing desk sits someone strumming a bass. Turns out it's the drummer, Renato Dias. Two more members enter the room, bass player Eurico Moleirinho and keyboard player Jorge Marinheiro. I fail to recognize him from previous publicity shots of the band. João Francisco explains:
"The band was formed in 2006 and there have already been a few line-up changes. Renato himself has left and came back. Jorge is a new addition to the band; he wasn't part of the line-up on our first album. He's an old friend, though, so he doesn't feel like "the new guy", and his input has come as a blessing for us. Right now, Torga Ostera is just the four of us."
This is a special day for the band. They are working on a follow-up to their first album, 2012's Queda Ascendente, have a new toy to play with (the Binson), and have a photo shoot scheduled – this means the whole band is present, something that doesn't happen every day.
"João and Jorge are now based here in Coimbra, but Renato lives in Leiria, and I'm farther away in Lisbon", says bass player Eurico. "The internet shortens distances, but there is nothing like actually playing in the same room with the rest of the band."
As everyone finds a seat, it's time to whip out some questions.
First off, what's in a name?
"Torga is old Portuguese for "root", while Ostera is the goddess of fertility and rebirth (Ēostre or Ostara, from pagan German mythology). There is an underlining idea in the name of the band of reaching for the past in order to be reborn and build a future. The meanings of Torga Ostera can differ and it's up to each one to associate it with something personal. However, it all boils down to the link with the idea of "roots", whether terrestrial (meaning natural), whether traditional (meaning cultural)."
How would you describe your music? What are your influences?
"We were motivated by a feeling of lack in our country of a certain kind of melodic, harmonic and timbral textures. With that in mind, British psychedelia and space rock were a starting point when coming up with the band. We kept adding influences and assorted bits, always following a guideline aimed towards conceptual music – creating a link between songs so they would all sound like part of a whole. We took inspiration from many sources, but mainly from those representing challenges both in terms of mindset and execution, aiming to have the music stimulate reflection, helping to break from the vices of modern life. Music is a superior way of expressing feelings, philosophies and concepts. It is meant to be enjoyed, should be absorbed on its own and not just as a soundtrack to the commute between home and work. We tried to aim the "understanding" of the album at a specific audience, the kind that takes a break to listen to a CD in the comfort of their living room instead of shuffling through an MP3 player."
Comfort music?
What kind of instruments do you use? What kind of sound do you try to attain?
"First off there's the basic setup of a rock group: drums, bass, keyboards and guitar. Specifically, we use some Hammond, Fender Rhodes, synths (including a Nord that delivers that great Mellotron sound), Fender Stratocaster and dozens of pedals. The main point is getting the best out of analog, getting a fuller, warmer, more organic sound. We did considered using traditional Portuguese sounds as well, however we felt it wasn't the moment to do so yet. Maybe in the future..."
Isn't it risky to sing in Portuguese? Don't you fear being confined to a smaller fringe market?
"Funny enough, we initially sang in English, but soon realized that we were worryingly close to the sound of some British bands. The process of reverting to our mother tongue was complicated because the songs didn't sound too good in Portuguese, but it became our intention to make space-rock sung in our native language so that it would be more easily understood by the audience. In the end, we don't believe language will necessarily be a barrier or an aid towards internationalization. Portugal itself is a small place with a political structure that doesn't seem keen to invest in culture. That issue affects not only newer projects, but also popular artists with fifteen, twenty years of work."
What inspires the lyrics?
"The lyrics are a reflection of each person's daily life. Even though we were around 25 year of age at the time we were working on Queda Ascendente, one might look back and smile at that "mature naivety" that became perpetuated on the record. Love, envy, disappointment and fear are all episodes that will certainly be common to all listeners and that served as inspiration to the eight tracks on our first album."
Care to guide us trough each one of them?
"The opener and closer represent the key concept, that of "almost". "Quase nós" tells of everything that one might have wished to achieve but never really got to. It centres on bad luck and cowardice as a wake-up call, featuring a nervous and weeping guitar: "(…) someone half-dead is still alive, but someone half-alive has already died!".
"Balada ao Ensandecer" is about madness, ending up in suicide.
"Rosa dos Ventos" is about getting to know your inner self, a cardinal, directional e timeless quest.
"Apicultor de Homens" adresses the idea of the Wizard of Oz, in the way the poem's "me" sounds bigger and stronger that he really is. He's actually an aggressive, manipulative being without scruples that ends up being defeated by the oppressed.
"Saber Porque Não" is a straight-to-the-point song dealing with the worker's apathy in the face of exploitation.
"Não Vi Nenhum Tentar" tells of greed, unwarranted criticism, inability to cooperate, to present valid opinions…
"Sol da Noite Acordada" borders on surrealism, the metaphor of the moon and the woman."
Queda Ascendente has a very distinct Floydian sound, reminiscent of Dark Side of the Moon or their later works. Don't you fear being dismissed as clones?
"On each genre of music you'll find timbral, melodic and rhythmic elements that allow you to identify different types of music. Our idea was to take the Pink Floyd sound as a starting point and explore from there. Naturally, this being a debut album, the band wore its influences on its sleeves, but we aren't worried about that. Every band sounds like something or someone, no matter how good they manage to hide it. Queda Ascendente was a laboratory of experiments for the band – it took five or six years to record because we kept finding some vintage keyboard or guitar pedal that we couldn't resist trying out on the studio. We wanted to experience the way recordings were made in the old days, how to achieve a certain sound, and hence getting close to Pink Floyd. However, Torga Ostera has a distinctly Portuguese feel and in the midst of our pseudo-psychedelia you'll find a sound very much the band's own."
The windrose as metaphor for the search for meaning, a very Portuguese concept
What do you think of the way the album's been received?
"Stimulated and simultaneously disappointed. The band created the album for the satisfaction of its own musical ego, knowing that this type of music isn't very well known and accepted in Portugal. The weird thing was that the album was well received by less demanding listeners, but completely ignored by fans of the genre. On the other hand, despite being sung in Portuguese, it was surprising for us to see it so well received internationally.
Playing live is another story. It's not easy getting gigs, and when we do, it's rarely the right audience. Promoters seem to go for easy pop or high complexity, not the middle ground where we stand. In some concerts we can really see people not getting it - «what the hell, four minutes into song and no one is singing yet?». That kind of reaction."
Can you tell me a bit about the album's production, from the idea to the physical disc?
"The process of building the songs would take us to different spaces and times. 99,9% of the songs began with the music rather than the words. João Francisco would come up with the basis of the song, a possible poem, and the band would work on it until a definitive structure was achieved. We basically had a structure for the album within a week, but we then spent months polishing it before we even got to the studio. We recorded it in Tomar, at Zero Estúdio with producer Pedro Carvalho. It was recorded with a mix of digital and analog technology. The mics were similar to the ones used on Pink Floyd's Meddle and Dark Side of the Moon. We only used tube amplifiers and all guitar pedals dated back to the 70's. Throughout the process the themes metamorphosed and at each phase the songs would gain new, more pleasing textures. The end product turned out to be a pleasant surprise and it was exciting to get to hear the mixes at home."
Speaking of which, you had to get a foreigner to do the mixing. Why was that?
"Asking Jon Astley to do the mixing was our producer's suggestion. We weren't really aware of the good or bad a mix can do to an album. Turns out we just don't have the proper material or skills in Portugal, so we sought a producer whose work we liked, tried sending him the album and see what he could do. We really enjoyed the mixing on Roger Water's In the Flesh, so we set that as a model, and were very pleased with the result, to the extent that we might get in touch again with Jon to mix our second album."
So the band is working on a second album. We again discuss the Floyd influence on the first record. João Francisco confesses to having shed some of that influence.
"The first album was an experiment, a mix of foreign influences and Portuguese original thought. The sketch-like artwork of the album kind of reflects that, like something you scribble on a diary. The album was like that, a diary of experiences of a band finding its way."
"Our own different influences have changed the music when playing it live", adds Jorge Marinheiro, the most recent member of the group. "When we play it at a concert, it's like it evolves into something different altogether."
"Now, with our second album, it's time to take off into other landscapes, leave behind that sense of security that following your influences closely might give, and find our very own sound."
"Basically, we sent Floyd out the window", summarizes drummer Renato. With a background in funk and punk rock, he's quite far from João Francisco in his appreciation for the English space-rockers. "Hardly ever heard them before working with Torga Ostera – not my thing. They have grown on me, though", he confessed.
They offer to play me a two of the songs they are working on. These are unpolished, working versions, recorded at rehearsals. I gladly accept.
"They might come as a shock if you enjoyed the first album", they warn me.
I'm not shocked, but rather pleasantly surprised. Despite being only hints at what the final songs may sound like, already there is a change in sound. The first one, "Malmequer", displays a kind of aggressiveness not really found on Queda Ascendente, while the other one, "Maçã", is a clear indicator of the song-driven formula the band are working on for the next album.
"Arriving only after the first album, and listening to it, I felt there was great music there, but it lacked real songs", says Jorge. João Francisco agrees:
"We want to concentrate, but not compress, all that musicality of the first album into a simpler formula, so next record will be more song based, but will sound more concise and organized. The relationship between the music and the lyrics in Portuguese will come more naturally. It will be a conceptual piece, where each song will be a chapter in a story."
"It's not a compromise in order to make it more accessible", adds Eurico. "It's good to go for a different sound from the first album, to surprise ourselves and others. Like Mikael Akerfeldt did in Opeth, except we have the freedom to do so immediately on our second record."
So what awaits Torga Ostera further down the road?
"Someone once said the road isn't predetermined… it unfolds as you travel!"
Any contact with labels or distributors in sight?
"No. The only thing selling in Portugal is pop, compilations and children's music at Christmas. Of course, we'd like the album to reach more people. We were contacted by Greg Walker at Syn-phonic who was interested in stocking it, answered back but haven't heard from him since."
What difficulties have you bumped into as a progressive rock band in the 21st century, in a country with little tradition and representation in the genre?
"Progressive rock is for an elite, it's complicated to live from it, especially in Portugal! One remembers the (in)famous 10.000 Anos... by José Cid: he didn't get any backing, was probably branded a maniac and forced into the inane pop career we all know! Or that other time, which was extremely frustrating, when promoters rejected a David Gilmour concert because they considered it too instrumental and guitar-oriented. In Portugal On An Island was a number one record and not a concert round these parts… Says it all!"
What do you think of modern progressive music, in general, and the Portuguese scene, in particular?
"We find that modern progressive music, in general, has become much too technical and has lost the sense of melody. We find it's easy to extend compositions into long tracks, and we could easily play more complex arrangements, but that's not what we're into to. We're also not concerned with doing something original for originality's sake, but rather something new that still sounds familiar."
The interview is curtailed by the arrival of the photographer. The group strikes a pose for a couple of shots. Against their better judgement they ask this improvised reporter to take a picture with them.
Hairy reporter meets talented musicians
It is now 2:30pm and no one has had lunch yet, so we head across the street for some sandwiches. Conversation at the table drifts from promoting the band, the inner workings of ProgArchives, current politics and, inevitably, gear - the boys sure know their material. After the quick lunch, Jorge Marinheiro kindly invites me to return with them to the studio as they work on the guide tracks for the new album.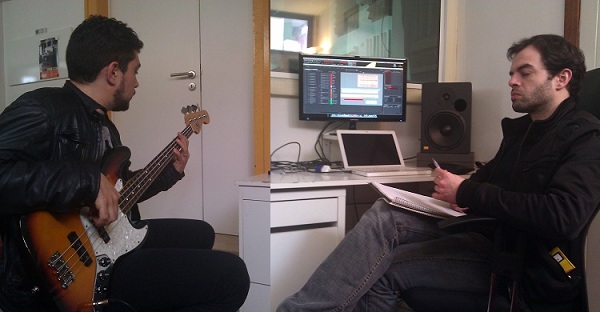 Eurico Moleirinho works on some bass lines with Jorge Marinheiro, working on the guide tracks
In the control room, Eurico and Jorge toss around different ideas for the bass on one of the songs, the loud clicking of a metronome making sure no one skips a beat. For someone like me, at the far end of the music business, it's a privilege to watch a band at this stage of the recording of an album first hand. In the time I'm there they do three or four takes before settling on a couple of minutes they're satisfied with, for the meantime. Only a wall separates these two from the other half of the group, who are in the studio testing out their new toy, the Binson Echorec.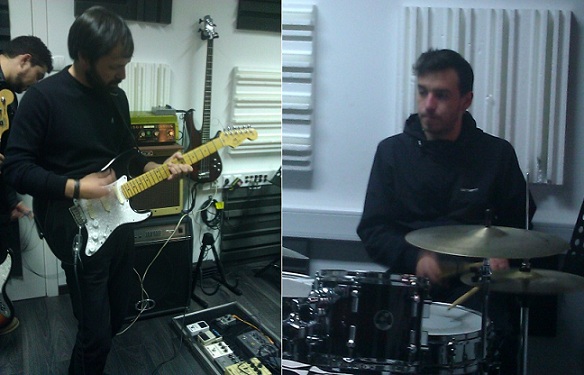 João Francisco and the olive-green gizmo at his left, with Renato Dias providing a beat.
They work around riffs and power chords, the metallic echo of the machinery taking me back to that time I never lived when experimentation was the rule. João Francisco sounds quite pleased with the device, which he actually got cheap from an auction website.
Finally, the whole band walks into the studio to jam for a while. They ask me in, and I can't resist taking out my phone halfway and film them, no matter how poor the recording:
Smiles all round after this small distraction. The band surely is in high spirits and you can feel the chemistry among them.
"Are your ears okay?" jokingly asks Renato, before he eventually leaves for a doctor's appointment with his pregnant other half. Eurico will soon follow, having a bus to catch that will take him back to Lisbon where he lives and works. Reminders that there is much more than just music to these boys' lives.
João Francisco seems to approve Eurico's work on the bass, while Jorge Marinheiro takes out an Alesis Ion synth to work on soundscapes for a track. Jorge is keen to get some work done before nightfall, when the studio reverts back into an after-hours teaching room of the Norton de Matos Music Academy – a small price to pay for excellent conditions.
"Recording the first album was full of hustle and bustle, with constant trips, quick decision making, constant pressure. Here we have a great laboratory, a comfortable space to work, and it's closer to home, giving us time to be creative."
One more question to ask.
Finally, anything you wish to say to the ProgArchives.com community?
We'd like to praise the overwhelming, intense and rigorous research work by the Admins and Collaborators at ProgArchives. It's important to reinforce the work being developed regarding research and promotion of Portuguese progressive rock on an international level. It would be great if foreign interest could stimulate the creation of more music in this country, because internally we are rotting due to the lack of culture and support. On our behalf, we appreciate having been added to the database, and we intend to deliver more and better music!