My word, I had no idea I'd left it so long between posts here - you people must be on tenterhooks wondering what's new in my wonderful world of shaving obsession.
My sincere apologies.
This thread will be updated with photographs & illustrations as soon as possible, but in the meantime, as I'm sure you're all now grateful I've bumped this thread to page one, I feel it's my duty to give you a general overview of the last 8 months or so...
Well -
The DE razor count has now grown from 9 to 17 & you'll be glad to know my constant searching for certain razors bore fruit - the rotation now includes a 1964 HD Rocket (which I thought at first was an Aristocrat Junior, but you all know how easy a mistake that is to make), a 1959 Gillette flair tip and an Italian Fatip Grande, the handle of which I've replaced with that from a Merkur 23C - longer & heavier than the Fatip original, so really balances out that large open comb head.
In addition to the DE stable, also dabbling in SE with the addition of a 1912 Gem (blades still available from Connaught Shaving if you're interested) - great little razor once you get the angle right & now in regular rotation.
Now...
... I don't want anyone here to get woprried & I know I've always said in the past they scare me, but I'm now finally the owner of 2 different kinds of straight (or cut-throat) razors. One is a modern version, known colloquially as a 'shavette' - like a traditional straight razor, but takes disposable blades, so you've no problems with honing/stropping as you'll agree can put people off. The other is a traditional straight razor by Kropp of Sheffield - now try not to get too excited, but I do have a photo of this available: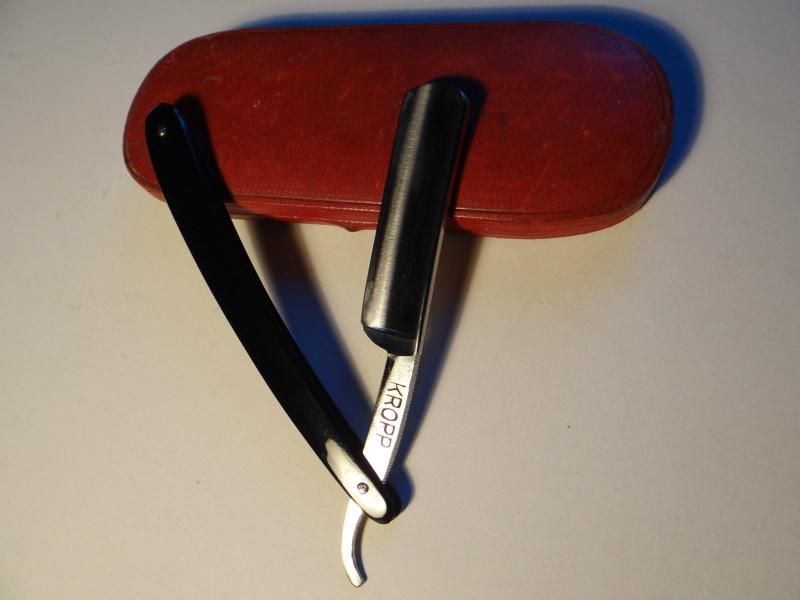 Isn't she a beauty? Difficult to date, but definitely between 1920 & 1935 & in cracking condition... not used yet, as I've sent her to be serviced & honed.
Once she's back with me & I use her for the first time - you'll be the first to know about it.
Until then, faithful acolytes, I shall leave you in anticipation.
Pip Pip