They were suggested before in May 2006:
http://www.progarchives.com/forum/forum_posts.asp?TID=23350
, but nobody took it any further than a couple of brief comments, and the link contained within is outdated and no longer works.
A tarantula hawk is a giant wasp that lays it's eggs in the backs of tarantulas. Their larvae, once hatched, begin feeding on the still-living tarantula... YEUK!!!
"On July 15th, 1998, Rob Morrison and Dave Warshaw moved to San Diego from Seattle and Los Angeles, respectively. On August 1st, 1998, Braden Diotte moved to San Diego, also from Los Angeles. On August 2nd, 1998, together with Dylan Scharf, a San Diego native, Tarantula Hawk was born. Over the next four months, a six-song set of music was written chronologically from start to finish. It was a "concept" that was written to illustrate the lifecycle of the Tarantula Hawk, but also illustrated the progression of a band getting comfortable with their own sound. On February 23rd, 1999, what would be-come Tarantula Hawk's "Self-Titled Debut Album" was recorded. On March 1st, 1999, Rob Morrison left Tarantula Hawk to raise his son back in Seattle. The remaining band members were unsatisfied with the sound of Tarantula Hawk's existing music without the attributes of Rob's bass and noise accompaniment, and were not interested in trying to find anyone to replace him. Instead, each band member took on an auxiliary instrument and new songs were conceived.
The line-up became:
Dave Warshaw: drums, guitar, sampler
Dylan Scharf: keyboard, guitar
Braden Diotte: bass guitar, sampler/keys
Over the next four years Tarantula Hawk solidified itself as a force to be reckoned with within the underground music community, performing alongside such underground heavyweights as Neurosis, Crash Worship, High On Fire, Dystopia and The Locust. But a follow-up to their first album had yet to become a reality. Faced with the challenge of a second album, Tarantula Hawk quickly recognized that it wouldn't be worth doing if they were to simply recreate their first album over again. There thus became a need for Tarantula Hawk to not only grow individually as musicians, but also to grow together as a band. And these things take time……
Finally, after one year of intense writing and arranging, Tarantula Hawk completed their second album in mid-2002. Although the album remained aesthetically congruent with their previous effort (opting for no album or song titles; artwork by Kevin Ross), this album leads the listener into a deeper chasm of interpretive and creative perception by combining the "otherworldly" musical imagery of their first album with a much more familiar element: human emotion. Using a darker palette, this album explores a cumulative void within the players, expressing emotions that, for them, are best conveyed using the medium of music."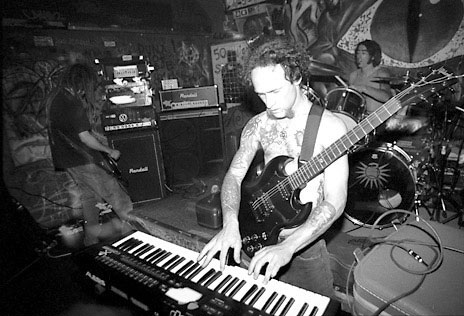 Personnel:
Braden Diotte - Bass
Dylan Scharf - Keyboard, Guitar
Dave Warshaw - Drums, Sampler
Rob Morrison - Bass, Sampler (1st Album)
Location:
San Diego, CA
Discography:
TARANTULA HAWK (album #1) LP/CD (Life is Abuse) 1999
TARANTULA HAWK (album #2) CD (Neurot) 2002
TARANTULA HAWK (album #2) LP (Life is Abuse) 2003
"Desert Solitaire" Live CDR (self released) 2002
"Live at KFJC" CDR (self released) 2002
Their two studio albums:
Release Date – 2000
Artist – Tarantula Hawk
Album – Tarantula Hawk
Genre – Noise-core, Experimental, Psychedelic, Instrumental, Progressive
Tracklist
1. Birth (7:11)
2. Metamorphosis (2:29)
3. Feeding (6:12)
4. Flight Training (8:17)
5. Mating (0:27)
6. Paralyzation Regeneration (12:16)
Release Date – 2002
Artist – Tarantula Hawk
Album – Untitled
Genre – Noise-core, Experimental, Psychedelic, Instrumental, Progressive

Tracklist
1. Track 1 (3:18)
2. Track 2 (6:42)
3. Track 3 (7:35)
4. Track 4 (6:44)
5. Track 5 (49:40)
They have more than a few similarities to their patrons, Neurosis, who re-leased the original self-titled record in 2002 on to their Neurot Recordings label.
Second album in full (in four parts) - in full that is up to the last 30 minutes or so of track 5, which is just looping noise, and is probably best ignored entirely anyway:
Second track off the second album as a standalone:
First track of the first album:
And you can hear all the tracks from the first album on Grooveshark:
http://grooveshark.com/#!/artist/Tarantula+Hawk/686221

Note: ignore any myspace.com/tarantulahawk or tarantulahawk.org links you might come across on any of the pages I linked to - 'cos they won't work!!
Well, that'll do for starters I guess....



Edited by yam yam - May 26 2013 at 08:50