Yes indeed, a glaring ommission from the site, and I have to thank our prolific prog reviewer Richard
(richardh)
for bringing it to my attention earlier on today. Of course it never even entered my head that this fine band would not already be on progarchives, so I've never bothered searching for them...But sure enough - I checked today, and there is just a huge gaping hole on the 'S' page where Sphere³ should be.

So, with that in mind - this is going to be a doddle...isn't it?

But there again, they aren't even on jazzmusicarchives at the moment...Hmmm, I wonder???

"Sphere³ (Sphere Cubed) are a four-piece instrumental group from London. The music they create is an innovative blend of intense rock and intricate jazz-fusion; music full of surprises, drama and energy.

Originally formed in the 1990s, Sphere³ have been constantly evolving ever since. Starting out as a five-piece progressive rock band with vocals, they have since become a fully instrumental ensemble exploring many musical genres, and blending them all into a unique sonic experience all of their own.

Sphere³ have played extensively around the U.K. and Europe. In concert, they have gained a strong reputation for their powerful and dynamic live performances, and have played with several legendary progressive rock acts, including The Flower Kings, Magnum, Focus and I.Q.
The band's current line-up features Steve Anderson on guitars (also with Grey Lady Down and The Room), William Burnett on bass (previously also with Psychoyogi), Neil Durant on keyboards (also with IQ), and Jamie Fisher on drums/percussion (also with ReGenesis, Santo El Diablo, and collaborations with Carrie Melbourne, Katie Melua's producer Steve Sale, Samantha Fox, Charlie Bicknell, Celloman, Larp, The Guvnors, The Incredibly Strange Film Band, and opera singer Melinda Hughes)."

The Album - "Comeuppance" (2002)

"An exciting and eclectic range of compositions, its ten tracks encompassing rock and metal, through funk, jazz & fusion, to classical and ambient moods."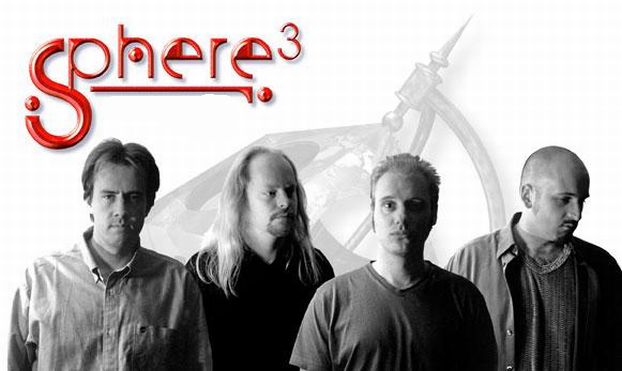 Steve Anderson / guitars
William Burnett / bass
Neil Durant / keyboards
Jamie Fisher / drums
Past members:
John Almark - drums
John Duncan - vocals
Pete Fisher - drums
Frank Watson - drums
Influences: King Crimson, Frank Zappa, Level 42, Rush, Yes, Mahavishnu Orchestra, Genesis, Return to Forever, Sting, Änglagård.
Discography:
Demo (1992); cassette
Signatures (1994); cassette EP
Paralysis (2001); 3-track CD EP
...And of course:
Comeuppance (2002); CD album (Original Release Date: October 1, 2002).
1. A Good Example of Arbitrary Presumption (6:20)
2. Shrimp.SN (4:07)
3. Sidewalking (4:38)
4. Natural Light (5:41)
5. First Kiss (5:44)
6. Eat First, Ask Questions Later (3:15)
7. An Unusual January (5:47)
8. December Gaze (8:38)
9. Tapestries (2:41)
10. Paralysis (5:58)
Total Time 52:49
They have also had tracks featured on several sampler CDs released by their former record label Cyclops.
Now we go over to YouTube to listen to this fine album:
See also:
Finally some live tubes:
"A Good Example Of Arbitrary Presumption" The Spirit of 66, Belgium, 2008:
"Lights Going Down" The Spirit of 66, Belgium, 2008
"An Unusual January" Living Bar, Brixton, 2007 :
"Paralysis" The Spirit of 66, Belgium, 2002:
"The Beanbag Song" Living Bar, Brixton, 2007 :
OK, I think we got the gist of it...

This band has already been mentioned before in the JR/F team thread, so now I'm off to 'bump' the topic there!

Edit: Added to their chart...Fingers crossed, but I have every confidence these guys will be added this time round!



Edited by yam yam - May 30 2013 at 19:37