But exactly
where
isn't clear right now, due to a current shortage of music samples - though I imagine the Eclectic Prog team might stand a good chance of claiming these guys in the fullness of time...
Anyhow... The debut album of these guys, formerly known as Concrete Lake, is called 'Rubidium', and is to be released by Inside Out on 29th July, after a long long time in the making.
The band is spearheaded by former Tangent guitarist Luke Machin.
"Only a rock festival would have a graveyard shift at noon. At the Summer's End Festival in 2011, Concrete Lake (as Maschine were known at the time) were last minute additions to the roster, in the graveyard slot. Not deterred, the band proceeded to play a transcendental set, creating a reputation as a vital and captivating live act. In rock-festival terms, they were an overnight success.
The core of the band is vocalist and guitarist Luke Machin, who formed the band at the Brighton Institute of Modern Music in 2008. Machin's prowess as a guitarist has been drawing praise for virtually his entire life. He was introduced to the world as the guitarist-extraordinaire on The Tangent's COMM, a performance which received universal acclaim.
As composer-in-chief at Maschine, Machin draws on his unique combination of youthful audacity and arduous experience to create music that is fundamentally guitar driven without ever descending into instrumental calisthenics. His vocal lines are equally cleverly crafted, and delivered with passion and precision. Machin's partner on guitar is Elliott Fuller, ostensibly a rhythm guitarist, but one whose remit is appealingly unconfined.
An inventive foil to Machin and Fuller's guitars is provided by Tangent alumnus Dan Mash on bass. While Mash firmly anchors the low-end, his is an ebullient energy that surfaces periodically as funk-influenced flourishes, adding a new dimension to the band's sound. James Stewart on drums completes the rhythm section with intelligence and refinement, while high above the edifice sit Georgia Lewis' keyboards, which run the scope from delicate to aggresive.
The word 'progressive' when applied to metal is fraught with unappealing connotations. To some, it is associated with music that is boring and abstruse. To others, it is, ironically, considered a yoke, whose preconceptions stifle creativity. But every so often, a band emerges that has something new and original to say within an existing vocabulary. Enter Maschine. Carrying forward the momentum built up through the power of their live performances, the songs off Maschine's forthcoming debut album, many of which have already undergone a stringent road-test, boast a violent but focused creativity, whose immediacy and elegance often belie their complexity."
This was posted at the above link on 12 June 2013:
Maschine Announce release of debut album 'Rubidium'.
The young and hotly-tipped UK-based progressive rockers Maschine have announced the release of their debut album entitled 'Rubidium' on the 29th July 2013. After being in the studio for several months, the band are ecstatic for the album to finally see the light of day, and band leader Luke Machin had this to say about its release:
"I am extremely happy with the way this album has come together, I wouldn't have changed a thing. We cannot wait to bring this album to the stage and start performing this material at live shows in the near future, it's gonna be killer! An album is a documentary of ones life at the present time and finally I can now share this experience with you all on record."
The track-listing for the album is as follows:
1. The Fallen
2. Rubidium
3. Cubixstro
4. Invincible
5. Venga
6. Eyes Pt.1
The album will be available as a limited edition digipak CD with two bonus tracks, and digital download.
Formed in 2008 by guitarist/vocalist Luke Machin at the Brighton Institute Of Modern Music,UK-based prog rockers Maschine are the new young stars on the InsideOut roster. "Young" in this case doesn't mean inexperienced or amateurish, however, as Machin and bassist Daniel Mash logged in a solid three years as members of The Tangent while preparing to go off on their own with their own brand of music. Now with a fantastic five-piece line-up, the band is ready to make their mark in the progressive world.
Maschine was named "Best New Band" by both Prog magazine and the Classic Rock Society back in 2011.
Band Line-Up:
Luke Machin / guitar, vocals
Elliot Fuller / guitar
Dan Mash / bass
James Stewart / drums
Georgia Lewis / keyboards, vocals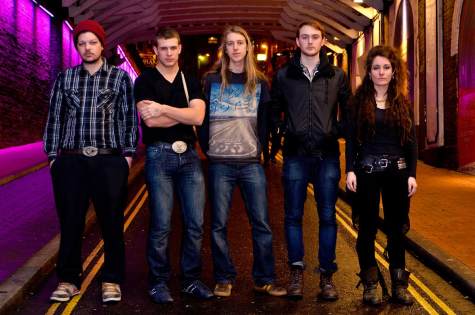 James also plays drums with Polish death metal legends 'Vader'.
Here he is in action:
GetYourRockOut chatted to the Maschine before their recent gig at HRH Prog Festival 2013.
A Guthrie Govan cover they did under their former guise as Concrete Lake:
And Maschine Live @ Cambridge Rock Festival 2012 performing Francis Dunnery's Welcome to the Wild Country.
Sorry for posting this here before any real samples from the album are available, but it would have just lain gathering dust if I'd put it anywhere else...

I'll keep you all updated...



Edited by yam yam - June 21 2013 at 13:40