We are pleased to announce that the 4th PANIC ROOM album INCARNATE is now available for pre-order. The band will also be hosting an Exclusive Album-Launch Evening at The Gate Arts Centre in Cardiff on Friday, 7th February & the album is also available to order seperately.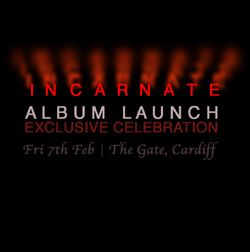 PANIC ROOM have now finished recording their stunning new album - INCARNATE. Featuring ten breathtaking and original new tracks, 'Incarnate' will hook you from its very first breath... and open up a new world of beauty, power, depth and imagination. As the title track says : "the sunrise is an omen.. of a truth we may find".
'Incarnate' is a journey from the darkest to the most euphoric of human emotions - all envisaged through the burning musical heart which Panic Room always wear on their sleeve.
The songs within this new creation are seeking to explore many themes... New beginnings, new travels, love, obsession, loss and fear; and the sense that even in our most broken moments, there is a bigger world outside which will humble us, and bring us back to inspiration
Recorded at Sonic One Studios in South Wales, the band were proud to work once again with their trusted engineer Tim Hamill - the 'hands and ears' behind the critically-acclaimed sound on Panic Room's previous albums : Visionary Position (2008), Satellite (2010), and S K I N (2012). Combining the band's sonic vision with the very best engineers in the business (including final album -mastering with Jon Astley at Close to the Edge), the talented PANIC ROOM team have created an album which will blow you away on first listen... Then burn its way into your heart and stay with you forever.
*
TRACK LISTING:
Velocity | Start The Sound | Incarnate | Nothing New | Waterfall
Into Temptation | All That We Are | Searching | Close The Door | Dust
_____________________________________________________________
*
PRE-ORDER INFO:
*** PANIC ROOM ALBUM LAUNCH/PRE-ORDER HERE***
PRE-ORDER : We are delighted to announce that you can now PRE-ORDER your copy of 'Incarnate' !!! The Official Release date will be early March 2014... But you can beat the queue TODAY!
There are 2 Pre-Order options: Album Only or our very special exclusive ALBUM LAUNCH package... an intimate evening with the band which will be limited to 100 people.
*ALBUM LAUNCH OPTION
The event will include...
*** a copy of the album
*** an exclusive T-shirt unique to the album launch event
*** a live acoustic performance by PANIC ROOM (during which they'll be playing some songs from INCARNATE as well as new acoustic arrangements of tracks from across their musical career to date)
*** a high quality artwork print of the album cover
*** the first airing of the complete album over the venue PA system
*** an exclusive event-invitation card personalised by (Anne-Marie Helder)
*** all in a Panic Room goody bag to take home with you
A bar will be provided and the 1st drink will be included in your ticket price as well as some nibbles to enjoy through the evening
*ALBUM ONLY OPTION
You can pre-order your copy of INCARNATE now and receive the album approx. 2 weeks before the official release date in March
FOR MORE INFORMATION ABOUT THE ALBUM LAUNCH AND Tickets are still available to buy or reserve for collection here:
*** PANIC ROOM ALBUM LAUNCH/PRE-ORDER HERE ***
_____________________________________________________________