Tickets are now on sale for the one-off Shepherd's Bush Hawkwind SR charity bash, on 22 Feb 2014 at the O2 Empire.
To be quite honest, I delayed mentioning this until Hawkwind fans had a chance to grab their tickets, as I've seen Facebook comments about how people are planning to jet in from abroad for this one, and tickets will probably go fast.
It's not billed as a reunion or anything. Motorhead are scheduled to play Paris on the night, for instance. And Brock hasn't announced that Turner will be a special guest, lol.
But I've now bought my ticket, so it's now safe for me to post this heads-up on Prog Archives, eh.
Here's the visual bumph: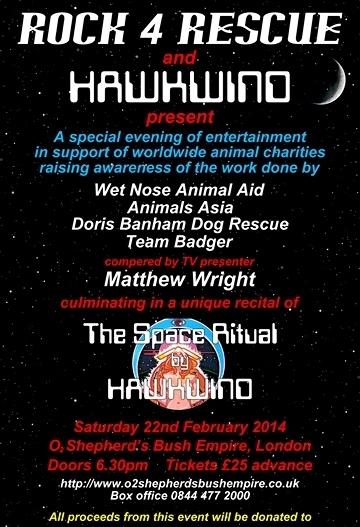 - and the recipients are as stated above, ie Wetnose/Doris/Team/etc.