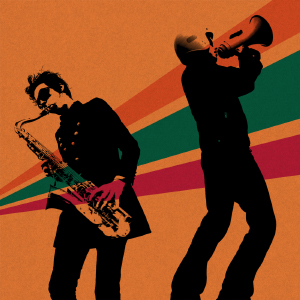 Hello there!
If this is the right section, I'd like to tell you about my art rock band The Snobs. My brother, Mad Rabbit, and I formed it ten years ago. Since then we recorded and released a few albums, including one collaboration with new yorker poet Steve Dalachinsky. We just released our latest one,
Ekho's Wheeling In Thespiae
, and like all our music, movies and visuals, it's downloadable for free on our website
www.thesnobs.fr
.
I think the best way to describe our music is to tell you what we like and what we do. We love krautrock bands like Can. Their concept of "instant composition" certainly influenced us. You can hear textures and grooves from David Bowie and Brian Eno's collaboration albums too. We tried to add some black music grooves in this new record too, think Miles Davis'
On The Corner
. Our favourite prog bands are Van Der Graaf Generator, Magma and King Crimson.
Mad Rabbit: vocals, lyrics, samples, electronics, montage, mixage, visuals
Duck Feeling: guitar, bass, saxophone, electronics, synthesizer, piano, percussions
There are many ways to listen to
Ekho's Wheeling In Thespiae
:
-
streaming on soundcloud
-
download a .rar archive with the complete artwork (MP3 or FLAC)
- view the videos -
one clip and two animations
- we made for each songs
We hope you'll like it, and all comments are welcomed!
Duck Feeling


Edited by Duck Feeling - April 06 2014 at 17:01