Not a sub I really know a lot about, but I've been listening to these guys a bit just lately, and they are tagged as Prog Folk in quite a few places - and proggnosis have them...albeit with not much of a bio:
http://www.proggnosis.com/ARTIST_DETAIL.aspx?AID=4354
:
"From upstate New York. The cover of their 5th album, 'Spring Suite', is by Roger Dean
(see below)
and they did open for ELP at one time."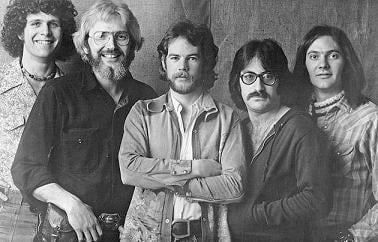 "McKendree Spring is a progressive folk-rock band based in Glen Falls, NY, United States, active mainly in the early 1970s. The band consisted of Fran McKendree (vocals and guitar), Fred Holman (bass), Dr. Michael Dreyfuss (electric violin, viola, Moog, Arp, Mellotron), Martin Slutsky (electric guitar). Christopher Bishop replaced Holman on bass as of the 1973 release 'Spring Suite'. Some of their music ventured into avante-garde or experimental territory, such as "God Bless the Conspiracy" from their album 3, with its violin/viola/synthesizer solo by Dreyfuss.

Steve Anderson (bass and vocals) and Alan Stoker (drums and vocals) were added for the "Live at the Beachland" 2007 release. In addition, Dave Morrison (harmonica) also played on the live album.

In the summer of 2010, Christopher Bishop (bass and vocals) rejoined the group for the recording of 5 songs for "McKendree Spring: Recording No. 9". This recording also featured Alan Stoker (drums/percussion/vocals), Paul Hollowell (keys) and Fred Mollin (synth)."

Discography:

McKendree Spring (1969) (Decca DL 75104)
Second Thoughts (1970) (Decca DL 75230)
McKendree Spring 3 (1972)(Decca DL 75332)
Tracks (1972) (Decca DL 75385)
Spring Suite (1973) (MCA 370)
Get Me to the Country (1975) (Pye 12108)
Too Young to Feel This Old (1976) (Pye 12124)
Live at the Beachland Ballroom (2007) (McKendree Spring Records 700261208701)
Recording No. 9 (2010) (McKendree Spring Records 845121029130)
They did release 2 singles, with neither one of them making it onto Billboard's Hot 100 chart, but both did hit the Bubbling Under Hot 100 chart. In 1971, they peaked at #105 with 'Because It's Time' from their album, 'Second Thoughts'. The second single released in 1976, 'Too Young To Feel This Old', taken from the album of the same name, didn't do any better. That song only got as high as #110. McKendree Spring deserved a better chart fate, for they are a very good folk/rock band.
More samples:
"This American group was a bit different from other rock bands as they used no drums. If you can imagine a less progressive Cressida with electric violin instead of organ, a stronger folk-influence and without the drums, then you'll have a slight idea about what McKendree Spring sounds like. The two leading musicians in the band were singer and guitarist Fran McKendree and violinist Michael Dreyfuss. "Spring Suite" was McKendree Spring's 5th album, and probably their best. The songwriting is more distinctive than on earlier albums, and the addition of Moog and piano to the sound made it more interesting and varied. The record seems to have a very loose concept about thoughts and feelings that people goes through in the time from winter to spring. It opens with the instrumental "Equinox" that is driven forward by acoustic guitar, electric wah-wah guitar and of course Dreyfuss' violin. "Winter" is a pleasant and cosy song with nice lyrics and harmonies. "I Was Born" is a lot more energetic and dramatic, but slows down in the middle where the Moog gives it an almost spacey feel. The most beautiful song on the album is probably the mellow "The Madman" where Dreyfuss plays with his fingers on the violin instead of the bow. "The Girl" is a laidback, folky ballad where the band lets their American roots shine through. The same goes for the catchy "Today's the Day" and "The Storm". "Growing" features a beautiful violin-solo from Dreyfuss, and the album finally closes with the melodic and atmospheric "Spring".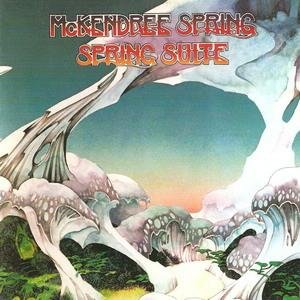 And a fine cover of James Taylor's 'Fire and Rain':