Every now and then I come across something new and wonderful and think to myself "how the Hell have I not managed to find this until now...?"
Well that certainly applies to Machines Dream. I first heard them just the other day on Shaun Geraghty's 'Prog Mill' show on Radio Stafford and was instantly blown away.
So...Here we go:
Machines Dream are a Canadian Progressive Rock band (based in Sault Ste. Marie, Ontario)
with the goal of balancing the atmospheric and cinematic side of prog with the power of heavy rock and the universality of well-crafted songs.
Let's start by copying a bio provided by the band to Jorge Rittatore for
This Strange Blog
(and used here with their permission):
"It wasnít supposed to be a band.
Craig West was fed up with trying to make music other people liked. Heíd been a guitar player, a bass player and a singer, but he hadnít yet figured out that when you try and do what you think will please others, youíre simply chasing the proverbial carrot on a stick.
Brian Holmes was cooling his heels rather than playing his keyboards or bass guitar. His bands were on indefinite hiatus and so he turned his attention to video games and relaxing with friends. Little did he and Craig know that their paths would soon cross, and their musical destinies inextricably linked.
The two first worked together, helping out British progressive rock band IT with some Canadian dates, as well as playing on ITís Departure album and DVD. That was 2006. Both musicians greatly enjoyed the experience, and took the opportunity to get to know each other better.
Ken Coulter played the drums every day, rehearsing relentlessly. Not because he played in a group, but because he simply loved music, and (very) loud percussion in particular.
The set of circumstances that brought the three together went something like this; Craig had a gig booked at a local bar with a group that had just broken up. To keep the commitment, he called Brian and guitarist Shayne Wigglesworth and asked if they would play this one show. Both agreed, however the makeshift group had no drummer and no material. Craig had met Ken through a mutual acquaintance and knew he played the drums, and although he had never actually heard him, Ken just seemed like the kind of guy who knew what he was doing, which turned out to be the case.
The gig was a smashing success! The non-band played a strange assortment of cover songs by artists ranging from Roxy Music to David Bowie to Peter Murphy. Having enjoyed the experience, the quartet concluded that they should keep playing together but decided they would rather just free-jam than learn other peopleís music.
It still wasnít supposed to be a band; just a group of friends getting together a few times a week and making some noise for fun. They added Marco Pierucci on bass guitar, freeing up Craig to play guitar and concentrate on singing. Incoherent jams became recognizable jams and eventually became songs; all the while, a style began to emerge.
Having freed themselves from any expectations, simply creating the kind of music that felt right, the group soon realized their sound would best be described as (gasp) Ö Progressive Rock!
Marco exited, and Craig switched back to the bass guitar. They began recording, largely because Craig had a home studio and they felt they had created a batch of songs worth documenting. Shayne exited next and was replaced midway through recording by Keith Conway, a virtuoso whose group were recording a live album, conveniently with Craig engineering.
The name Machines Dream comes from an unreleased song written by singer/songwriter Chris Belsito. Craig had played lead guitar for Belsito on and off for a decade and had heard the demo of the song Machines Dream, which Chris had not planned on recording. For the record, the demo is now in Craigís custody and has been transferred from four track tape to hard drive for posterity. Interestingly, no one else in the band has heard the song, but the name seemed to suit the groupís style.
If you ask Machines Dream about their early influences, theyíll proudly state that they found inspiration in the progressive music of the past, in the same way Eric Clapton was inspired by American Blues.
Yes, they listened to groups like Pink Floyd, old Genesis, Marillion, King Crimson and Tool; you can still hear these influences at work in their music today.
However Ö that's just the bandís starting point. Their goal is to compose new music, experiment with new sounds and create meaningful songs that are far more than just tributes to the prog bands of yesterday. They want to build on the progressive music they enjoy, reflecting it, but not treating it like dogma.
The bandís first album was released in March, 2012, a collection of songs touching on themes such as mental illness, alienation, the importance of communication, and the desire to find a place in the world that is safe.
In 2013 Keith exited, and Craig, Brian and Ken began working on new songs in the studio with Craig playing guitar, bass and singing, Brian playing keyboards and bass, and Ken drumming. As the recording progressed, the group decided to add not one, but two new members to help finish the album, and play live.
In his early days, Rob Coleman worked for the United Nations (no, weíre not making this up) but through a string of circumstances too sordid to recount (ok, maybe we made up that bit) wound up working in the same fluorescent-lit government environment as Ken. The two began jamming with Brian, who suggested Rob might be a good fit for Machines Dreamís lead guitarist position.
Meanwhile, Craig had been working in the studio with Jake Rendell, a session player who had sung all the background vocals and harmonies for the first Machines Dream album. Jake was recording backing vocals for the second Machines Dream album when Craig asked him if he would like to join the band. A skilled multi-instrumentalist, Jake took over on live bass for the band, once again allowing Craig to play second guitar.
The bandís second album, entitled 'Immunity', will be released in 2014 and features a dense and cinematic blend of progressive rock and memorable song writing. The album has five songs, including the 26 minute title track.
At this point, we have to admit that yes, it is a band"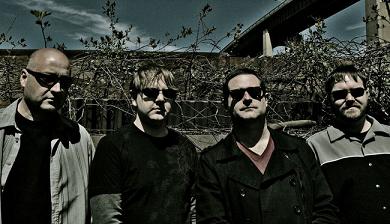 And a damn good one too!!!
Machines Dream - Machines Dream (2012)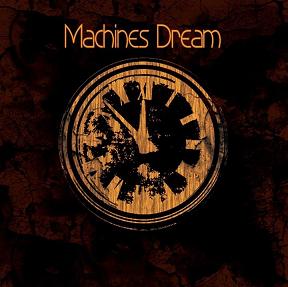 1. Boundaries (4:46)
2. Toronto Skyline (8:00)
3. London By Night (4:53)
4. Unarmed At Sea (7:34)
5. Mad For All Seasons (10:31)
6. Stop Waiting For Miracles (4:16)
7. Locusts (4:22)
8. Colder Rain (5:22)
9. Everyone Says Goodbye (4:00)
10. The Session (11:47)
Total Time 65:31
- Ken Coulter / drums
- Brian Holmes / keyboards
- Craig West / vocals, bass
- Keith Conway / lead guitar
- Jake Rendell / backing vocals, mandolin, other
The album can be downloaded for whatever you want to pay for it (it's actually completely free - but you can of course donate if you wish!) as MP3 (320kbps), FLAC or WAV here:
http://machinesdream.aurovine.com/album/machines-dream
.

Well over an hour of music...and not a single second of filler to be found anywhere. If this had been released this year it would be in my top 10 albums of the year without a shadow of a doubt...even though we aren't even half way through it yet - that's how good I reckon it is!
I reckon team Neo should have a listen to start with, but let's wait and see what the first collab to comment makes of it shall we?

Edit: The band signed with Sonic Vista Music at the beginning of November last year, the new album is currently being mixed, and there is also a remixed, remastered and expanded version of the first album in the works:
http://www.sonicvistamusic.co.uk/tag/canadian-prog/
.
Here's a live video of the band from last year:



Edited by yam yam - June 05 2014 at 19:19