Well spotted my friend!

They belong here I think (just about!) - and Crossover is where they most likely will go.
Pétur Kristjánsson was the hardest-working rocker of the seventies. In a decade laden with frothy pop music, country ballads and disco, Pétur kept the rock and roll flames burning.

Son of fifties big band leader KK, Pétur soon took after his father, although he went for an altogether different musical direction. Pétur sang and played the bass. His first real band was Pops, a legendary cover band that has counted various members through the years and can still be found playing on occasion. Pops' only release was a 7" in the early seventies, where the band teamed up with comedian Flosi Ólafsson on the novelty hit 'Ţađ er geggjađ ađ geta hneggja'— ("It's insane to be able to neigh").

After Pops, Pétur did stints with Náttúra and Svanfríđur, but after Svanfríđur died off in 1973, Pétur formed his most famous rock band, Pelican. Right from the beginning Pelican was a popular band and had a sweet sailing at the Icelandic ball scene. In 1974 the band went to Massachusetts, USA, to record a LP at the Shaggy Dog Studio, where the reformed band Hljómar had already recorded its ill-fated country rock opus Hljómar 1974. In America, Pelican got in contact with various biz-people, and for awhile it looked like Pelican would sign a record deal and hit the big time.
In 1974, Pelican was the biggest band in Iceland. The first song from the album, "Jenny Darling", was released on a single in the summer, a frisky number that went on to become Pétur's signature song. The song was the hit of the summer and when the album "Uppteknir" (a word-play, can both mean "Unpacked" and "Busy"—the album cover featured the band inside a sardine tin), came out in the fall it became the best selling Icelandic album yet, shifting 11.000 units.
Being ultra popular in Iceland wasn't enough, of course! The band wanted more: international fame. Pelican returned to Massachusetts in 1975 to record the follow-up album, Lítil fluga, ("Little fly"). The Americans booked the band on a nine date tour of the East Coast, where Pelican played for up to 1.000 people at a time. The band was assigned a legion of roadies, sound-men, lighting engineers, and so on—"the real deal"—and the members were in awe: "We got to glimpse the glory," Pétur said later.

The band was offered various record deals and the chance to support bands such as the Allman Brothers and the Doobie brothers, and the albino brothers Johnny and Edgar Winter, too. Sweet times lay ahead, and the band returned to Iceland to play for their eager fans. One of the things that the Americans had been talking about was that Pétur wasn't a good enough singer. Without him, and with a new singer, great things were sure to happen, they said. The other Pelican members took these speculations way too seriously and discussed the possibility of sacking the band's founder. When Pétur heard this through the grapevine, he confronted his pals, ultimately leaving his own band as a result.
Naturally the news spread fast and people gasped—Pétur kicked from his own band? Pétur had all the pity, and Paradís, the band he formed fresh from the ejection, soon got to be the main band in Iceland, while Pelican with a new singer, Herbert Guđmundsson, quickly faded to obscurity.
Uppteknir (1974)
1. Theme (1:16)
2. Á Sprengisandi (3:11)
3. My Glasses (2:00)
4. Sunrise to Sunset (7:16)
5. Roll Down the Rock (3:26)
6. Golden Promises (5:38)
7. Living Alone (3:20)
8. Picture (1:40)
9. Jenny Darling (3:12)
10. Come My Way (2:41)
11. How Do I Get Out of N.Y.C. (2:01)
12. Amnesia (9:18)
13. Lady Rose (2:33)
14. Instrumental Love Song (2:48)
15. Time (2:42)
Total Time 53:02
Litil Fluga (1975)
1. Theme (1:24)
2. I Feel a Change (2:30)
3. Working to Find a Paradise (2:54)
4. Litla Flugan (2:20)
5. Warm August Night (5:47)
6. Anyman's Open Road (4:54)
7. You Can Go My Way (3:46)
8. Recall to Reality (4:17)
9. G. O. C. (2:53)
10. Silly Piccadilly (3:54)
11. Cloudscape (2:24)
12. Fall of a Fortress (2:24)
Total Time 39:27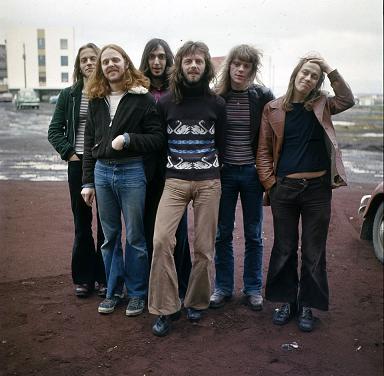 - Pétur Kristjánsson / vocals
- Björgvin Gíslason / guitar
- Ómar Óskarsson / bass, guitar
- Ásgeir Óskarsson / drums
- Jón Ólafsson / bass
- Guđmundur Jónsson / guitar
Proggnosis have them...but not much of an entry:
http://www.proggnosis.com/ARTIST_Detail.aspx?AID=4018
.



Edited by yam yam - August 02 2014 at 00:12