Actually, I'm a bit late with this one.

The album was announced towards the end of last year, and was completed almost two months ago now, but I only got to hear of it myself when vocalist/bassist/piano player
Kat Ward
posted in
Official 'review our music' forum
last week offering a pre-release copy of the album for anyone who would like to write a review of it.
Well, I don't write reviews, but it's certainly not unknown for me to make posts in
this
section of the site, so let me tell you all a little bit about
hAND
... (well actually this comes from the band's
website
, and SaN PR press release).

"Originally formed back in 2004, the band come at you from Sussex. Right from their early years, which saw hAND unleash their first EP "Chapters", to the band's next EP "Shadow: Word Pain", which landed them a record deal with Copro Records, to the foursome's debut album "Deadroom Journal", each release and record has progressed in its sheer song-writing quality and production. The progsters worked with producer Nick Hemingway (Isor, Cancer, Desecration) @ Philia Studios for "Deadroom Journal", and the album went on to secure lofty praise with Dead Earnest, who dubbed the release: "Totally groundbreaking in such a genre". Off the back of the album, hAND signed to Femme Metal Records and began to play shows throughout the whole of the UK, as well as racking up prominent festival appearances. In 2010, the progressive crew headed back to the studio to record their sophomore album "Breathing", with Nick Hemingway again at the helm. Released in June 2011 via Femme Metal Records and Brutal Elite Records, the album picked up even greater acclaim than their debut album. In the summer of 2011, long time drummer Cris Nelson left the band. He was replaced by Dan Thomas, and at the same time synth player Tom Johnstone joined as a full time member. Taking a hiatus from playing live in 2013, hAND solely focused on writing their next album and perfecting their revitalised eclectic sound.

This year, the quartet hit the studio once more with long term collaborator and producer Nick Hemmingway to lay down their third album 'Kintsugi'. Comprised of hypnotic and supremely orchestrated guitar riffs and crashing drums with pulsing rhythms, 'Kintsugi' is primed to rattle your ear drums and will surely pull you in. The album will be widely supported with extensive touring and is released in two formats: the regular CD/digital download version and the 'Gold Edition'. The Gold Edition is more than just the same album with a couple of bonus tracks; whilst it does contain some of the same songs, it is approached in a very different way in terms of production and feel. The approach taken differs in the production style – a more natural, dynamic and even old-school take, designed to contrast with the heavier, more driving production employed on the 'regular' Kintsugi. The Gold Edition will also be available on vinyl and in a special pre-order pack. Both versions of the record drop this November; look out as hAND are set to take the scene by storm.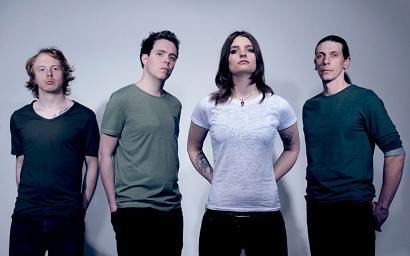 Although hAND can be loosely described as a Prog band, when you peel back the aural layers, you'll find a definitive edge that sets the band firmly apart from its contemporary counterparts. Progressive and heavy, yet accessible, hAND have unearthed a sound that is innovative and engrossing. They call to mind the thoughtful webby depths of 'Opeth', meshed with the proggy groove of 'Amplifier' and the gothic guile of 'Paradise Lost'. Acutely marrying carefully formed visceral guitar parts, dynamic drums, and alluring vocals, hAND have a strong focus and a clear vision of what they want to produce."
Their new album 'Kintsugi' is officially released on Monday 3rd November through Brutal Elite.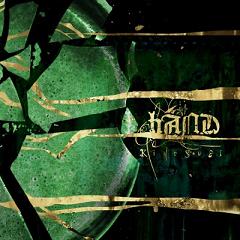 Kintsugi tracklist:
1. Level 1
2. Windlestraw
3. Anthem (Ode to the Giddy)
4. Volcanic Panic
5. Nebula
6. Amazing Burn
7. Hide You
8. Through the Big Door up the Stairs and Out
9. Words to that Effect (Instrumental)
- Kat Ward / vocals, bass
- Kieren Johnstone / guitars
- Dan Thomas/ drums
- Tom Johnstone/ synths
Other links of interest:
There are four positive reviews on the site for the second album
'Breathing'
, but just a single rating only (4-stars) for the debut
'Deadroom Journal'
.
The band deserve to be more widely recognised imho.
This is an outfit that want peple to listen to their music - all their stuff is freely streamable on the bandcamp link given above (and very reasonably priced to purchase too - either on CD or as a digital download). You can also find plenty of their music on YouTube, Reverbnation and Myspace.
Here are the video blogs recorded during the making of 'Kintsugi' that they uploaded to YouTube:
(Some of the track titles that Kat talks about in this first video have been changed between the time the vid was recorded and the eventual completion of the album).
Acoustic version of track 6 'Amazing Burn' (just Kat on the piano) :
And a track from each of the previous two albums as uploaded by guitarist
Kieren Johnstone
:
Good stuff!

Edit: Any prog reviewers out there who would like a slice of damn fine female fronted prog to review - pop over to Kat's post in
Official 'review our music' forum
and get in touch with the band via the email address given there.



Edited by yam yam - August 26 2014 at 09:31