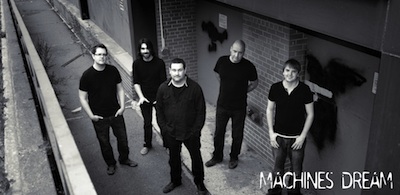 Sonic Vista Music (UK Progressive Rock Label) are pleased to announce the release of the 2nd Machines Dream album entitled 'Immunity'.
Following the success of their chart topping eponymous debut, the band have announced a 30 day Pre-sale at crowdfunding site Fundervine -
(more details here)
The first album has consistently topped the charts at prog friendly music platform
Aurovine
over the last 9 months.
The single Broken Door is also available as a free download at the same site. John Forster of Dr. Johns Unsigned Rock Surgery said ""the track is awesome and Pink Floyd would be proud of it"
The track has been syndicated to internet radio stations around the world including:
TBFM online, WROM radio, RockNationfm, Ultimate Local Music Radio, Radio Rock Bandom, 101.8 WCR FM, EGH Radio, Crunch Radio, Pledge Music, Prog Rock Radio, Radio 365, Rockers Dive Radio, YTSE Jam, Lonely Oak Radio, Code Zero Radio, Beyond The Dawn Radio, Pandora, new Canadian Music, Oyster Mouth Radio, Indie Scene Radio, Real Rock Radio, Progulus and Honey For Your Ears.