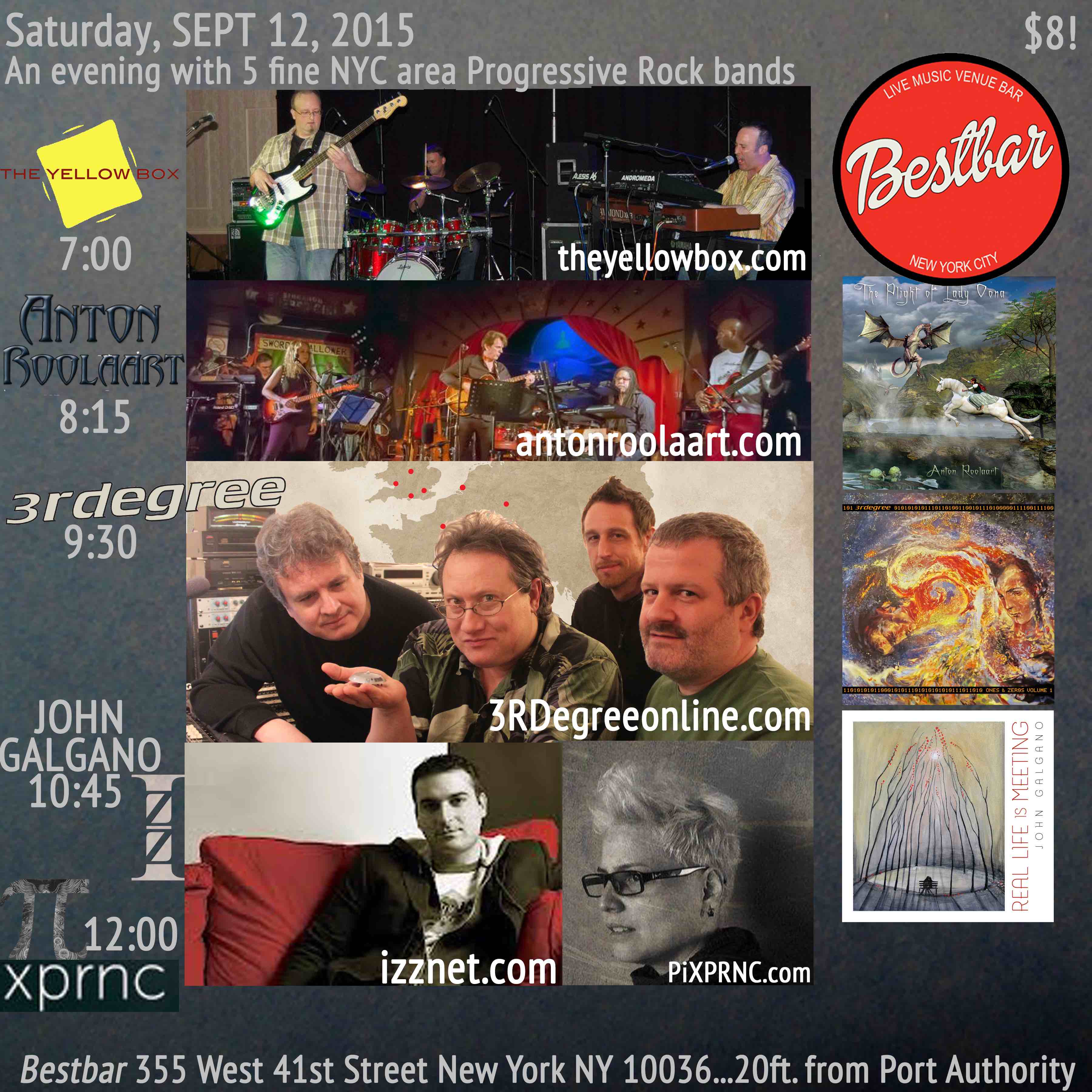 THIS SATURDAY Sept. 12, $8 gets you a ticket to see 5 prog bands!
Who said New York was so expensive?

7:00 THE YELLOW BOX
The Yellow Box is keyboardist/vocalist Charlie Labs, bass and Stick player Chris Merlo, and drummer Rich Moscatelli. The Long Island band draws inspiration from 70s progressive rock and jazz fusion. Not only are the guys bandmates and writing partners, they are also really good friends. Playing the NEARfest after party as well as a live performance on the Gagliarchives helped introduce the band to a wider audience. An invitation to play at the NJ Proghouse was the band's next major milestone. Keep an eye out for their debut album later this year. Follow the band at http://www.facebook.com/TheYellowBoxMusic" rel="nofollow - www.facebook.com/TheYellowBoxMusic or on Twitter at @TheYellowBox

8:15 ANTON ROOLART & BAND
Anton is a solo artist and an accomplished composer and songwriter who's music is in the genre of symphonic or neo-progressive rock.

9:30 3RDEGREE
Now in their 24th year, 3RDegree's 5th studio album ONES & ZEROS: vol. 1 was released just a month ago and is http://www.progarchives.com/top-prog-albums.asp?ssubgenres=&syears=2015&scountries=&sminratings=0&smaxratings=0&sminavgratings=0&smaxresults=100&x=20&y=5#list" rel="nofollow - #2 album of the year on ProgArchives.com behind Steven Wilson only. This show will be the first of many on a tour for that album that just 6 days after this show will bring them to The Netherlands followed by Germany, France and 4 shows in the UK including a nearly sold out Summer's End Festival in Wales...and just announced-3RDegree will play RoSfest 2016!

10:45 JOHN GALGANO & BAND
John's is best known as the bassist/singer of well known prog band IZZ but put out a solo album in 2012. No one knows what he's playing or who will be on stage with him but it promises to be interesting as always.

12:00 PiXPRNC
Karen Gonzalez is a transplanted Venezuelan living in NYC. Like 3RDegree, they were featured on Mellow Records' Marillion Tribute triple CD. Reviewer Mark Hughes says "Karen González is virtually the antipathy of 90% of women in the music business: writer, arranger, producer, engineer, singer, guitar player, synth player, original, full of ideas and so on... That the debut album she has come up with is as strong as it is only adds to the appeal..."

VENUE:

BEST BAR
355 41st St @ 9th Ave

Literally 20 feet from Port Authority Bus Terminal (if you walk out 9th Ave exit of PABT and turn right, when you get to the corner you will see Best Bar on your right-right around the corner from Empire Coffee)



-------------
www.3RDegreeONLINE.com www.facebook.com/3RDegree "Defiling Perfectly Good Songs With Prog Since 1990"