The Mighty Home Made Synth

Printed From: Progarchives.com
Category: Other music related lounges
Forum Name: Tech Talk
Forum Description: Discuss musical instruments, equipment, hi-fi, speakers, vinyl, gadgets,etc.
URL: http://www.progarchives.com/forum/forum_posts.asp?TID=109703
Printed Date: July 02 2022 at 14:26
Software Version: Web Wiz Forums 11.01 - http://www.webwizforums.com


Topic: The Mighty Home Made Synth
---
Posted By: Davesax1965
Subject: The Mighty Home Made Synth
Date Posted: December 17 2016 at 07:20
---
Well.

Got a modular sequencer, home built.
Nearly finished a dual audio generator.




Next logical step is to start designing and building an analogue synth.

Luckily, having built quite a few synth modules, I've got enough knowledge to start building my own. The 3D render below is a large board containing parts of one oscillator which will output five waveforms into a mixer. There are going to be two oscillators, so !! Two mixers on the board. They're closest to the camera, you can see the tracks of the linear potentiometers. The "big board" is just a play around at the moment. The mixer - second pic - is designed and the PCB is being built at the moment. I should get it in New Year.

The beauty of analogue synths is that they can be thought of as a collection of subsystems. You design and build the subsystem, build and test it on a smaller, cheaper board. If it works, you common all subsystems onto one board and then the fun begins.

Will I get there ? We'll see, it's a lot of work and I'm very new to PCB design. There will be spinoffs - if the entire synth doesn't work, I've designed the modules so that they can be very easily adapted to Eurorack modular synth standards, so they can be sold individually.

Not a commercial project at the moment, more a spare time mess about for now. But who knows, eh ?





-------------


---
Replies:
---
Posted By: Davesax1965
Date Posted: December 17 2016 at 07:23
---
There are all kinds of considerations, of course. It's good practice to separate the power inputs from the ground planes to reduce signal noise. A lot of the designs are very old, so you have to work out equivalent chips where the pinouts can be adapted and the specs match. For example, I'll be using modern transistor arrays in the oscillator. What works on breadboard does not necessarily work without twiddling on a PCB as the resistance is different. 1001 things to think about. ;-)

-------------


---
Posted By: Davesax1965
Date Posted: December 17 2016 at 07:45
---



Partial 3D render of the mixer sub-board. The 3D renderer hasn't picked up all the elements, as it hasn't got the components in a library. It's mistaken the ceramic caps for polybox ones, but, no matter. This board is being built in Hong Kong at the moment - I get the boards back, build them, test them, and if the design's good, it goes in the "add to main board" pile.

So far, mixer section - done. Oscillator 1 - half designed. So. Early days.



-------------


---
Posted By: Davesax1965
Date Posted: December 19 2016 at 07:24
---
Aaaaaaand a filter design to finish off. Nearly done, needs debugging.





-------------


---
Posted By: Davesax1965
Date Posted: December 19 2016 at 07:29
---
If it all comes together, and that's some way off, I think the design is going to resemble an original MS-20.




I had an original MS-10 and I've got a reissue MS-20. I like the design very much. Well, you never can tell. Watch this space. ;-)





-------------


---
Posted By: Davesax1965
Date Posted: December 19 2016 at 07:30
---
The other option is to use an aftermarket CV keyboard, like the ones made by Synthesizers dot com, now I think of it. ;-)






-------------


---
Posted By: 2dogs
Date Posted: December 21 2016 at 08:21
---
Wow, I didn't realise you could get PCBs made like that

. I once made a fuzz box and an "electronic drum" with resonant circuits from a book on home electronic projects in music, but neither were very good

.

-------------
"There is nothing new except what has been forgotten" - Marie Antoinette
---
Posted By: Davesax1965
Date Posted: December 21 2016 at 09:36
---
Hi 2Dogs, try PCBWay.

http://www.pcbway.com/

After you've designed the board using Eagle (or similar) (long story) you run a script to get the Gerber files generated. Zip up all the output scripts and e-mail them off. The price is generally dependent on board size. I just produce 74 x 84mm test boards - two layer. Price for five boards, minimum run, is $12 US. The shipping from Hong Kong adds about $12 onto it.

It's cheap enough to allow you to prototype boards, see if they work, and if not, rip up and start again. I've not priced up big boards yet, but it's not going to be ruinously expensive.




-------------


---
Posted By: Davesax1965
Date Posted: December 21 2016 at 09:38
---
The 3D board viewer I use is at

http://3dbrdviewer.cytec.bg/

Drag and drop an Eagle board file onto it. It makes a heroic effort to render your board in 3D, but has a limited number of components in the library. Useful for guessing clearances and seeing if something will actually be "solderable" in real life.

-------------


---
Posted By: Davesax1965
Date Posted: December 21 2016 at 09:45
---
To do -




MIDI > CV interface
Oscillator (s)
Multiples (easy)
Low frequency oscillator / modulator
Envelope generators
PT2399 based delay
Output module
Panels

So....... come back next week. ;-)






-------------


---
Posted By: Davesax1965
Date Posted: December 21 2016 at 09:48
---
For panel design, there's a great free tool at




https://www.schaeffer-ag.de/en/front_panel_designer/the_idea/

There are two problems with it: the software ties you to using one manufacturer and it's also very expensive to get them made in small runs. However, no way around it, and you're only going to need a panel for a finished product.

I might start funding this by selling a few modules. The test runs I'm doing are all deliberately in Eurorack format, so that should hopefully bring some money in !



-------------


---
Posted By: Davesax1965
Date Posted: December 21 2016 at 09:53
---
Of course, if anyone's lurking away reading this and wants to help fund production costs for a cut of the profits.... ;-)






-------------


---
Posted By: Davesax1965
Date Posted: October 04 2017 at 07:43
---
Update. All coming along, just very slowly !!!

Well, since last posting here, the Home Made Synth has made some very slow progress, mainly due to me soldering everything in sight and going off in 26 other directions.

Story so far.

We have the power. Well. 400 milliamps of it, in the form of a linear PSU in Eurorack format. This is OK for development at the moment. To be upgraded. I'm going to design and build a more powerful PSU later. It's in Eurorack format, so the synth basically runs on 12v.

We have a MIDI to CV interface. This was easy, I bought a kit. ;-) MIDI goes in the MIDI plug and out it goes to the oscillators, more of which below. I have no intention of designing a MIDI to CV interface when there are any number of good ones out there on the market.

Oscillators, we have a basic design and some (reissue) Curtis CEM3340 chips. The 3340 was a great design as it offered internal temperature control, lots of waveform outputs, basically, it was a complete oscillator in a chip. However. As Jupiters and Oberheims started being replaced by digital synths, the Curtis range of chips dissapeared, but, huzza and hats thrown in the air, they're being reissued. So guess what I'm using. Two or three, to be decided. Chips are in the post.

Sub oscillators - make a synth sound bigger and more useful by adding sub oscs, which add a base note either one or two octaves below the original note. These are going to be multi waveform as well. So there's interesting, look you.

All the waveform outputs and the sub oscillator outputs go into a mixer, so you've got massive variation of sound. More bang for little buck.

This leads us to the filter. I'm going to use a 24Db Moog ladder design (knee jerk filter decision) and I've got some prototyping to do. I had a load of old obsolete Soviet matched pair transistors lying around in DIP-8 format. So they're going in the parts pile. Should be interesting, the filter will benefit from a lot of playing around with, so that's a whole new fish of kettles.

That's it so far. I've got plans for a couple of illuminated moving needle VU meters on the output stage. Anyone say "retro" ? and most likely some kind of inbuilt PT2399 based echo. That's not a lot of design work and more a case of using voltage dividers to get down to guitar pedal levels. There's more to do, in terms of low frequency oscillators and envelope generators for the VCA and VCF, but it's coming along. Oh yes. Going to put a CV generator in which does very slow control voltage loops. Should be interesting.

And I decided that this will be a fully normalised design. Saves on sockets and cables. ;-)))))

Watch this (outer) space, pics to follow, just don't wait up. ;-)))))

-------------


---
Posted By: Davesax1965
Date Posted: October 07 2017 at 10:22
---
One MIDI to CV interface soldered up.....





-------------


---
Posted By: Davesax1965
Date Posted: October 13 2017 at 06:18
---
The more observant amongst you may notice that I made a boo boo on that board and soldered 12 resistors and capacitors the wrong way around. They're next to the DAC chips and are acting as a high pass, not low pass, filter.

The moral of the story is (a) never solder with the flu and (b) always check the schematic. ;-)

-------------


---
Posted By: Davesax1965
Date Posted: October 13 2017 at 06:21
---
This weekend I shall mainly be prototyping oscillators. This involves cursing all morning, getting a few minor burns and then shrieking like a girl when the power goes on and there's a hissing sound and white smoke pours out of the components.

-------------


---
Posted By: Davesax1965
Date Posted: October 13 2017 at 06:25
---
Oh yes, having recently built a very nice Accutronics brick - based reverb pedal, I'm going to modify the design to work at synth voltage levels. More and more retro redesign synths are coming with onboard effects now, so !!! I think I'll join the club.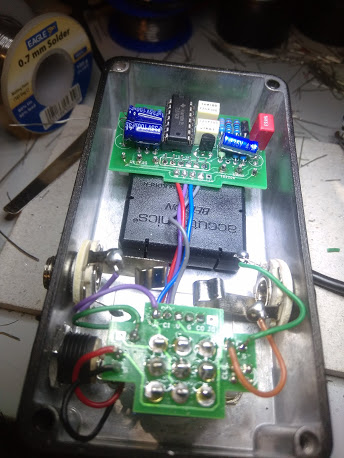 -------------


---
Posted By: Davesax1965
Date Posted: October 23 2017 at 06:14
---
Right, oscillators designed in a basic form - there's going to be three - FATAR 4 octave keybed sourced plus diode matrix and controller cards, modulation wheels (2) as well, going to have a few momentary switches etc etc etc.




Found someone who can do the enclosure in sheet metal, a friend of mine will be sawing out some fancy wooden side panels (out of some exotic hardwood, when I find it) - all coming along !!!





-------------


---
Posted By: Davesax1965
Date Posted: October 23 2017 at 06:20
---
I vaguely know this fella, we're Facebook friends.
https://www.macbethstudiosystems.com/" rel="nofollow - https://www.macbethstudiosystems.com/

Also had chats with Analogue Solutions in the past -
http://analoguesolutions.com/" rel="nofollow - http://analoguesolutions.com/





My design is pretty much going to follow a similar path.



-------------


---
Posted By: Davesax1965
Date Posted: October 26 2017 at 05:26
---
Latest update.

Dave appears to have lost the plot. I am now planning a six oscillator synth (yep) - two banks of three oscillators, each controlled by a 49 key keyboard in waterfall format.

Should end up as the Tsar Bomba of analogue synthesizers. ;-)

-------------


---